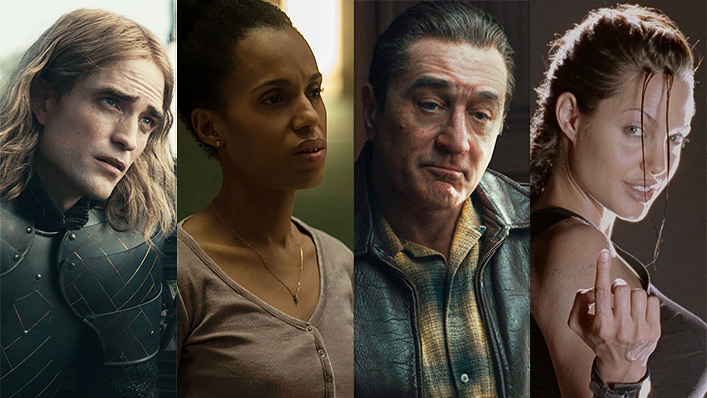 Best films coming to Netflix, Stan and SBS on Demand in November

---
What are the best titles coming to Netflix, Stan and SBS on Demand in November? Streaming guru and film critic Craig Mathieson picks his highlights.

NETFLIX
Sidestepping Shakespearean standards and favouring dialogue daubed with ornate but nonetheless muscular language, Australian filmmaker David Michod rebounds from the ill-judged military satire War Machine with this gripping rewrite of how Henry V (Timothee Chalamet) ascended to the English throne and went to war in France. Co-writer Joel Edgerton plays Henry's rueful companion, Falstaff, in a film that's gritty in detail and realistic about power's demands.
Scandal star Kerry Washington brings the Broadway play where her lead performance last year drew rhapsodic notices to the screen. She plays a mother – one of four differing perspectives to the story – who finds herself at a Florida police station trying to ascertain what has happened to her missing black teenage son. The play's director, Kenny Leon, makes a similar shift, helming the movie.
The big one, in terms of cast (Robert De Niro, Al Pacino, and Joe Pesci star), running time (209 minutes), and Academy Award buzz (Best Picture frontrunner). Martin Scorsese returns to the gangster flick, telling the story of real-life hitman Frank Sheeran (De Niro). But the ebullient bravado of Goodfellas has been supplanted by autumnal regret. It's a summation of Sheeran's life, and possibly Scorsese's career, too.
Also: Body of Lies (November 1); Tucker: The Man and his Dream (November 1); Pacific Rim: Uprising (November 4); Phantom Thread (November 9); Blockers (November 11); Klaus (November 15); Earthquake Bird (November 15); Seven (November 15); The Knight Before Christmas (November 21); Atlantics (November 29); I Lost My Body (November 29).
STAN
Excess and redemption combine in a way that is somehow both nightmarish and ecstatic in Abel Ferrara's infamous 1992 drama about a monstrously corrupt New York Police Department detective – Harvey Keitel's unnamed perpetrator – on a long day's journey into night. Physical and moral corruption has rarely been balanced by such violent spiritual yearning, making for a classic of American independent cinema.
Stan is adding a slew of Tom Cruise movies this month, including a handful of Mission: Impossible adventures, but nothing comes close to Michael Mann's 2004 crime thriller about a ruthless hitman (Cruise) who kidnaps a Los Angeles cabbie (Jamie Foxx) to ferry him from one drug cartel target to the next. Shot on digital video, the city's nightscapes glitter beautifully while Cruise memorably embodies a ferocious nihilism.
Also: I Am Legend (November 1); The Brothers Bloom (November 2); Wayne's World (November 2); Birth (November 3); Ain't Them Bodies Saints (November 6); The Sea Inside (November 8); Lara Croft: Tomb Raider (November 9); The Firm (November 15); Good Night, and Good Luck (November 19); Napoleon Dynamite (November 21); Colombiana (November 23); The Usual Suspects (November 24); Shutter Island (November 28).
SBS ON DEMAND
Leos Carax is one of the great errant geniuses of the French cinema. He's currently shooting a musical starring Adam Driver and Marion Cotillard, but his previous feature from 2012 remains a joyously labyrinthine journey through the very nature of cinematic creativity. Long-time collaborator Denis Lavant plays a performer of wildly unexplainable Parisian parts whose day illuminates modern quandaries. The result is intoxicating.
There's some welcome curatorial direction coming to SBS's movie programming, with a selection of innovative 1940s classics from the team of Michael Powell and Emeric Pressburger debuting. The best is this 1948 vivid classic of artistic obsession about a ballet dancer (Moira Shearer) consumed by the demands of her work and colleagues. Hugely influential, highly compelling.
Also: Death in Brunswick (November 1); Dogs in Space (November 1); The Tree of Life (November 1); Black Narcissus (November 5); Café de Flore (November 8); The Duellists (November 8); An American Werewolf in Paris (November 17); Female Agents (November 22); The Spy Who Came in From the Cold (November 22); The Life and Death of Colonel Blimp (November 22); A.I. Artificial Intelligence (November 26).