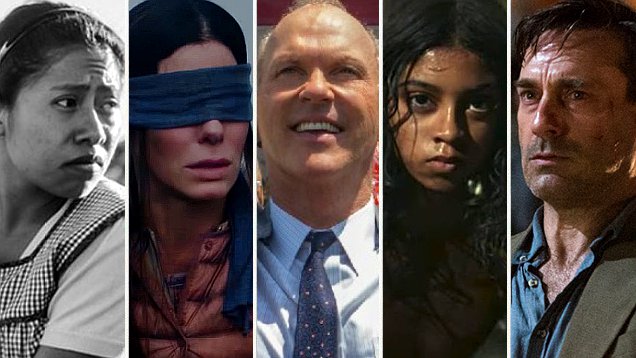 The best films coming to Netflix, Stan and SBS on Demand in December

---
What are the best titles coming to Netflix, Stan and SBS on Demand in December? Streaming guru and film critic Craig Mathieson picks his highlights.
Netflix
Andy Serkis, the English actor who defined the possibilities of motion capture performance with Gollum, Caesar and Supreme Leader Snoke, directs a new version of Rudyard Kipling's 19th century tale that makes extensive use of the technology. Watch for Christian Bale (Bagheera, the black panther), Cate Blanchett (Kaa, the Indian rock python), and Benedict Cumberbatch (Shere Khan, the Bengal tiger).
Roma (December 14)
An Academy Award Best Picture favourite debuting on Netflix is new, but the filmmaking from Alfonso Cuaron (Children of Men, Gravity) is timeless in this period recreation of a tumultuous private and public year for a privileged Mexico City family and their maid, Cleo (Yalitz Aparicio). Haunting tracking shots, monochrome images, and the starkness of personal memory help make it remarkable.
Springsteen on Broadway (December 16)
Stepping away from stadiums and the E Street Band, rock & roll's premier performer began a five nights a week solo residency at New York's intimate Walter Kerr Theatre in October 2017 that ran for more than a year. This concert special sees Springsteen connecting his past to his legendary songbook, with stripped down performances and autobiographical storytelling.
Sandra Bullock stars in this apocalyptic horror film which charts the collapse of society and the subsequent fight for survival when people begin going violently insane after experiencing unknown visions. Josh Malerman's allegorical 2014 novel, where the survivors blindfold themselves, is heavy on menace and mystery, and thankfully the adaptation is by Eric Heisserer, who did wonders with Arrival.
Also: Captain Fantastic (December 4); Winchester (December 6); Dumplin' (December 7); Brooklyn (December 8); Passengers (December 12); Hello, My Name is Doris (December 15); Allied (December 30); Fences (December 30).
Stan
Michael Keaton's testy energy finds telling expression in the real life story of Ray Kroc, a failing 1950s salesman who discovered – and eventually appropriated – the revolutionary production processes of a Californian food stand run by two brothers named McDonald. John Lee Hancock undercuts the corporate creation myth to show the destructiveness that must accompany growth.
Beirut (December 20)
Anyone who has been waiting for Jon Hamm to find a film role that advanced on his work in Mad Men – and, no, Tag definitely doesn't qualify – should watch Brad Anderson's espionage thriller. Set during the chaotic civil war in Lebanon, it stars Hamm as a former U.S diplomat who has to return to the city to negotiate a fraught hostage release. Rosamund Pike, Shea Wigham, and Dean Norris co-star.
There's no ground left on the ludicrous side of the Tomb Raider franchise after the previous pair of Angelina Jolie adventures, so the Scandinavian team of Swedish star Alicia Vikander (Ex Machina) and Norwegian director Roar Uthaug (The Wave) opt for a degree of realism, with Lara Croft a London bike courier searching for her father on a mysterious island where there is much running and jumping.
James Bond Collection (December 26)
Here's your ultimate Boxing Day binge – every 007 film from 1962's Dr No to 2015's Spectre (plus Sean Connery's unofficial return in 1983's Never Say Never Again) available on the same day. There are 25 features in total, plus associated documentaries, so you can trace the evolution of James Bond across six decades and countless gadgets.
Also: The Girl with the Dragon Tattoo (December 3); The Edge of Seventeen (December 5); 21 Jump Street/22 Jump Street (December 10); Tom of Finland (December 11); Passengers (December 12); Crooked House (December 25); Rounders (December 28).
SBS on Demand
Saoirse Ronan made the leap from preternaturally gifted child actor to accomplished adult with her piercing performance as a young Irish woman flung into 1950s New York as a sheltered immigrant. Sensible, scared, and alone, her Eilis Lacey has to navigate a new world. John Crowley's film is one of evocative half moments and small gestures that, when considered together, constitute a life taking shape.
One of the great recent horror films, where science-fiction tableaus and kitchen sink realism are punctuated by truly dangerous liaisons, Amat Escalante's Mexican horror film follows a Mexican couple whose faltering marriage is reworked when they're secretly introduced to an unknown entity with sexual cravings. Imagine a Venn diagram for Stanley Kubrick, Guillermo del Toro, and Gaspar Noe.
Also: This Must Be the Place (December 1); Tree of Life (December 1); Two Faces of January (December 1); The Disappearance of Alice Creed (December 14); Holy Motors (December 14); Slow West (December 14);