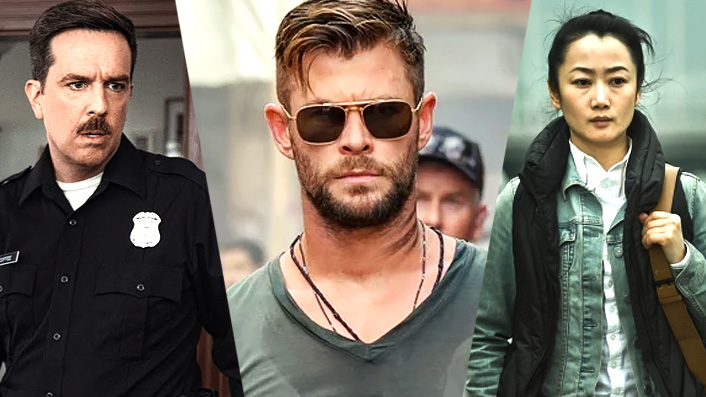 Best films coming to Netflix, Stan and SBS on Demand in April

---
What are the best titles coming to Netflix, Stan and SBS on Demand in April? Streaming guru and film critic Craig Mathieson picks his highlights.
Netflix
As The Hangover trilogy and the underappreciated Cedar Rapids demonstrated, Ed Helms is extremely good at playing straitlaced men who freak out when they lose their moorings. That quality could elevate this action-comedy, where he plays a police officer who has to go on the run from a criminal cartel with the antagonistic 12-year-old son (Terrence Little Gardenhigh) of his new girlfriend (the mighty Taraji P. Henson).
Death at a Funeral writer—both versions!—Dean Craig directs this choose your own adventure remake of a 2012 French romantic comedy about a man (Sam Claflin) desperately trying to maintain order through alternate versions of his younger sister's wedding day. The romantic interest adding to his day is played by Olivia Munn, with Freida Pinto and Aisling Bea in the supporting cast.
Chris Hemsworth movies are big events—even Men in Black: International—but little is known about this Netflix original action-thriller, written by Avengers co-director Joe Russo and directed by Marvel franchise stunt coordinator Sam Hargrave. Hemsworth plays a mercenary trying to rescue a crime lord's son, possibly on the Indian subcontinent. David Harbour, Golshifteh Farahani, and Derek Luke co-star.
Also: Bad Boys (April 1); Saving Private Ryan (April 1); Flight (April 1); That's My Boy (April 1); Friday (April 1); Lion (April 1); Money Monster (April 1); Don't Breathe (April 1); BlacKkKlansman (April 5); Tigertail (April 10); Shaun of the Dead (April 10); Hannibal (April 10); Smokey and the Bandit (April 10); The Breakfast Club (April 10); Sergio (April 17); Stardust (April 27).
Stan
Werner Herzog's 1982 Amazon jungle period epic about an obsessive entrepreneur (Klaus Kinski) trying to transport a 320-ton steamship over a mountain is infamous due to Les Blank's masterful documentary, Burden of Dreams, that captures the production's tribulations and Kinski's reign of terror. But the film itself is underappreciated: poetic, vast and damaged; a study of the individual versus nature that feels timely.
Paul Thomas Anderson was 25-years-old when his debut feature was released in 1996, but it has none of the youthful exuberance and excess that would characterise his subsequent film Boogie Nights. A sombre and carefully composed ensemble piece set in the corners of Reno's casino milieu, it intersects a veteran gambler (Philip Baker Hall), a failing young man (John C. Reilly), a brittle cocktail waitress (Gwyneth Paltrow), and a venal security guard (Samuel L. Jackson). The filmmaker's talent is readily apparent.
Also: Girlhood (April 1); Barbarella (April 1); Crocodile Dundee + Crocodile Dundee 2 (April 9); King of Devil's Island (April 14); The Guard (April 15); Red Eye (April 18); Shirley Valentine (April 22); Morning Glory (April 25); Leviathan (April 30); The Virgin Suicides (April 30).
SBS on Demand
A 21st century masterpiece, and a film so artfully incisive that the Chinese state censors have never allowed it to be shown domestically, Jia Zhangke's corrosive quartet of stories depicts a modern China where the government and corporations leave no way out for individuals except extreme acts. This is social criticism with masterfully composed takes and a wrenching humanism.
Australian actor Jason Clarke doesn't simply play villains. He plays men who actually understand their flaws, and operate with an understanding that they're willing to accept wrong when necessary. That's never had a richer, more heartbreaking expression than in his performance as Senator Ted Kennedy, who in 1969 was involved in a young woman's death. The facts are still partisan and contentious, but Clarke and his relationship to culpability is furiously contained and remarkable.
Also: Klown (April 1); I Love You, Man (April 1); Kingpin (April 1); The Nightingale (April 1); Sunset Song (April 1); Tracks (April 3); A War (April 8); Marshland (April 8); The Other Son (April 8); The Long Good Friday (April 14); Withnail and I (April 15); The Killing of a Sacred Deer (April 22).