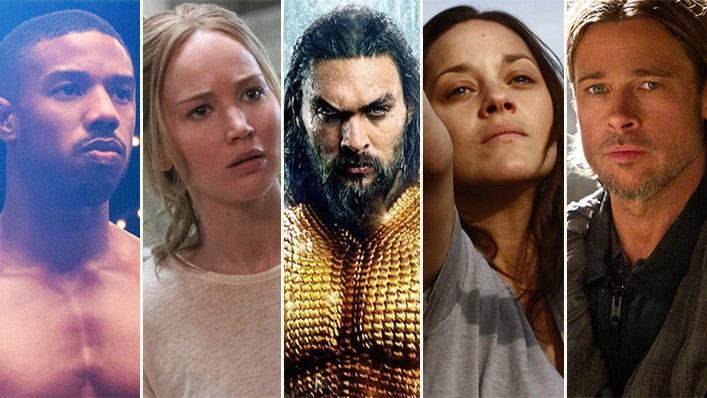 The best films coming to Netflix, Stan and SBS on Demand in September

---
What are the best titles coming to Netflix, Stan and SBS on Demand in August? Streaming guru and film critic Craig Mathieson picks his highlights.
NETFLIX
They got the casting right. After Ben Affleck's Batman and Jared Leto's Joker (the horror!), the DC Comics realm picked up when Jason Momoa played the half-Atlantean/half human Arthur Curry. Momoa's disreputable outlook and freewheeling commentary carried the fantasy spark of James Wan's direction for a perfectly agreeable undersea adventure.
The brief and bewilderingly bad celebrity interviews created for online exposure set by Zach Galifianakis were both seditious and self-contained. Extending them over a movie, with a framing narrative of Galifianakis traveling across America to prove his professional competence, is a risk, but if nothing else the celebrity cameos should be impressive.
Netflix's original movies have been focused on 90s-style romantic comedies and action thrillers lately – this is definitely the latter. Boyd Holbrook (Logan, Narcos) plays a police detective tracking a killer who takes lives every nine years. Director Jim Mickle made the estimable Cold in July, suggesting he can move this past the formulaic.
Sign up for Flicks updates
Also: Revolutionary Road (September 1); Jack Reacher (September 1); Olympus Has Fallen (September 7); Fantastic Beasts: The Crimes of Grindelwald (September 13); T2: Trainspotting (September 14); War Dogs (September 15); Ingrid Goes West (September 28); Daddy's Home 2 (September 28).
STAN
Writer-director Ryan Coogler did not return for the sequel to his 2015 hit that refocused the pugilistic lineage of Sylvester Stallone's former heavyweight boxing champion Rocky Balboa. But the accomplished Michael B. Jordan does, with his Adonis Creed now facing the son of the Russian boxer who killed his father in the ring. The solidly made film verges on the generic, but it has a powerful undercurrent of familial burden to illuminate the set-pieces in the ring.
Reports of a sequel persist for this 2013 zombie apocalypse thriller, which is testament to its success at the box-office and – after lengthy reshoots – the effectiveness of its vision of a world succumbing to a virus that makes the dead violently ravenous. Brad Pitt fronts the globe-trotting search for answers, playing a UN expert in genocidal violence trying to survive a new reality.
Also: Watchmen (September 1); Foxtrot (September 2); My Week With Marilyn (September 4); Sherlock Holmes (September 13); The Immigrant (September 14); No Country for Old Men (September 17); How to Train Your Dragon (September 17); Wallace & Gromit: The Curse of the Were-Rabbit (September 20); Hugo (September 21); Flight of the Navigator (September 22); Hellboy (September 25); Che: Part One & Che: Part Two (September 26).
SBS ON DEMAND
After a long career as a screenwriter, Jacques Audiard has been one of the leading French filmmakers this century, responsible for The Beat That My Heart Skipped, A Prophet, and Sisters Brothers. A demanding romantic-drama about desire and self-acceptance, Rust and Bone put Marion Cotillard opposite Matthias Schoenaerts. She's an accident victim, he's a budding boxer, in a relationship that forces each to consider what they want and what they actually need.
Hana-bi (September 13)
Better known in his homeland as a comic and television host, Takeshi Kitano announced himself internationally as an idiosyncratic filmmaker with this striking 1997 reinvention of the hard-boiled cop genre. Across a fractured timeline, contemplative calm and droll humour sit alongside impassive violence and painful loss as Kitano's former police detective attempts to make amends to those damaged by his choices.
Also: Neruda (September 1); A Mighty Heart (August 1); A Royal Affair (September 1); Fences (September 6); Micmacs (September 6); mother! (September 8); Anomalisa (September 11); Footnote (September 13); After the Storm (September 13); The Broken Circle Breakdown (September 13); Safety Not Guaranteed (September 20); Headhunters (September 27).