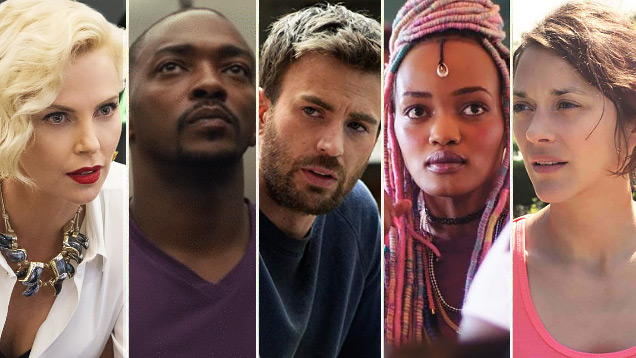 The best films coming to Netflix, Stan and SBS on Demand in July

---
What are the best titles coming to Netflix, Stan and SBS on Demand in July? Streaming guru and film critic Craig Mathieson picks his highlights.
Netflix
With the chronology reversed, so that it begins in the near future and recedes into the past, this evocative-looking Taiwanese thriller charts the professional and romantic disintegration of a police officer. Netflix purchased Ho Wi Ding's noir procedural off the festival circuit, where it had picked up rave reviews. It should provide further impetus for the mainstream discovery of Asian cinema.
Not a remake of the Lee Marvin classic, but nonetheless this action-thriller has tough guy credentials with Anthony Mackie as the nurse whose pregnant wife is kidnapped as a means to force him to break out Frank Grillo's injured and apprehended criminal. Corrupt cops, taunting monologues and car chases ensue.
The British-based political consultancy firm Cambridge Analytica has been involved in the digital campaigns for both Donald Trump's election and the Brexit vote, creating controversy with ongoing claims of illegal data gathering and manipulation. This documentary tries to make sense of its murky mission, with whistle-blower testimony and outside experts shedding light on the now infamous firm.
Sign up for Flicks updates
The post-Avengers movies continue for former superheroes, with Chris Evans starring in this espionage thriller based on real life events in 1981, when Israeli intelligence agents mounted an elaborate deception operation to smuggle Jewish Ethiopians to safety. Writer-director Gideon Raff, who created the original Israeli version of Homeland, has a solid supporting cast with Alessandro Nivola, Michael K Williams and Ben Kingsley.
Also: Anchorman 2: The Legend Continues (July 1); Easy A (July 1); Mama (July 1); Serenity (July 1); Sixteen Candles (July 1); San Andreas (July 10); Woman in Gold (July 10); The Blind Side (July 15); The Goonies (July 15); The Shawshank Redemption (July 15); The Town (July 15); Happy Death Day (July 17); Suburbicon (July 24); The Snowman (July 31).
STAN
Definitely worth reappraisal after a subdued cinema release, this knotty and blackly comic thriller from Australian filmmaker Nash Edgerton – with brother Joel in the supporting cast – stars David Oyelowo as a corporate executive whose business trip to Mexico gets way out of hand. Charlize Theron, Thandie Newton and Amanda Seyfried round out the shifting allegiances of the surrounding characters.
The strictures of community, the impossibility of faith and the compulsion of desire are all in play in this compelling romantic drama, directed by  masterful Chilean filmmaker Sebastian Lelio (Gloria). Disobedience is about a woman (Rachel Weisz) who returns to her family's orthodox Jewish community in North London and rekindles an illicit romance with her brother's wife (Rachel McAdams).
Also: The Happytime Murders (July 2); On Chesil Beach (July 4); In the Fade (July 6); Hotel Artemis (July 7); Summer of 84 (July 9); Hurricane Heist (July 11); Muriel's Wedding (July 20); Harsh Times (July 21); American Hustle (July 22); She Killed in Ecstasy (July 29).
SBS ON DEMAND
Marion Cotillard gives an immense and wrenchingly vulnerable performance in this drama from Belgium's masters of social realism, Jean-Pierre and Luc Dardenne, playing a woman whose co-workers have agreed to receive a bonus in exchange for accepting her dismissal. Given a weekend to change their minds, Cotillard's Sandra searches for common ground and compassion.
Announced to the world at the Cannes Film Festival but banned in its homeland, this Kenyan gay romantic drama about the illicit romance between two very different young women (Samantha Mugatsia and Sheila Munyiva) begins with vivacious energy and colour, only to be overcome by conservative homophobia that aims to crush the pair's defiant hopefulness. It's a terrific entry point into an under-seen world.
Also: Mary and Max (July 1); A Single Man (July 1); The Wackness (July 1); Public Enemy Number 1 (Parts 1 & 2) (July 1); Mad Dog Morgan (July 1); Wings of Desire (July 3); Ash is the Purest White (July 5); Berlin Syndrome (July 7); 12 Years a Slave (July 14); My Brilliant Career (July 16); The Red Turtle (July 20); What Happened to Monday? (July 27).