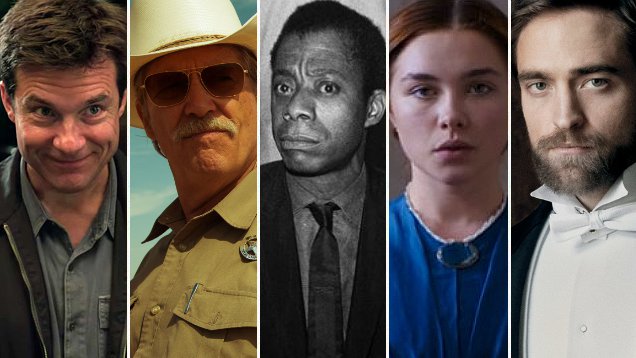 The best films coming to Netflix, Stan and SBS on Demand in January

---
What are the best titles coming to Netflix, Stan and SBS on Demand in January? Streaming guru and film critic Craig Mathieson picks his highlights.
NETFLIX
At first glance this Hollywood farce appeared to be in the sagging company of Daddy's Home or Horrible Bosses, but with Jason Bateman finding a terrific foil in Rachel McAdams it's an exemplary comedy about an evening with friends gone ludicrously wrong that features zippy dialogue, piquant plotting and accomplished cinematography. That's a minor miracle these days.
Close (January 18)
Playing the original Swedish-language version of crime fiction's 21st century icon Lisbeth Salander made Noomi Rapace a star, and she returns to action for this thriller where her bodyguard has to go on the run with a young heiress (Sophie Neilisse) after they're targeted by assassins. Director Vicky Jewson (Born of War) completes a welcome female perspective on a familiar genre.
Sign up for Flicks updates
FYRE: The Greatest Party That Never Happened (January 18)
When the Fyre Festival, a music weekend touted as a luxury event in the Bahamas, fell over in April 2017 with ticketholders reporting no infrastructure, acts or means of escape, social media went into overdrive. This documentary aims to explain what happened and the aftermath – one organiser is now in a U.S jail.
Polar (January 21)
Can't wait for the third John Wick movie? Video clip hotshot turned filmmaker Jonas Akerlund offers relief in the form of the always compelling Mads Mikkelsen as a veteran hitman hunted by his organisation's rising stars. Mikkelsen will get his Chow Yun-Fat on with twin pistols in the Dark Horse comic book adaptation.
Also: 21 (January 1); Cast Away (January 1); The Book of Henry (January 1); Lionheart (January 4); A Cure for Wellness (January 13); Babe (January 18); Scott Pilgrim vs. the World (January 18); Senna (January 18); The Lincoln Lawyer (January 26).
STAN
Both a rattling crime thriller and a searing study of inequality's curse that's as dry and desperate as the west Texan back blocks where it's set, David Mackenzie's contemporary western stars Chris Pine (never better) and Ben Foster as bank robbing brothers pursued by Jeff Bridges' Texas Ranger. It's a terrific piece of filmmaking.
By 1967 Jean-Luc Godard had made his own rules for the cinema and then broken them, which makes him an irresistible subject for this irreverent biopic about an artist (Louis Garrel) increasingly uncertain of his purpose. Writer-director Michel Hazanavicius (The Artist) works from the memoir by Godard's then wife, Anne Wiazemsky (Stacy Martin), adding an inside viewpoint to the playful technique and many homages.
Decades after his death, writer James Baldwin remains the crucial voice on the divisions and delusions that mark race relations in America. Raoul Peck's Academy Award-nominated documentary uses Baldwin's unfinished work (voiced by Samuel L. Jackson) on key African-American figures as a starting point to examine where the country has been and where it will go.
Unnervingly made, so that compliance assumes the form of destruction, William Oldroyd's 19th century drama – moved from the source novel's Russia to provincial England – turns the loveless marriage of teenage bride Katherine (a breakthrough Florence Pugh) into a sublimely still study of oppression and responsibility.
Also: The Zookeeper (January 2); Patriot's Day (January 5); Bad Boys & Bad Boys II (January 15); David Lynch: The Art Life (January 17); Spoor (January 18); The Neon Demon (January 22); Breathe (January 25); Bombshell: The Hedy Lamarr Story (January 31).
SBS ON DEMAND
The Red Riding trilogy (January 1)
Made for British television and directed in turn by Julian Jarrold (1974), James Marsh (1980), and Anand Tucker (1983), this trilogy about institutional corruption and personal compromise in a grim Yorkshire marked by child murders is daunting in scope and corrosive in execution. An ensemble including Andrew Garfield, Rebecca Hall, Sean Bean, and Paddy Considine, give incriminating performances.
American actor turned filmmaker Brady Corbet directs Natalie Portman in February's pop star inquisition Vox Lux, and his 2015 debut – with Robert Pattinson in dual supporting roles – remains a fascinating examination of fascism and family as a future dictator's early years are detailed via domestic scraps and oedipal conflict before a transformative epilogue.
Also: Angel Heart (January 1); Ghost Dog: The Way of the Samurai (January 1); Son of a Gun (January 5); Attack the Block (January 11); The Baader Meinhof Complex (January 11); Hunger (January 11); Sid and Nancy (January 11); Café De Flore (January 15); Lovers on the Pont Neuf (January 15).