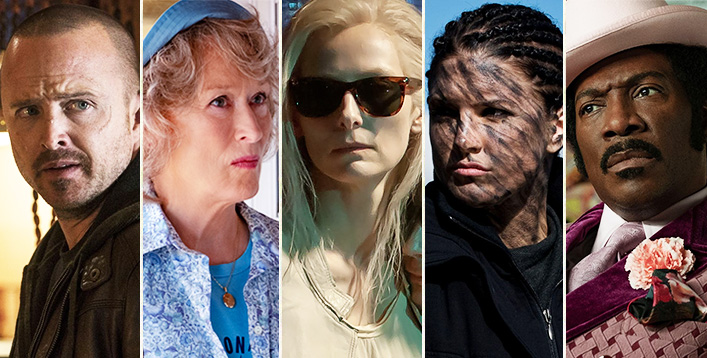 The best films coming to Netflix, Stan and SBS on Demand in October

---
What are the best titles coming to Netflix, Stan and SBS on Demand in October? Streaming guru and film critic Craig Mathieson picks his highlights.
NETFLIX
Last seen whooping with joy at escaping a Nazi skinhead meth dungeon, the surviving lead character from one of television's most compelling crime drama's, Breaking Bad's Jesse Pinkman (Aaron Paul), gets an unexpected sequel written and directed by the show's creator, Vince Gilligan. Expect more familiar faces from the series to feature, but not so much "yeah, science!" exuberance.
Fresh from debuting at the Venice Film Festival, Steven Soderbergh's follows up 2018's High Flying Bird is a dramatic uncovering of the unjust activities uncovered by the massive 2015 leak of financial secrets hosted by a Panamanian law firm. Gary Oldman and Antonio Banderas play shifty lawyers, with Meryl Streep as the initial unlikely investigator.
Eddie Murphy stars in a Blaxploitation biopic, playing famous 1970s comic, actor and filmmaker Rudy Ray Moore. Dolemite Is My Name was written by Scot Alexander and Larry Karaszewski (Ed Wood) and directed by Craig Brewer (Hustle & Flow). It's set up as an against-the-odds tale of success, with a supporting cast that includes Keegan-Michael Key, Wesley Snipes and Craig Robinson.
Also: The Book of Eli (October 1); In the Tall Grass (October 4); Pitch Perfect 3 (October 7); Billy Elliot (October 11); Inside Man (October 11); Elizabeth (October 11); Kick-Ass (October 11); Brewster's Millions (October 11); Fractured (October 11); The Forest of Love (October 11); Jaws (October 11); Banlieusards (October 12); Sicario (October 13); Burnt (October 24); Rattlesnake (October 25)
STAN
Steven Soderbergh wanted to shoot an ambiguous espionage drama with surreptitious motives and detailed fight choreography, so he cast leading mixed martial arts fighter Gina Carano as a black ops agent betrayed by her employer. The fight scenes are masterfully made, with Carano's Mallory Kane taking on a succession of male stars – including Channing Tatum, Michael Fassbender, and Ewan McGregor – to prove herself.
American Gigolo (October 23)
One of the key movies that marked the end of the 1970s, Paul Schrader's underappreciated 1980 thriller stars Richard Gere as a transactional male escort falling in love with a client (Lauren Hutton) while being framed for a murder. The Taxi Driver screenwriter memorably brought Italian style to Hollywood: score by Giorgio Moroder, clothes by Armani, and the legendary Ferdinando Scarfiotti as visual consultant.
Also: What Happened to Monday? (October 1); Rango (October 1); Anchorman: The Legend of Ron Burgundy (October 4); The Hurt Locker (October 4); Bright Star (October 6); The Godfather (October 9); The Godfather: Part II (October 9); Dead Again (October 11); Team America: World Police (October 15); The Master (October 16); Cowboys & Aliens (October 17); Flight (October 28); The Ring (October 31)
SBS ON DEMAND
Amongst Kathryn Bigelow's early revisionist genre films, with their bold compositions and new wave flourishes, none is wilder than this 1987 vampire-themed modern western. A young man, Caleb (Adrian Pasdar) is turned by a female vampire, Mae (Jenny Wright), and finds himself traveling with her nocturnal crew, which has juicy roles for Bill Paxton and Lance Henriksen. Twilight this is not.
Another distinct take on the vampire myth from an equally unique director in Jim Jarmusch. Now divorced, Adam (Tom Hiddleston) and Eve (Tilda Swinton) have lived for centuries, making them so cool that they struggle to maintain connected to their secretive existences. When they reunite, along with Eve's hungry younger sister, Ava (Mia Wasikowska), the situation becomes untenable.
Also: Biutiful (October 1); Bugsy Malone (October 4); Arsene Lupin (October 4); The Death of Stalin (October 5); Amistad (October 11); Saint Laurent (October 11); Borg Vs McEnroe (October 12); Antiviral (October 18); Vanilla Sky (October 25)