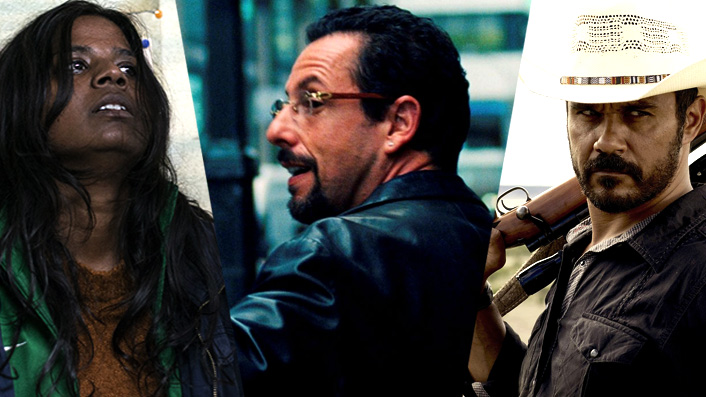 Best films coming to Netflix, Stan and SBS on Demand in January

---
What are the best titles coming to Netffix, Stan and SBS on Demand in January? Streaming guru and film critic Craig Mathieson picks his highlights.
Netflix
Now that West Australian filmmaker Julius Avery has successfully segued into the Hollywood system, directing last year's WWII gorefest Overlord, his domestic debut rings true as a calling card. Brenton Thwaites is the prison newcomer drawn into the orbit of Ewan McGregor's hardened criminal, with Alicia Vikander as the woman helping them on a heist outside. The best moments have a B-movie's muscular momentum.
Bullish but capable of emotional resonance, the Belgian actor Matthias Schoenaerts has become a fascinating screen presence across the likes of Rust and Bone, The Drop, and A Bigger Splash. In this French crime drama he plays a criminal sparring with a childhood friend, played by Reda Kateb, who is now a police detective. The director is David Oelhoffen, whose Far From Men turned heads in 2014.
New York filmmaking siblings Josh and Benny Safdie stay true to the mean streets of Heaven Knows What and Good Time with this frantic drama about a diamond district jeweller, Howard Ratner (Adam Sandler), whose addictions include gambling, deception and infidelity. Acclaimed on the festival circuit, the movie furthers their reputation for audacious incursions into the mainstream.
Also: Ghost Stories (January 1); Friday Night Lights (January 1); Mamma Mia! (January 1); The Bourne Identity (January 1); The Green Hornet (January 1); Hellboy II: The Golden Army (January 1); Spider-Man: Homecoming (January 4); Tyler Perry's A Fall from Grace (January 17); The Queen (January 23).
STAN
One of the best Australian films of the past decade, Ivan Sen's outback western is about an Indigenous police detective, Jay Swan (Aaron Pedersen), whose personal and professional life have left him marooned between white colleagues and his Aboriginal family and community. The murder he investigates makes for a sun-drenched film noir – with a stacked supporting cast – that's keenly plotted and thematically rich.
This is what an American classic sounds like: "I'd hate to take a bite out of you," Burt Lancaster's powerful newspaper columnist J.J. Hunsecker remarks to Tony Curtis' venal press agent Sidney Falco. "You're a cookie full of arsenic." An acidic 1957 drama set amidst New York's nightclubs and band rooms, it's a story of ambition and debasement whose depiction of patronage feels shockingly contemporary.
Also: I Love You Phillip Morris (January 1); Still Alice (January 3); The Burning Plain (January 4); Wild Bill (January 6); Harry Brown (January 8); Radio Days (January 10); The Comfort of Strangers (January 12); A Passage to India (January 13); River's Edge (January 14); Pope of Greenwich Village (January 20); Hannah and Her Sisters (January 22).
SBS on Demand
Shot with a naturalistic attention to detail and warmth towards both the lead characters and bit players, Jacques Audiard's Palme d'Or-winning follow-up to A Prophet and Rust and Bone tracks three lone Tamil refugees who pretend to be a family in order to escape Sri Lanka's civil war. Deposited on a Parisian housing estate run by gangs, their trauma is revealed in small moments and daily rituals that builds to a wrenching climax.
A striking debut, Alena Lodkina's 2017 feature bring a fresh eye to the Australian landscape – and what lies beneath it. Fractured relationships and images that could be stills from a science-fiction movie define the outback NSW mining town of Lightning Ride, where Milena (Kate Cheel) comes to visit her estranged father, Max (Daniel P. Jones). It's a community of damaged loners, tender not toxic, creating haunting cinema.
Also: Priceless (January 1); La Vie En Rose (January 1); The Butterfly and the Diving Bell (January 3); Sleepy Hollow (January 4); The Company You Keep (January 8); Il Divo (January 10); My Left Foot (January 10); The Baader Meinhof Complex (January 10); The Adventures of Baron Munchhausen (January 11); The Infinite Man (January 13); Redoubtable (January 17); Kung Fu Hustle (January 25).