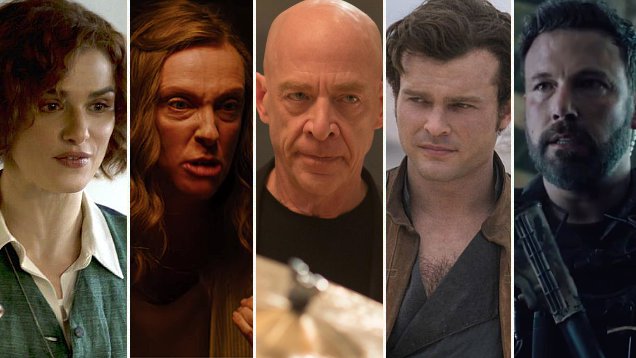 The best films coming to Netflix, Stan and SBS on Demand in March

---
What are the best titles coming to Netflix, Stan and SBS on Demand in March? Streaming guru and film critic Craig Mathieson picks his highlights.
Netflix
Terrifying in both its slow burn creepiness and eventually eruptive conclusion, Ari Aster's debut was easily the most acclaimed horror movie of 2018, giving the genre a horrifying specificity to equal 2017's Get Out. A never-better Toni Collette and Gabriel Byrne are the parents of a family already teetering on domestic oblivion when her character's mother passes, and the many mysteries here reside in blood truths.
The Zero Dark Thirty team of Kathryn Bigelow and Mark Boal worked for years on a narco drama set at the murky junction of the Brazilian, Argentinean, and Paraguayan borders – but it's All is Lost director J.C. Chandor who ultimately made it. Ben Affleck, Oscar Isaac, Charlie Hunnam, and Garrett Hedlund play former U.S. soldiers looking to take down a lucrative cartel score.
When hair metal superstars Mötley Crüe released their collective biography in 2001 it was celebrated as an unadulterated paean to wisdom gained from excess. How it translates to the screen in 2019, with Jackass helmer Jeff Tremaine directing, is another matter. Band biopics tend to follow a familiar path, but this story has genuine highs and lows, plus no shortage of celebrity walks-on such as Ozzy Osbourne and Heather Locklear.
The Great Depression-era crime spree of Bonnie Parker and Clyde Barrow is retold by writer-director John Lee Hancock (The Blind Side) from the perspective of two ageing Texas Rangers – played by Kevin Costner and Woody Harrelson – who eventually hunt the pair down. Expect terse exchanges and lots of Tommy guns.
Also: The Boy Who Harnessed the Wind (March 1); Cloudy with a Chance of Meatballs (March 1); Colossal (March 1); District 9 (March 1); Friends with Benefits (March 1); The Descendants (March 10); Schindler's List (March 12); Tully (March 12); Jackie (March 20); Lincoln (March 23).
Sign up for Flicks updates
Stan
One of the best Hollywood studio dramas of the last decade, Bennett Miller's adaptation of Michael Lewis' non-fiction book about a U.S. baseball team using analytics to prosper on the field begins as a study of numbers and ends as a deep examination of people and what drives them. Brad Pitt finds hitherto unseen depths of anger and regret as the club's general manager, with Jonah Hill expertly cast as his inexperienced sidekick.
With Father of My Children, Goodbye First Love, and Eden, Mia Hansen-Løve confirmed that she is one of the most important French filmmakers of this century. Things to Come pairs her with Isabelle Huppert, who plays a French philosophy professor whose husband, publishing career, and possibly happiness are drifting away. Life is surveyed with a terrifically unsentimental and acute eye, with Huppert open to each moment.
Telling the origin story of one of the cinema's most beloved figures is a suicide mission, and Disney's Star Wars guardians – including multiple directors – probably did as well as conceivably possible with Han Solo's gangster-infused coming of age tale. Alden Ehrenreich probably won't be remembered, but Donald Glover's Lando Calrissian is a juicy supporting role that adds something to the myth.
After La La Land and First Man, Damien Chazelle is now a prominent Hollywood director. But some of the starkest emotional terrain he's covered resides in his breakthrough 2014 drama about a young jazz drummer (Miles Teller) pushed to his fractured limits by his ruthless conservatory instructor (J.K. Simmons). Scenes build to an exacting, sustained pitch, with Simmons in scalding form.
Also: Keane (March 2); Beloved (March 6); Big Fish (March 16); Closer (March 16); In the Line of Fire (March 17); The Midwife (March 19); Embrace of the Serpent (March 21); The Tourist (March 30).
SBS on Demand
Before introducing Cate Blanchett to the world with Elizabeth, Indian filmmaker Shekhar Kapur made this 1994 crime epic about Phoolan Devi (Seema Biswas). Born into a lower caste life in India, she was subject to a forced marriage at an early age and horrific sexual abuse before joining a criminal gang, taking her revenge, and becoming a celebrated figure.
Timely in its depiction of how rabid extremism refuses to acknowledge the truth, this real life London courtroom drama stars Rachel Weisz as American academic Deborah Lipstadt, who was sued for libel in 1996 by Holocaust denier David Irving (Timothy Spall). It's a story of tactics in the face of passion, featuring another spot on supporting performance by Andrew Scott, heir to the storied British tradition of great character actors.
Also: Their Finest (March 1); Pride (March 1); A United Kingdom (March 1); Snow Flower and the Secret Fan (March 8).