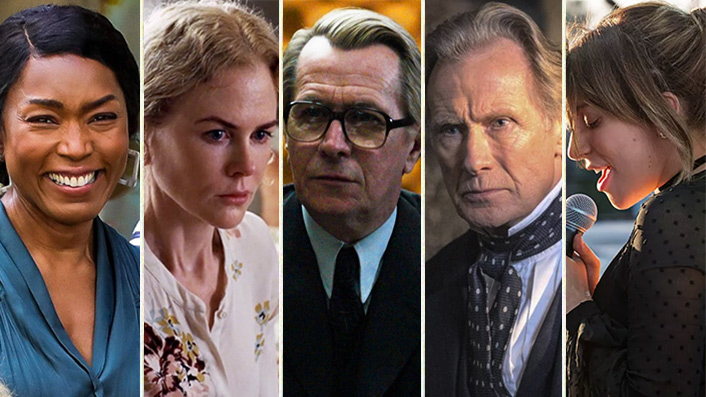 The best films coming to Netflix, Stan and SBS on Demand in August

---
What are the best titles coming to Netflix, Stan and SBS on Demand in August? Streaming guru and film critic Craig Mathieson picks his highlights.
NETFLIX
Sex and the City writer Cindy Chupack returns to Manhattan, with this original comedy about a trio of suburban mothers – played by Angela Bassett, Patricia Arquette, and Felicity Huffman – who take umbrage at being ignored on Mother's Day and descend on their 20something sons. Expect the reproachful humour to give way to love and understanding.
There's enough movie magic – that is the attraction between two stars and the atmosphere they create – in the first half of Bradley Cooper's newest take on the storied romantic drama, that the film survives the solemn second half. Cooper is despairing rock star Jackson Maine and Lady Gaga is Ally, the unknown singer who captivates him. This is a film that implicitly understands the gestures that make movie stars, and foregrounds them.
Answers and those we love are both like ghosts – spectral and uncertain – in this masterful adaptation of John Le Carre's Cold War spy novel, where a forcibly retired British spy, George Smiley (Gary Oldman), is brought back to catch a Soviet mole in 1970s MI5. The film is evocative and concise, with a remarkable supporting cast that includes Colin Firth, Tom Hardy, Mark Strong, and John Hurt.
Also: The Cabin in the Woods (August 1); Up in the Air (August 1); 47 Metres Down (August 10); The Untouchables (August 15); Jersey Boys (August 15); Dazed and Confused (August 15); Suicide Squad (August 15); Charlie Wilson's War (August 16); Sextuplets (August 16); Psycho (August 16); Vertigo (August 16); Mother! (August 17); Training Day (August 25); Wonder (August 28).
STAN
The masterful Romanian writer and director Cristian Mungiu (4 Months, 3 Weeks and 2 Days) makes great use of long, tense static takes in this uneasy moral thriller, so that the dynamic between characters attains a bitter physical force. When a doctor, Romeo (Adrian Titieni) tries to help his traumatised daughter, Eliza (Maria Dragus) by fixing her exam results, it reveals the casually corrupted core of Romanian society through quiet, unbroken tension.
Set in a small Australian town hollowed out by crime gangs and drug distribution, this ticking clock drama was shot in a single involved take that runs for approximately 80 minutes. The instigator is Danny (co-director Tristan Barr), who tries to abandon his criminal family to reunite with his real family, only to unleash retribution and redemption.
Also: Silver Linings Playbook (August 3); The Insult (August 3); Mad Max (August 10); Mad Max: Fury Road (August 10); The Castle (August 11); Doubt (August 14); Don Jon (August 21); Hollywoodland (August 21); Antichrist (August 22); The Station Agent (August 27); Frances Ha (August 29).
SBS ON DEMAND
The fog-shrouded and blood-stained streets of Victorian-era London are revisited in this ghoulish murder mystery, in which Bill Nighy plays police inspector John Kildare, an outsider tasked with solving a series of inexplicable killings. Juan Carlos Medina's film is full of theatrical gestures and subtle undertones – it works on more than one level.
Prior to The Favourite, Greek filmmaker Yorgos Lanthimos took his disdainful view of humanity to its zenith, with this psychological horror film where none of the characters understand what makes them human.  Colin Farrell and Nicole Kidman play a married couple with children haunted by an interloper (Barry Keoghan). It's off-kilter, tense, and yet almost dreamy – the cinematography's most unsettling shots are sublime.
Also: Babel (August 1); Downfall (August 1); Land of Mine (August 1); Lantana (August 7); The Band's Visit (August 9); Down by Law (August 9); The Skin I Live In (August 9); Bob & Carol & Ted & Alice (August 12); Searching for Bobby Fischer (August 16); Leon: The Professional (August 17); Kundun (August 20); Julieta (August 28).