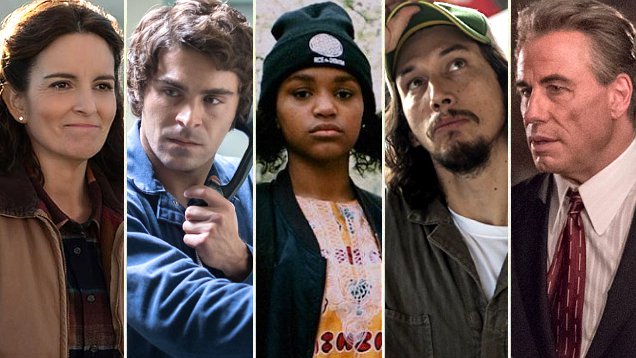 The best films coming to Netflix, Stan and SBS on Demand in May

---
What are the best titles coming to Netflix, Stan and SBS on Demand in May? Streaming guru and film critic Craig Mathieson picks his highlights.
NETFLIX
Zac Efron puts his All-American profile and blank charm to seditious use playing Ted Bundy, the charismatic serial killer whose crimes shocked the world in the late 1970s. Joe Berlinger's independent drama is told in part from the perspective of Liz Koepfler (Lily Collins), a former girlfriend who believed Bundy's vows of innocence.
Amy Poehler directs this comedy about a group of female friends celebrating a 50th birthday with a merlot and spill weekend away, and the cast is stacked with great comics actors including Maya Rudolph, Rachel Dratch, Anna Gasteyer, Tina Fey, and the director herself. Poehler's on a roll: her last project was Netflix's best series of the year to date, Russian Doll.
Spike Lee executive produced this American teen science-fiction thriller, which uses time travel not just as a plot point but a means to look at injustice and loss anew when two black high school prodigies (Eden Duncan-Smith and Dante Crichlow) try to use an untested invention to prevent the police shooting of a family member.
Previously acclaimed on the horror film festival circuit, this unsettling thriller stars Allison Williams (Girls, Get Out) as a former cello prodigy who returns to her mentor (Steven Weber), only to discover that he is now invested in a younger star (Logan Browning). Expect delusional terror, jump cuts, and a truly unnerving cello score.
Also: Gotti (May 1); Two Night Stand (May 1); Despite Everything (May 3); Rogue (May 8); The Perks of Being a Wallflower (May 13); Atomic Blonde (May 15); Miami Vice (May 15); American Sniper (May 22); The Imitation Game (May 22); The Meg (May 28); Gifted (May 29); The Hitman's Bodyguard (May 29).
STAN
A second chance becomes a mid-life crisis in this deadpan dry Australian independent comedy about a failed author and high school English teacher (Alan Dukes), whose comeback is derailed by circumstances well within his control. Writer-director Heath Davis finds the humour in selfish hope, with a veteran supporting cast led by Tiriel Mora's exasperated principal.
Shell-shocked funny and astute about what we need from other people, Zach Clark's guerilla Christmas comedy follows a widowed real estate agent (Anna Margaret Hollyman) who goes on a lost weekend binge with her late husband's secret cohorts. Cocaine use, group shoplifting, suburban sex parties, and self-discovery ensure – all told with a deliciously smart tone.
The painfully unspoken divide between a German corporate executive daughter (Sandra Huller) and her unyielding prankster father (Peter Simonischek) becomes a battleground of put-ons and putdowns in this straight-faced comedy that was Academy Award-nominated for Best Foreign Language Film. Director Maren Ade uses attentive takes and confronting humour to capture a unique relationship.
If you can't keep up with Steven Soderbergh output, this is his most recent heist comedy, with a trio of back blocks siblings (Adam Driver, Riley Keough, and Channing Tatum) planning to rob a NASCAR meet. There are droll diversions and eccentric performances, but the biggest surprise is Daniel Craig as an explosives expert – 007 looks like he's having a bang-up time.
Also: The Big Sick (May 1); Betty Blue (May 2); Summer 1993 (May 8); Christopher Robin (May 12); Whitney (May 12); The Flight of the Red Balloon (May 14); The Story of O (May 16); Blue is the Warmest Colour (May 22); Mums Gone Wild (May 26); Gauguin (May 28).
SBS ON DEMAND
Blessed with an impish mood and episodic structure, this Irish paean to music's power is set in the increasingly violent and sectarian Belfast of the late 1970s, where both punk rock and bombs are exploding. Based on real life events, it's the story of music nut, DJ, and record store owner Terri Hooley (Richard Dormer), who faced down threats to start a cultural comeback.
SBS on Demand's package deal this month is a collection of vintage 1970s Hong Kong martial arts titles from the Shaw Brothers studio. The headliner is Chang Cheh's 1978 grindhouse classic – a young Quentin Tarantino would have worshipped it – about a kung fu student sent to investigate his dying master's former proteges. Fight club ensures.
Also: Control (May 1); A Late Quartet (May 1); Camille Claudel 1915 (May 17); War Witch (May 17); England is Mine (May 22).