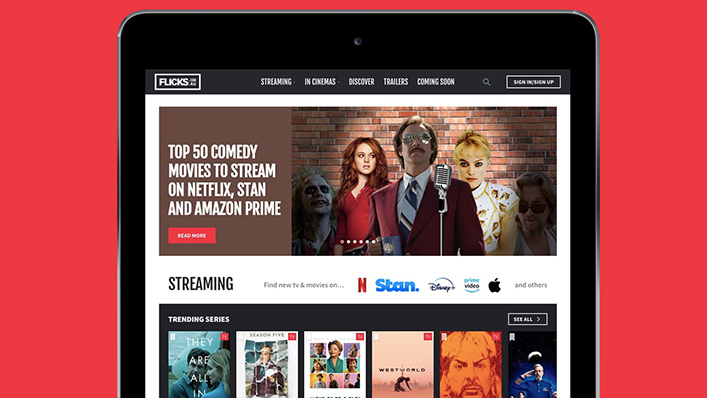 Announcing our expanded coverage of streaming content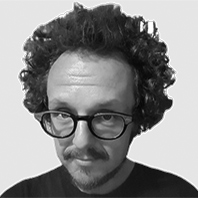 ---
During the Great Depression audiences flocked to the cinema to escape the drudgery of their circumstances. That is obviously not an option during the coronavirus, with exhibitors around the globe temporarily shutting their doors.
But we do have streaming. Oh boy, do we have streaming. All of us have experienced the feeling of wanting to watch something but being paralyzed by how much content there is available. The cinema experience might be on ice—but streaming can still transport us to imaginative worlds and connect us with fellow humans.
That's why, over the last couple of months, the Flicks team have been busy toiling away on a major new update to the site. Our hugely expanded streaming content now includes thousands of movies and approximately 400 (and counting) newly-created dedicated series pages, as well as an increase in editorial coverage on all things streaming.
In the last couple of weeks the Flicks team upped the ante, working around the clock to fast-track this service—staying up to late hours in the night usually reserved for witches and perverts.
And now, liftoff! You can view everything in our beefed-up and rejigged streaming section. For now we are extensively covering titles released on Netflix, Stan, Amazon Prime and Disney+, with coverage of other platforms in the works.
So, what does it look like? On the homepage and on our spankin' fresh streaming page you'll see this section, showing trending series as well as new movies on digital release/streaming platforms.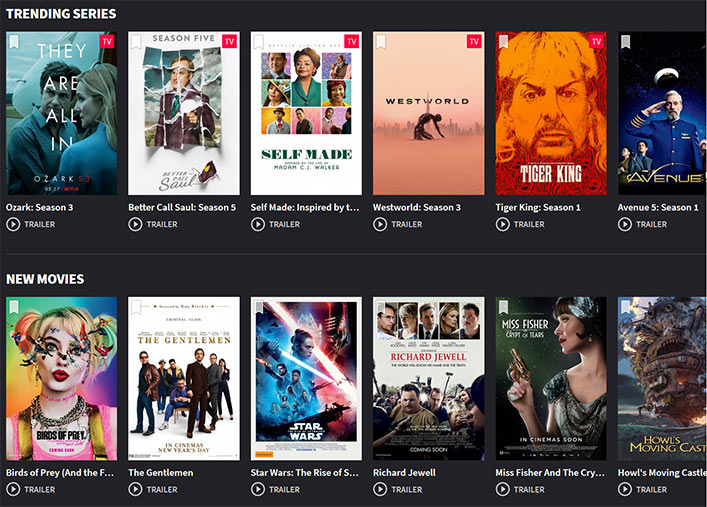 On our streaming page you can browse by platform:

Or by genre:

Each dedicated series page contains (like our movie pages) a synopsis, information about the cast and the filmmakers, a trailer to watch, links to press reviews should you wish to read more, and of course where you can watch it.
If the series is available on one platform, we'll list that platform. If it's available on more than one, we'll list 'em all.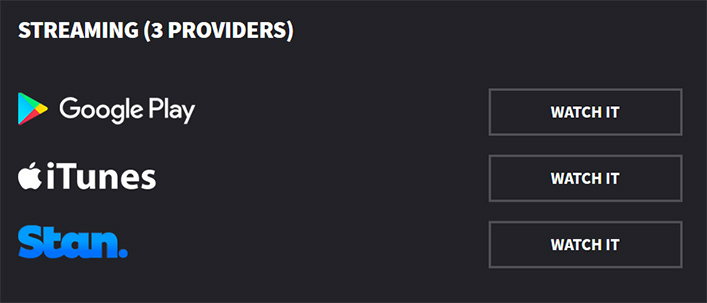 Additionally, our editorial focus has expanded too—offering loads of new content from our crack team of Australian writers and critics. You can read, for example, my thoughts on the comedy series Avenue 5, the mind-boggling sci-fi Devs and my top 50 guide to the best comedy movies to stream.
Or maybe you want to check out Sarah Ward's guide to every Pixar film, Travis Johnson's detailed look at Asian fantasy TV shows, Craig Mathieson's picks for best films coming to streaming platforms in April, or Jenna Guillaume's list of complete classic series to binge watch.
The best way to keep track of all this is via our weekly email. Every Friday morning it is sent to our insatiable subscribers, listing the latest streaming releases and our new editorial content—including features, reviews, news, competitions, trailers and more. While you're at it, follow us on Facebook and Twitter.
Sign up for Flicks updates
So go ahead and put your feet up. Have a poke around. Make yourself at home. Keep practicing social distancing, stay safe during these difficult times and enjoy our new streaming content. It will take you a while to get through.
Got a suggestion? Drop me a line.