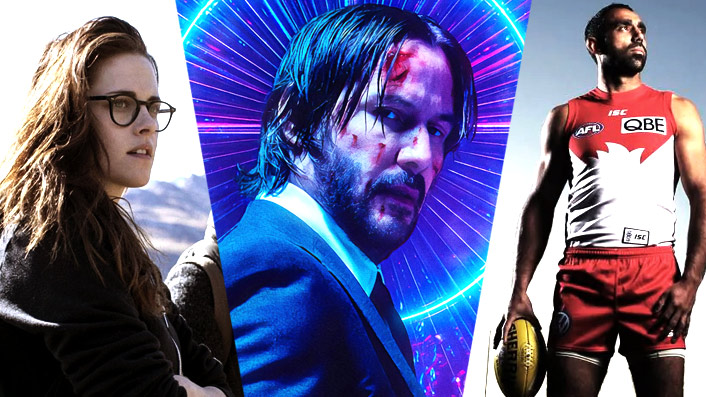 Best films coming to Netflix, Stan and SBS on Demand in February

---
What are the best titles coming to Netffix, Stan and SBS on Demand in February? Streaming guru and film critic Craig Mathieson picks his highlights.
Netflix
Having just debuted at the Sundance Film Festival – which is obligatory for all films produced by the Duplass brothers – Jeff Baena's fourth feature celebrates and then subverts the quirk indie comedy. The focus is Sarah (Alison Brie), who lives at a sedate pace after a past tragedy. But just as her life seems to click into gear after she makes a new connection, her tamped down fears start to become apparent. Strangeness will prevail.
Keanu Reeves might be pacing himself physically – there's more grappling than high kicks in the fight scenes – but the franchise about the hard to kill assassin has found its fan service groove. Distinct villains, boss levels and some assertive co-stars (Halle Berry, a pair of ferocious hounds) all punctuate the choreographed set-pieces. The why is now unimportant; the how is everything.
Having shown an affinity for unspoken human connection with his 2018 independent success Hearts Beat Loud, American filmmaker Brett Haley directs this Netflix original romantic drama based on the hit YA novel by Jennifer Niven. Elle Fanning (Maleficent, The Neon Demon) and Justice Smith (Jurassic World: Fallen Kingdom) play traumatised teenagers who find a second chance with each other.
Also: Blades of Glory (February 1); Philomena (February 1); Baby Driver (February 1); Transformers: Age of Extinction (February 1); The Coldest Game (February 8); To All the Boys: P.S. I Still Love You (February 12); Smokin' Aces (February 14); Hot Fuzz (February 14); Eternal Sunshine of the Spotless Mind (February 14); The Eagle (February 14); The Dark Tower (February 29).
Stan
While The Australian Dream was rightly celebrated for its searing depiction of how champion Indigenous footballer Adam Goodes was driven from the AFL by racism, there's also merit to the second documentary from 2019 – albeit made without the involvement of Goodes – that describes his exile. Working from the outside, Ian Darling (Paul Kelly – Stories of Me) offers a perspective that's particularly cutting on the media's failings.
In a long and hectic career, the great British actor Timothy Spall delivers a memorably empathetic and understated performance as the 19th century painter J.M. Turner. Written and directed by Mike Leigh, it's the study of an artist driven by his needs – primarily to paint, followed by success, sex and respectability – in an uncompromising era. Sardonic humour and cruel circumstance inform every decision.
Also: Boulevard (February 5); High Rise (February 7); Goldstone (February 8); Manglehorn (February 12); Lean on Pete (February 13); Love and Friendship (February 15); My Generation (February 20): The Debt (February 15); Holding the Man (February 22); Nymphomaniac Vol. 1 (February 26); Nymphomaniac Vol. 2 (February 26).
SBS on Demand
In a sometimes wayward career, the finest films from French director Olivier Assayas have been about the blurring of boundaries and turning points only recognised in retrospect. One of the best is this arresting 2014 study of emotional transference and popular culture's power, with Juliette Binoche as a French film star weighing up her next role and Kristen Stewart as her personal assistant.
Alternately celebrated and savaged by critics when it hit the festival circuit, David Robert Mitchell's follow-up to the hazy, terrifying It Follows is an idiosyncratic L.A. mystery – think The Long Goodbye and The Big Lebowski. Andrew Garfield plays a slacker who pursues Riley Keough's mystery woman into a bizarre conspiracy. Make your own mind up on this one.
Also: An Education (February 3); The Lives of Others (February 6); Certain Women (February 6); Loveless (February 7); Capernaum (February 12); The Disappearance of Eleanor Rigby: Them (February 14); The Breaker Upperers (February 14); Slow West (February 15); Detroit (February 16); Farewell, My Queen (February 21); Bone Tomahawk (February 22); Woman at War (February 27); Tangerine (February 28).