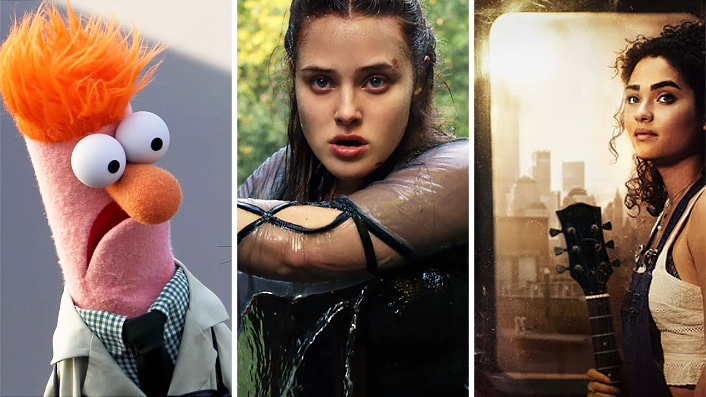 8 new TV shows arriving in July that we're excited about

---
Craving something new to binge? There's loads of new shows arriving in July. Here's what to keep an eye out for.
See also
* All new streaming movies & series
* Watch the latest movie & TV trailers
Where to watch: Netflix
If you were a fan of this creepy series in the '80s and '90s, then get excited for the reboot, co-produced by the original creators and the producers of Stranger Things. There are 12 new episodes, with the first six dropping on July 1. Each one focuses on a dramatic/spooky/unnerving real-life mystery.
Where to watch: Netflix
If you've been after something to fill the Buffy-shaped hole in your heart, Warrior Nun might just do the trick. At the start of the show, protagonist Ava, an orphan, is dead. But she doesn't stay that way, as an ancient order brings her back to life, imbuing her with superpowers and a mission to fight demons. It's not exactly what Ava planned for her life (or death).
Where to watch: Netflix
Another reboot from Netflix, this time of the iconic book series that was also adapted into a TV show and a movie in the '90s. The new Baby-Sitter's Club retains the same characters and storylines fans of the original know and love, while bringing a 2020 spin with a more diverse cast and some updated plot points. It's sure to delight nostalgic '90s kids and new fans alike.
Where to watch: Apple TV+
Described as a "love letter to the diverse musicality of New York", Little Voice is a musical romantic drama produced by J. J. Abrams. It follows main character Bess (Brittany O'Grady) as she tries to fulfil her dreams and navigate family and relationship drama. It features new original songs from Sara Bareilles, who is also an executive producer.
Where to watch: Stan
P-Valley is based on the play Pussy Valley by Katori Hall, who is series' showrunner and executive producer. Set in the American Deep South, P-Valley centres around a strip club and an ensemble cast of characters connected to it. One of the most exciting aspects of the show is its all-woman director line-up, with the premiere episode directed by award-winning music video director Karena Evans.
Where to watch: Netflix
Based on an illustrated novel by Frank Miller and Tom Wheeler, Cursed is a re-imagining of the Arthurian legend focusing on Nimue, the Lady of the Lake. It stars Australia's own Katherine Langford as Nimue and Devon Terrell as Arthur, with Gustaf Skarsgard as Merlin and Daniel Sharman as a character called the Weeping Monk.
Where to watch: Stan
This sitcom first aired in Britain in 2019 and is now premiering in Australia on Stan. In the vein of Shaun of the Dead, it's a zombie comedy set in Birmingham, following a ragtag group of z-poc survivors fleeing for their lives on a very, very slow canal boat. As you do.
Where to watch: Disney+
They're ba-ack! Muppets Now is a six episode "unscripted" series following Scooter and the other Muppets as they prepare to launch their first streaming show. It all sounds very meta and very Muppet-y, which is just what we need in 2020.