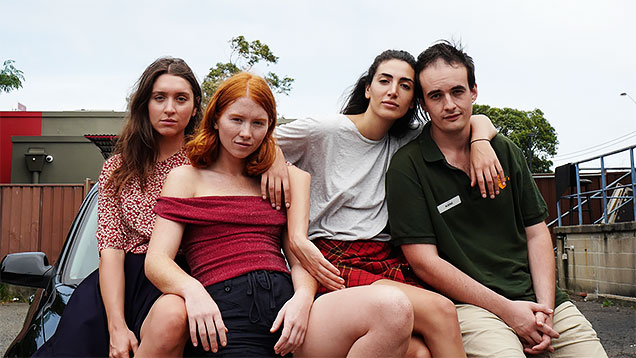 Suburban Wildlife is an impressively authentic micro-budget Australian drama

---
Four friends spend their final week together post-graduation and discover their place in the world, in this impressively frugal micro-budget Australian film that recently premiered at the Sydney Film Festival. It gets its generational messages just right, says Glenn Dunks.
The narrative and emotional arcs of the Australian drama Suburban Wildlife are not necessarily new for homegrown cinema, nor are the kind of aesthetics used to tell this story. However the feature film debut of director Imogen McCluskey and co-writer Beatrice Barbeau-Scurla shows an impressive depth of understanding in not just the real-world concerns of those bringing up the rear of the millennial age-bracket, but also for the minutiae of the way they speak and interact.
McCluskey evokes the work of Gus Van Sant, Andrea Arnold and micro-budget icons Joe Swanberg and Lynn Shelton. She makes a solid case for a second project, which would hopefully see her graduate from the $3752 budget (raised through Pozible) that her first was made on.
In the outer suburbs of Sydney, four friends have just graduated, but only one has plans for the next stage of her post-education life. Louise (Hannah Lehmann) has her bags packed for London, leaving behind Nina (Maddy McWilliam) who has yet to quite come to terms with her best friend's departure. Likewise, Alice (Priscilla Doueihy) and Kane (Alex King) barely seem able to register that their high school gang will be dissolving forever as they all venture to house parties and spend their weekends boozing.
All four are experiencing some sort of uncertainty over what's to come. Kane hopes for an American visa to study as a tattoo artist in Los Angeles; Alice struggles over a potential relationship with the charming, handsome party pill-peddler. And Nina's path of self-discovery continues as she begins to explore her sexuality, in awkward encounters with women further along in their queer journeys.
Visually, I would estimate a solid 40 percent of Suburban Wildlife's running time captures its young actors staring wistfully out of windows. While this can grow tiresome (even at 85 minutes, the film sometimes feels padded), Lucca Barone-Peters' crisply watchable camerawork captures their sunlit surrounds from car windows and through living spaces with a textural eye. It highlights the mundane sameness of the Australian suburbs well, while simultaneously reflecting the nostalgic beauty that many of its audience who are now older will likely think back fondly on. This style works in tandem with evocative sound design, which fills the speakers with the sounds of lawn mowers and cicadas.
The absence of adults is probably Suburban Wildlife's most telling choice. These young people inhabit spaces that they supposedly share with their privileged boomer parents, who are more likely to be off travelling than engaging with the troubles of their children. Louise's parents don't even go to her graduation, while Alice and her sister appear to be left to fend for themselves.
Sign up for Flicks updates
Unspoken and yet hard to ignore is the understanding that their parents grew up in an easier time. The houses they live in are not going to be so easily available to them in a world of surging costs and uncertain employment futures.
"What can you even do with a communications degree?" asks Alice's sister with more than enough sincerity to make us think she believes it. Blessedly devoid of story trappings too often ladled onto youth narratives, like Instagram and will-they-won't-they romance, and thankfully eschewing Australian indie clichés such as addiction and abuse, McCluskey is wise to allow her characters to explore these more ordinary feelings. Universal themes of the 22-year-old are explored, such as the slow reveal that the people you chose to be your friends during this pivotal point in your life may not be the ones you spend the next pivotal phase with.
Produced with a predominantly female crew, Suburban Wildlife shows that there is life yet in these sorts of stories, and that the micro-budget film industry of Australia is producing some wonderful new voices, with an eye and an ear to the world around us. "Suburban Ennui" would have been too on the nose for a title, but there is plenty of it here to be found.