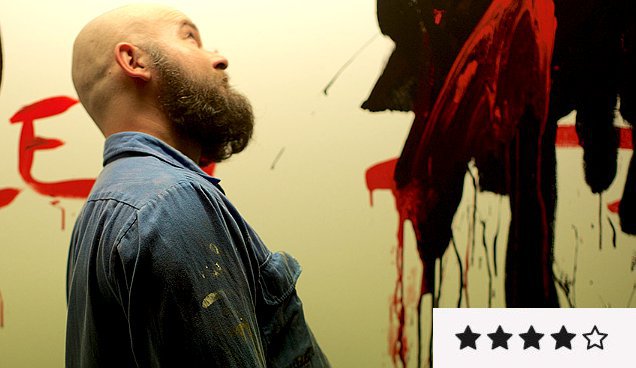 Acute Misfortune review: this powerhouse drama is one of the best Australian films of the year

---
The new Australian drama Acute Misfortune signals its intentions right out of the gate. Within just its initial flourish of images, out of context and deceptively abstract, the film immediately plants its intentions firmly in the dirt. Actor Thomas M Wright's debut effort as director and co-writer is remarkably assured, no doubt bolstered by having worked with the likes of Jane Campion (on Top of the Lake) and Warwick Thornton (on Sweet Country).
It is a story of addiction and obsession, admissions and observations. It is a film that's unafraid to be artful, rooted in atmosphere and mood, and is one of the strongest Australian films of the year.
Adapted from Erik Jensen's award-winning biography, Erik (Toby Wallace) is a 19-year-old rising star journalist with an ambitious eye and a work ethic beyond his years. He is asked to travel to the Blue Mountains and write a profile about painter Adam Cullen (Daniel Henshall) who at that time of the early 2000s had won the Archibald Prize for his portrait of actor David Wenham and was thrust into the national spotlight.
Sign up for Flicks updates
The meeting and subsequent article go over so well with the private Cullen that he soon invites the younger man to write his official biography. Meeting frequently over a four-year period at his remote home, the process sees Jensen swerve between the role of the best friend, the bullied, the enabler, the confused onlooker, and potentially even the embodiment of Cullen's repressed sexuality.
The most striking thing about the movie is indeed that attention to stylistic detail. It's the sort of film that you will know within minutes of its starting whether you're going to respond to its artistic gambles or not. Visually, Acute Misfortune is perhaps most evocative of Justin Kurzel's Snowtown (which perhaps coincidentally also starred Henshall). Cinematographers Germain McMicking and Stefan Duscio use the boxy confines of the Academy ratio to infuse the film with a sense of claustrophobia that is only amplified by the intense use of darkness and shadow inside and out. Their work in framing the often overcast and wintry locations is its own work of art.
One of Wright's most interesting choices, however, is to question the genius behind Cullen's reputation. In fact, there are even times when it appears to actively propose the idea that some of his art is kind of, well, crap – and that he was in many ways far too drunk on the idea of the tortured, self-destructing artist.
Cullen is not easily forgiven by the filmmaker and unlike many other films about artists with troubled histories, Cullen's wanton acts of nihilism – including shooting at Jensen, throwing him from a moving motorbike, and passing out from drugs at his birthday party – are thankfully never dismissed as mere transgressions under the illusion that to be a genius means also to be a tyrant.
Wright and Jensen have thankfully erred away from the tiresome birth-to-death narrative of many biopics
This theme of toxic masculinity comes additionally into play through the film's exploration of sexuality. The relationship between Cullen and the openly gay Jensen is often left ambiguous and the film gains a lot of power out of this in flux curiosity. It's never clear whether Cullen is using this plan as an extravagant – and extravagantly sinister – ploy to be around Jensen for reasons beyond the professional.
Cullen often talks about women in derogatory terms, speaking in loaded and potentially coded terms about how they can't handle him and how he's better off without them. Cullen appears to even get a certain thrill out of imposing his hulking, occasionally even naked frame over that of Jensen, as if to stake a claim to his masculinity in the face of desire.
In adapting Acute Misfortune: The Life and Death of Adam Cullen, Wright and Jensen have thankfully erred away from the tiresome birth-to-death narrative of many biopics. Instead, Wright has chosen to focus on the artist's time with the writer, skipping through time to moments of personal significance. It's a wise choice to play with structure, mood and craft because this story of a writer infiltrating the world of an artist has been done many times before. Acute Misfortune feels more unique and distinct than, say, the very similarly-plotted The End of the Tour with Jason Segel as David Foster Wallace and Jesse Eisenberg was the young, ambitious journalist David Lipsky.
Adam Cullen died in 2012 at just 46 years of age. Acute Misfortune feels like an appropriate, belated farewell to a man with a complicated legacy. It will likely be a hard film for audiences to embrace given it lacks the more traditional celebratory angles of films like Mike Leigh's Mr Turner, the bombast of Julie Taylor's Frida, the sweetness of Maudie, the iconography of films about Andy Warhol or Van Gogh, or even recent Aussie artist documentaries Whiteley and Have You Seen the Listers?. But it's an artistic approach to the life of an artist and a powerful work of Australian drama.
Acute Misfortune is currently screening at the Melbourne International Film Festival.