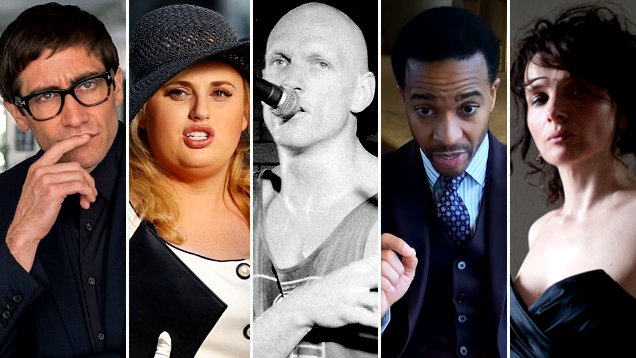 What are the best titles coming to Netflix, Stan and SBS on Demand in February? Streaming guru and film critic Craig Mathieson picks his highlights.
Netflix
While it never finds a synthesis between its twin outlooks – a satire of high-end art culture and an evil entity horror film – this genre mash-up from writer-director Dan Gilroy (Nightcrawler) is ghoulish fun, introducing a set of sophisticated monsters, including Jake Gyllenhaal's critic and Rene Russo's rapacious dealer, and then terrorising them via a new discovery's possessed artwork.
Absent from the Hollywood studio system, Steven Soderbergh appears to be on course for two features a year. 2019's first is a sports drama, written by playwright Tarell Alvin McCraney (Moonlight) and shot on an iPhone, about a black professional basketball agent (Andre Holland) trying to safely steer his clients during an NBA strike against the overwhelmingly white team owners.
The terminal illness road trip has been done and done again, but in the case of Alex Lehmann's film you need to have faith in the dynamic between leads Ray Romano and Mark Duplass (also Lehmann's co-writer), who play oddball neighbours and surprise friends who hit the road after one receives an unwanted diagnosis.
Another Netflix purchase from a pensive Hollywood studio, this satire of romantic comedies stars Rebel Wilson as a cynical Australian architect in New York whose disdain for the rom-com is challenged when she awakens in a parallel world governed by the rules of Pretty Woman and Runaway Bride. Exhibit A: Liam Hemsworth as her loving boyfriend.
Also: The Fate of the Furious (February 2); Ghost in the Shell (February 7); Get Out (February 9); Chronicle (February 13); Paddington (February 14); Jarhead (February 15); Sausage Party (February 16); Jupiter Ascending (February 24); The Shallows (February 28).
Sign up for Flicks updates
Stan
Midnight Oil were one of a kind in 1984 – a fiercely political, take no prisoners rock & roll band whose iconic lead singer just happened to be standing for the Australian Senate while they were touring the country. Assembled from period footage shot but never used, Ray Argall's documentary doesn't explain the band, but it catches their live fury, Peter Garrett's balancing act, and a nation on the cusp of change.
Stanley Kubrick's 1956 breakthrough – it got him hired by Kirk Douglas for the following year's Paths of Glory – is a hard-nosed film noir about a career criminal (Sterling Hayden) whose racetrack heist is doomed by the flaws of those around him. The black and white images have a fluency that offset the hardened cynicism, and it still packs a scornful punch.
Elles (February 6)
If you've just discovered the Polish actor Joanna Kulig via her compelling performance in Cold War, this intimate 2011 French drama is a strong item on her CV. As one of two students turned escorts, Kulig's Alicja is interviewed by a journalist (Juliette Binoche), with all three lives revealed through an interweaving series of revelatory moments and sexually explicit scenes held by a discerning female gaze.
Daniel Day-Lewis was just 28-years-old and little known when Stephen Frears' idiosyncratic vision – scrappy, hopeful with love, daubed with whimsy – of Thatcher-era working class London was released in 1985. He plays a street punk who shares a surreptitious affair with the son of Pakistani immigrants (Gordon Warnecke's Ali), creating a messy collision between cultures.
Also: Manhunter (February 3); Gorky Park (February 4); Loveless (February 5); Tabu (February 6); Eastern Boys (February 7); Miss Sloane (February 7); Broadway Danny Rose (February 12); Arbitrage (February 16); Mountain (February 17); Falcon and the Snowman (February 25).
SBS on Demand
Shot with formally framed compositions that reveal the wonder of mid-century modernist architecture and then uncover the people admiring the buildings, the debut feature from video essayist turned filmmaker Kogonada connects two lives at turning points: a young student (Haley Lu Richardson) and a Korean-American translator visiting his hospitalised father (John Cho). It's a quiet, captivating feature.
Set in 1980s Paris, where the gay activists of ACT UP are desperately trying to raise public awareness and rouse health officials to the terminal spread of HIV, Robin Campillo's acclaimed movie interlocks the political and personal with a bracing intensity and intimate depiction of group dynamics. Celebration and loss have rarely been in such close proximity.
Also: Cut Snake (February 1); Marlina, the Murderer in Four Acts (February 1); Mountain (February 1); Beach Rats (February 15); Head On (February 15); Albert Nobbs (February 17); The Kids are All Right (February 17).