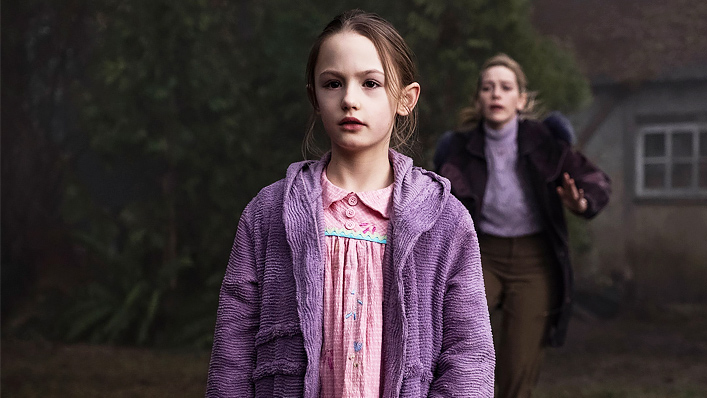 The Haunting of Bly Manor feels as trapped as its characters

---
Netflix's new horror series—full of ghosts, creepy dolls and dollhouses—is never less than capably made, but hits marks the viewer can see a mile away. Here's critic Sarah Ward's review.

Whether serving up bumps and jumps, ramping up the gore, favouring gothic thrills or delivering anything else unsettling, horror frequently trades in familiar narratives. All genres do, toying and tinkering with variations of the same stories, but such repetition is especially fitting when it comes to tales shaped by fears and frights. The cycle of life and death keeps turning, of course, and existential turmoil and phobias about mortality never fade.
See also:
* Best 25 horror movies on Netflix
* All new movies & series on Netflix
* All new streaming movies & series
Humanity is constantly haunted by the fact that we die, our loved ones will perish, everything we hold dear will disappear, and our mistakes and regrets could linger. The Haunting of Bly Manor, the second season of Netflix's The Haunting anthology series, understands this.
If a TV series had a soul, Bly Manor would feel the above themes deep within it. It certainly embraces them heartily in its narrative. Adapting Henry James' 1898 novella The Turn of the Screw, the nine-episode show focuses on American school teacher-turned-British au pair Dani Clayton (Victoria Pedretti), who is clearly haunted by her past and someone in it, and soon by her new job as well.
Bly Manor charts Dani's path as she starts caring for eight-year-old Flora Wingrave (Amelie Bea Smith) and her 10-year-old brother Miles (Benjamin Evan Ainsworth), who are struggling to cope with the deaths of not only their parents but also their last nanny. At the sprawling British estate that gives the show its name, an assortment of other figures—housekeeper Hannah (T'Nia Miller), who noticeably shies away from eating at every meal; chef Owen (Rahul Kohli), with an ailing mother to look after; gardener Jamie (Amelia Eve), who prefers plants to people; and absent uncle Henry (Henry Thomas), who's frequently found at the bottom of a bottle—all grapple with loss and mortality in different ways.
The setup is simple, and would've been even if Bly Manor didn't have a literary basis. Series creator and horror filmmaker Mike Flanagan throws a group of troubled people together, makes them battle both internal and external forces, and slowly teases out their backstories while puzzling out the broader narrative. Breathing or not—including the last governess, Rebecca Jessel, (Tahirah Sharif) who left such an imprint; and the missing fellow employee, Peter Quint (Oliver Jackson-Cohen), that she was having an affair with—everyone here is trapped by death and love. But it quickly becomes apparent that Bly Manor is trapped itself.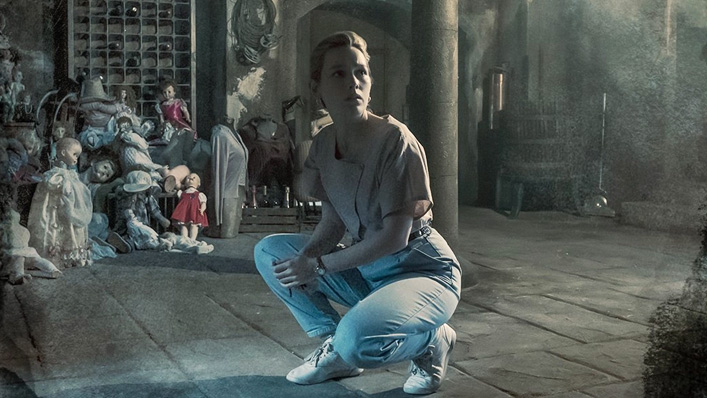 So much of the series paints by the numbers, hitting every mark that every viewer can spot miles away. It does so handsomely, competently and atmospherically, because Flanagan knows his genre. The show doesn't ever earn Flora's too-often-uttered words—"perfectly splendid"—but it's never anything less than capably made.
And yet, while The Haunting anthology likes to lace its frames with veiled apparitions—see also Bly Manor's predecessor, 2018's The Haunting of Hill House—little here is hidden. The series frequently plays like a grab bag of well-worn motifs and moments, including the attention given to creepy dolls and dollhouses (as Hereditary and The Lodge each did, too, so recently), as well as its gothic-driven, heartfelt but never particularly resonant focus on love, grief and yearning.
Indeed, it's noticeable that Bly Manor's best episodes are those that deviate from the status quo—not via narrative twists, but by changing the way that it delivers that narrative in select episodes. Flanagan and his creative team aren't actually veering far from Hill House's bag of tricks, but any variation in Bly Manor's template stands out. Episode five lurches and flits around like a dream, revealing obvious secrets but keeping audiences glued with its command of mood (and Miller's masterful performance, the show's best). When the eighth episode rolls around, it's a much-needed circuit breaker, offering up a stylised detour from the main story.
Sign up for Flicks updates
Flanagan has been in this territory before, just last year, when he directed the long-awaited The Shining sequel Doctor Sleep. It too was far less engaging and satisfying when it felt like it was sticking to type. Similarly, it flirted with something special when it dared to break away from Stanley Kubrick's iconic classic, shake things up and display its own personality, leaving viewers revelling in specific details rather than its bigger picture.
Perhaps it's apt that Bly Manor ultimately proves a case of small pleasures; that's what everyone fighting for love fleeting nature while tussling with death's inevitability eventually comes to treasure, as the horror genre keeps conveying. Two such aspects that scream for attention here: the casting of The Room's Greg Sestero in the show's framing story, and of Garth Marenghi's Darkplace star Matthew Holness as Flora and Miles' father. They're minor elements of Bly Manor, but they're genuine surprises in a show with few to offer.