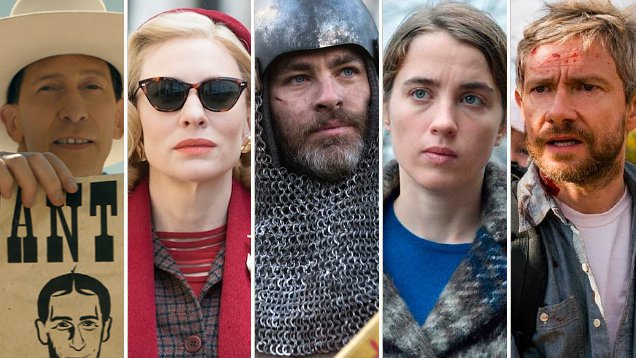 The best films arriving on Netflix, Stan and SBS on Demand in November

---
What are the best titles coming to Netflix, Stan and SBS on Demand in November? Streaming guru and film critic Craig Mathieson picks his highlights.
NETFLIX
Unfinished productions, or scything studio edits, were mainstays of Orson Welles' often inspired and always mercurial filmmaking career. The story of an ageing Hollywood director (played by John Huston) trying to restart his career, this mockumentary was shot intermittently between 1970 and 1975, before Netflix ushered it into post-production in 2016. An accompanying documentary by Morgan Neville, They'll Love Me When I'm Dead, is out the same day.
Fresh from the Texan crime drama Hell or High Water, director David Mackenzie and star Chris Pine plunge into the historic story of the Scottish king, Robert Bruce, who won Scotland's independence from their English occupiers in the early 14th century through decisive politics and a bloody guerilla war. Don't expect Braveheart II.
Cargo (November 16)
The best Australian film of the year to date, Cargo puts a particularly resonant local interpretation on the zombie apocalypse thriller, revealing an outback where a desperate father (Martin Freeman) tries to safeguard his baby daughter, while a young Indigenous girl (Simone Landers) looks for hope. The past and future of the land, both blood-stained, make for a genre film with powerful commentary.
The Coen brothers return to the western for this anthology film which ties together six stories that present their idiosyncratic take on six shooters and wagon trains. Tim Blake Nelson plays the title role, with an ensemble cast that includes Liam Neeson, James Franco, Tom Waits, and Zoe Kazan saddling up.
Also: Assassin's Creed (November 4); The Five Year Engagement (November 9); Split (November 10); Cam (November 16); Manchester by the Sea (November 17); Blazing Saddles (November 22); Jack Reacher: Never Go Back (November 22); The World is Yours (November 30).
STAN
There is no crime movie Los Angeles can't encompass, and the best that can be said about this blunt force duel between an armed robbery crew and a take no prisoners team of detectives, commanded by Gerard Butler's Nick O'Brien, is that it lifts from the best: Michael Mann's Heat provides the high velocity punctuation, gunmetal sheen, and kinetic compositions.
Barely seen in cinemas, Halloween remake director David Gordon Green's 2017 Boston marathon bombing film is a probing dissection of our hunger for heroes. Jake Gyllenhaal is galvanising as Jeff Baumann, a bystander who lost both legs and subsequently struggles with physical and emotional trauma even as he's celebrated. Miranda Richardson, as Jeff's unsteady mother, is a corrosive force.
This humanist mystery, where a murder is investigated not to ascertain guilt but reclaim the victim's memory, is not the best film from Belgian filmmaking siblings Jean-Pierre and Luc Dardenne (The Child and Two Days, One Night). But nonetheless it is emotionally eloquent and genuinely purposeful. As a driven young doctor trying to rectify a small mistake writ large, Adele Haenel is compelling.
Carol (November 29)
The great screen romances in recent years have sprung from the margins, where desire is complicated by genuine risk. In Todd Haynes' thrilling evocation of conservative 1950s America, a privileged housewife, Carol (Cate Blanchett), draws a young department store clerk, Therese (Rooney Mara), into her orbit. Impeccably directed and riven with emotional nuance, it's one for the ages.
Also: Boy (November 3); Kings of the Road (November 6); Punch-Drunk Love (November 8); The 15:17 to Paris (November 9); Calvary (November 13); The Belier Family (November 14); Side Effects (November 18); Rams (November 23); 12 Strong (November 25); The Great Beauty (November 28).
SBS ON DEMAND
A time capsule of late seventies punk excess set in a dilapidated Melbourne share house, Richard Lowenstein's scuzzy screwball farce about a go-nowhere band, fronted by Michael Hutchence's Sam, and their pinball-like missteps is an ahead of its time Australian film. What was treated as indulgence in 1986 now plays with vitality and despairing wit.
2 Days in Paris/2 Days in New York (November 16)
Alternating between English and her native French, actor Julie Delpy has set a cracking pace as a filmmaker over the last decade. United by Delpy's lead character, Marion, this underrated pair of tart relationship comedies are laced with droll humour, cultural clashes and terrific male foils in Adam Goldberg and Chris Rock respectively.
Also: Don's Party (November 2); Tracks (November 2); Tampopo (November 16); James White (November 21).