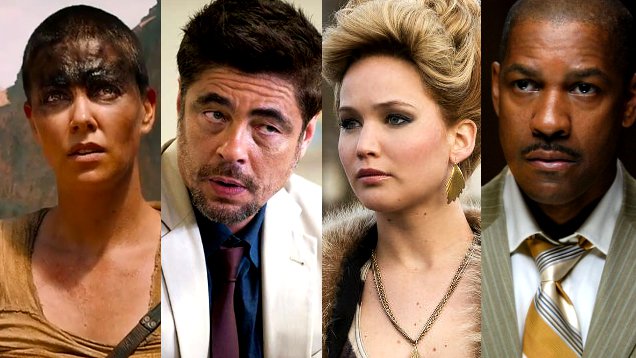 The 50 best films on Netflix Australia

---
Netflix continue to pump money into original films and TV shows. We often hear about the arrival of new movies, but what about the best movies? Critic Craig Mathieson has combed the archives, writing the definitive list of the greatest films currently available to stream on Netflix Australia. 
American Hustle (2013, 138 minutes): Recreating an FBI investigation from the 1970s with Amy Adams, Bradley Cooper, Jennifer Lawrence and a never better Christian Bale, director David O. Russell's love of antagonistic energy and abrasive personalities finds a melancholic heart amidst the self-destructive cons.
Apocalypse Now Redux (2001, 202 minutes): As much a remix as an extended cut, Francis Ford Coppola's 1979 celebration of war (and filmmaking) as organisational folly has vivid parameters in the story of a Special Forces officer (Martin Sheen) sent to kill a former U.S. general gone rogue (Marlon Brando).
The Babadook (2014, 93 minutes): One of the great Australian debuts, and an equally great horror film from Jennifer Kent, where the monster is not only under the bed but also inside Essie Davis' besieged parent.
Barry Lyndon (1975, 184 minutes): One of Stanley Kubrick's least heralded films is also one of his best: the story of a young man from 1750s Ireland (Ryan O'Neal) who becomes inured to his own cruelty, told with a technical mastery that is ritualistic and enthralling.
Beasts of No Nation (2013, 137 minutes): One of the very first Netflix originals, where the savage, scarring plight of African child soldiers – with Idris Elba as their abusive, messianic leader – is captured with vivid strokes and lasting pain in this drama from True Detective director Cary Joji Fukunaga.
Blue is the Warmest Colour (2013, 180 minutes): An intensely detailed French dissection of the love affair between Lea Seydoux and Adele Exarchopoulos' young women, commingling passion and time's passing to paint a complete picture of a single relationship.
Children of Men (2006, 109 minutes): A dystopic thriller has never felt as immediate and connected to our times as it does in Alfonso Cuaron's movie about the mission of Clive Owen's lapsed activist to protect the lone pregnant woman in a barren, collapsing world.
Clueless (1995, 97 minutes): A knowingly sweet teen comedy from Amy Heckerling whose best lines live on as memes, but the film itself remains a perfectly calculated pleasure with Alicia Silverstone as the teenage sophisticate Cher.
Daughters of the Dust (1991, 112 minutes): Rediscovered in the wake of Beyonce's Lemonade, which took visual and thematic inspiration from it, Julie Dash's feature is part of the hidden lineage of African-American cinema as a family's celebration reveals their history and their future.
Drive (2011, 100 minutes): Luscious neon streetscapes and Ryan Gosling's best Steve McQueen vibe combine in this violent automotive noir that is elevated by Carey Mulligan's presence. Director Nicolas Winding Refn's artful excess has never had a more appealing palate.
Dunkirk (2017, 106 minutes): Christopher Nolan presents war as a series of unrelenting moments, precariously balanced between self-doubt and calamity, in this recreation of the British army's desperate World War II evacuation from France. Elemental in nature, with telling close-ups and timelines that combine to resonate.
Frances Ha (2012, 86 minutes): The 20something New York experience has rarely been as funny or as deceptively telling as it is in this black and white comedy from then emerging star Greta Gerwig and director Noah Baumbach.
The Godfather (1972, 177 minutes): Strip away the long celebrated gangster film tropes and Francis Ford Coppola's breakthrough is a study of family and country, specifically Italian immigrants and America, that reveals how each shapes the other. It's both immense and woundingly intimate.
Good Time (2017, 101 minutes): When a pair of co-dependant brothers, played by Robert Pattinson and Benny Safdie (who also directs alongside his brother Josh), rob a New York bank they tumble into a netherworld of documentary-like street realism and compelling chaos that's nerve-jangling and revealing.
Groundhog Day (1993, 101 minutes): A comedy so perfectly crafted that it appeals after countless viewings, Harold Ramis' classic stars Bill Murray as an abrasive weatherman whose outside broadcast traps him in a day that he lives on endless repeat.
The Handmaiden (2016, 144 minutes): The costume drama becomes a deliciously sensual and scabrous thriller in the hands of South Korean director Park Chan-wook, who uses different viewpoints to tell of a criminal plot turned obsessive love between a trapped heiress and her servant that achieve thrilling liberation.
Hot Fuzz (2007, 121 minutes): Edgar Wright and Simon Pegg go so deep in their send-up and celebration of American cop buddy films that this very British comedy refuses to separate the two approaches, resulting in a homage both funny and violent.
Sign up for Flicks updates
The Hurt Locker (2008, 131 minutes): Jeremy Renner is the perfect vehicle for Kathryn Bigelow's study of male obsession, playing a bomb disposal expert in post-invasion Iraq who can't separate his life from the unnecessary risks he takes.
I Don't Feel at Home in This World Anymore (2017, 93 minutes): Macon Blair's Sundance Film Festival winner is a comic vigilante thriller where common decency motivates the unlikely heroes – Melanie Lynskey's nursing assistant and Elijah Woods' nunchucks-wielding neighbour – on an increasingly dangerous quest.
Inside Man (2006, 129 minutes): Spike Lee proves that he can make a commercial thriller, with Denzel Washington as the cop and Clive Owen the bank robber, in his own gripping way, adding in historic judgment and Jodie Foster as a nefarious fixer.
It Follows (2015, 100 minutes): Youthful pleasure is consumed by the ultimate sexually transmitted disease in David Robert Mitchell's modern horror classic: an entity of unknown origin and shape-shifting form pursues a young woman (Maika Monroe), whose new boyfriend has passed an otherworldly curse to her.
Kubo and the Two Strings (2016, 102 minutes): A gorgeously complex work of stop-motion animation from the upstart Laika studio that is set in feudal Japan, this is a children's film of unusual depth and devotion that is both exciting and profound.
Kung Fu Hustle (2004, 98 minutes): A delirious mix of Looney Tunes and martial arts mayhem, Stephen Chow's comic Hong Kong blockbuster is a delight that uses digital effects to create comic mayhem.
The Lobster (2015, 118 minutes): A dystopian comedy of gloriously deadpan dimensions, the English language debut of Greek filmmaker Yorgos Lanthimos turns relationships into a bureaucratic nightmare as Rachel Weisz, Colin Farrell and Lea Seydoux bring to life a truly cutting vision.
The Lost City of Z (2016, 140 minutes): Writer/director James Gray reworks the historic epic, giving intimate yearning and telling detail to the story of a British explorer (Charlie Hunnam) consumed by his explorations in an Amazon jungle that comes alive with consumptive breadth.
Mad Max: Fury Road (2015, 120 minutes): The best action film of this century, or simply of all time? Either way, George Miller rebooted his post-apocalyptic franchise with Tom Hardy as the taciturn anti-hero and Charlize Theron as a feminist rebel for the ages to create a magisterial automotive experience.
Master and Commander: The Far Side of the World (2003, 138 minutes): Peter Weir's masterful seaborne adventure, set during the Napoleonic Wars, clashes discovery with conflict and duty with friendship as Russell Crowe plays a ship's captain atop a complex cross-section of men and duties.
The Meyerowitz Stories (New and Selected) (2017, 112 minutes): Noah Baumbach's vision of the artistic family – exasperating, cruelly cutting, righteously blind to tragic outcomes – finds full expression in this study of a retired New York sculptor (Dustin Hoffman) and his children (including Ben Stiller and, yes, Adam Sandler).
Mudbound (2017, 134 minutes): Recently nominated for four Academy Awards, Dee Rees' magisterial film is a study of historic divisions set in segregated rural Mississippi in the 1940s, but it has such a poetically tragic sense of the characters and their limitations that it transcends the period setting.
Mulholland Dr. (2001, 146 minutes): One of the best – that is deeply inexplicable and hauntingly resonant – movies of this century, David Lynch's film noir-like journey is a mystery about identity that resides in the subconscious of the filmmaker and his characters.
Network (1976, 121 minutes): Now prescient in the era of fake news, Sidney Lumet's satiric drama circles an American newsreader (Peter Finch) who has an on-air meltdown and is reborn as a disturbed prophet. Watch for Faye Dunaway as a creative executive who sees ratings in his rantings.
Nightcrawler (2014, 117 minutes): Dan Gilroy's debut feature captures the nocturnal ecosystem of Los Angeles, where a freelancer cameraman capturing bloodshed (Jake Gyllenhaal) reveals himself as a sociopath obsessed with self-advancement. Beautifully shot, acridly funny, and totally unnerving.
Okja (2017, 121 minutes): The South Korean filmmaker Bong Joon-ho makes masterfully thrilling movies about capitalism's crimes – they can sweep you up, but also scar your soul. Here a young girl, Mija (Ahn Seo-hyun) tries to save her genetically modified super pig from its corporate owners amidst heart-fluttering flourishes and cruel realities.
Personal Shopper (2016, 105 minutes): A love story about what horrifies you and a horror film about what you love most, Olivier Assayas' psychological thriller connects the digital age to the spiritual realm through a remarkable Kristen Stewart performance as a detached medium and celebrity assistant.
Popstar: Never Stop Never Stopping (2016, 86 minutes): With shades of Spinal Tap, this mockumentary charts the rise, fall and redemption of Conner4Real (Andy Samberg), a hubristic pop star whose solo career comes unstuck. The gags are non-stop, punctuated by scarily catchy tunes and note perfect cameos.
The Prestige (2006, 130 minutes): My favourite of Christopher Nolan's many films – a Victoria-era mystery about the death wish rivalry between Hugh Jackman and Christian Bale's obsessive magicians. Bonus attraction: David Bowie as Nikola Tesla.
Pulp Fiction (1994, 154 minutes): Nearly a quarter century old, Quentin Tarantino's joyous dive into the mores of L.A. crime, narrative illusion, and actual conversations between men and women still crackles with delectable energy.
Raging Bull (1980, 129 minutes): Martin Scorsese's uncompromising 1980 black and white masterpiece about a self-destructive 1940s boxing champion (Robert De Niro) and his brother (Joe Pesci) is a chamber piece about violence that is compressed into the ring or a living room.
Raiders of the Lost Ark (1981, 115 minutes): Steven Spielberg's tribute to old Hollywood adventure serials is full of iconic action sequences, tart twists, and surreptitiously perverse pleasures. It hasn't aged a day.
Results (2015, 105 minutes): An offbeat independent romantic comedy that boasts a remarkable performance from Cobie Smulders as a personal trainer, with a furious certainty about what she doesn't want in life.
Sicario (2015, 121 minutes): A horror film told through female endurance, Denis Villeneuve's crime thriller stars Emily Blunt as an FBI door-kicker seconded to a drug cartel task force whose purpose is at odds with her belief and, ultimately, her safety.
Snowpiercer (2013, 126 minutes): Before Okja, Bong Joon-ho made this visceral metaphor of inequality, set on a rigidly stratified train containing the Earth's few survivors. Chris Evans leads the oppressed in a revolution that is triumphant but without illusions.
Spotlight (2015, 128 minutes): Damning in its dedicated precision, Tom McCarthy's Academy Award Best Picture winner tells the real life story of the Boston journalists who exposed a child abuse scandal covered up by the city's institutions.
Tower (2016, 96 minutes): A riveting, fluid documentary that mixes archival tenseness and tone-shifting animation, this incredibly intimate invocation returns to a 1966 that is year zero for American mass shootings.
Trainspotting (1996, 94 minutes): Sleazy, stinging and sometimes surreal, Danny Boyle's black comedy about a wayward pack of Edinburgh junkies has survived carrying generation-defining weight (and a so-so sequel) to resonate.
Under the Shadow (2016, 84 minutes): Set in 1980s wartime Tehran, Babak Anvari's horror film about a menacing spirit nightmarishly mixes ancient myth and contemporary political repression to terrifying effect.
Unforgiven (1992, 130 minutes): Everything that Clint Eastwood has learnt about the western, including its many myths, was brought to bear in this elegiac, end of the trail tale about an ageing gunslinger who embraces his past sins when he takes up a contract for murder.
The Wailing (2016, 155 minutes): Na Hong-jin's arresting horror thriller, about an inept rural police officer investigating bloody crimes, suggests that dread and curiosity are essentially the same thing even as doleful humour and an everyday mood obscure a grim but inscrutable outlook.
The Witch (2015, 92 minutes): Anchored by the remarkable Anya Taylor-Joy as the teenage daughter of a frontier family in New England circa 1630, Robert Eggers matches suppressed sexuality to supernatural mystery in a film that makes traditional life a wellspring of seductive dread.
The Wolf of Wall Street (2013, 179 minutes): In Martin Scorsese's pungently grotesque comedy excess and stupidity spiral out of control thanks to the financial system's protective privilege. Leonardo DiCaprio and Jonah Hill are ambitious bottom-feeders deranged by wealth who can't stop themselves.