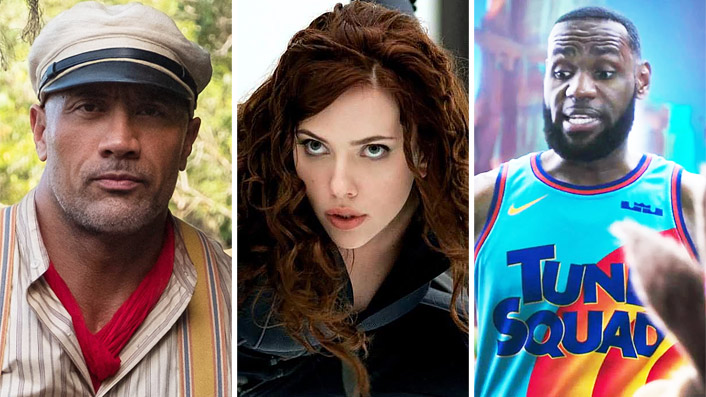 8 movies arriving in cinemas in July that we're excited about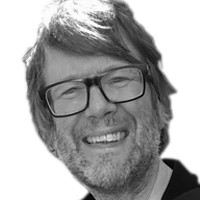 ---
Lycanthropes! Avenging Avengers! Bugs Bunny! Ninjas! The Rock in a boating hat! Welcome to July's cinematic offerings.
Where to watch
Directed by Josh Ruben (Scare Me) and based on a video game of the same name, Werewolves Within plays like a pitch black version of the 1974 Amicus Studio's horror film The Beast Must Die, in which the audience had to guess who the lycanthrope was. When the ranger discovers a frozen dead body, the finger points to…everyone. But who is hairy on the inside?
When you talk lycanthropic splatter comedy it's hard to look past John Landis's An American Werewolf in London, but this slapstick chiller more than holds its own against such illustrious toothy company. The delightful ensemble cast includes Sam Richardson from Veep (as a kindly new forest ranger who arrives in snowy Beaverfield) and Milana Vayntrub, Michaela Watkins, Cheyenne Jackson and Harvey Guillén as some of the denizens of the sleepy town.
Where to watch
She's been a long time coming, but Black Widow's standalone movie is almost here. In terms of the MCU timeline, this spandex-clad actioner falls between Civil War and Infinity War, following Natasha Romanoff on a trip to her Russian homeland where her past will have repercussions on the future.
With Scarlett Johansson as the titular Avenger and an all-star supporting cast—including Rachel Weisz as Melina Vostokoff, Stranger Things star David Harbour as Alexei Shostakov aka Red Guardian, and Florence Pugh as Yelena Belova—this promises to be a fun ride.
Where to watch
Karen Gillan headlines an explosive ensemble including Lena Headey, Carla Gugino, Michelle Yeoh, Angela Bassett and Paul Giamatti in this kick arse thriller that promises to deliver in the ultra-violence stakes. The Jumanji star plays Sam, a cold-blooded assassin who is forced to go rogue, with an eight-year-old girl in tow, after a botched mission starts a gang war.
Reuniting with her estranged mother (Headey) who is also a hired killer, the pair begrudgingly team up in this fight for survival against a psychotic crime lord (Giamatti) and his seemingly never-ending supply of dispensable henchmen. There will be candy-coloured carnage and John Woo-esque gun-fu.
Where to watch
Boasting a heady concept that will get brains scratching and hearts warming, Nine Days joins otherworldly Will (Winston Duke) as he watches mankind go about their lives from their point of view. When someone leaves this mortal coil, it is he who must arbitrate who will replace them by conducting a series of interviews with human souls while they are in limbo for nine days. He chooses who will be born into a fruitful environment where they can grow, develop and accomplish.
When a tragedy occurs on earth, the candidates in question are played by Zazie Beetz, Arianna Ortiz, David Rysdahl, Tony Hale and Bill Skarsgård. Doctor Strange star Benedict Wong makes a welcome appearance as Will's assistant. Brilliantly conceived by Brazilian first-time feature director Edson Oda, this is a meditative look at the meaning of life.
Where to watch
The original Space Jam, released in 1996, teamed up Michael Jordan with Bugs Bunny and the rest of the Looney Tune characters for a riotous fusion of animated chaos and live action hoop shooting pizazz. Now with Space Jam: A New Legacy, in a sequel that no-one knew we needed, the NBA superstar in question is LeBron James.
Once again Bugs, along with Daffy Duck, Porky Pig, Elmer Fudd, Sylvester, Tweety et al, must win a basketball game to escape the evil clutches of a rogue A.I. named Al-G Rhythm (Don Cheadle), the ruler of the Warner Bros. 3000 Entertainment Server-Verse. The crazy antics will no doubt introduce a new generation to the madcap world of Chuck Jones.
Old (22 July)
Where to watch
M. Night Shyamalan, the master of the…SPOILER ALERT! climactic plot twist is back with a tale as old as time. Well almost. Gael García Bernal, Vicky Krieps, Thomasin McKenzie, Eliza Scanlen and Alex Wolff star in this thriller about a vacationing family who discover the body of a dead woman on a secluded tropical beach that swiftly decomposes right before their eyes. They begin to understand that for every hour they spend on the beach, they age rapidly.
But why? And what is so special about this seemingly idyllic beach with a sinister secret? Coming from the director of The Sixth Sense, Unbreakable and Split, we know it will be a rollicking good skin-crawling story, brilliantly told. But above all, we know there will be a twist in its tale.
Where to watch
Doe-eyed romantic lead Henry Golding has already shown his tough-talking side in Shane Ritchie's The Gentlemen, but now the Crazy Rich Asians star is packing an explosive punch as Snake Eyes in the first in an expected long line of G.I. Joe spin-offs. Replacing Ray Park who played the titular action-figure-made-flesh in the first two films, Golding plays the mysterious lone fighter who has been trained by an ancient Japanese ninja clan called the Arashikage.
Like all good origin stories, it's the past that haunts him that will control his destiny. Andrew Koji plays Storm Shadow, the heir of the Arashikage and Snake Eyes' brother in arms and eventual archenemy.
Where to watch
Following Pirates of the Caribbean as a big-budget live-action Disney action film based on a Disneyland theme park ride, Jungle Cruise boasts an all-star cast including The Rock, wearing a boating cap at a defiantly jaunty angle, as boat captain Jack, Emily Blunt in riot girl mode as a scientist searching for The Tree of Life, and Jack Whitehall as her younger brother and reluctant assistant.
On the flip side, a lethal mercenary (Édgar Ramírez) and a dastardly German aristocrat (Jesse Plemons) lead the bad guys on a rival expedition for the fabled foliage. Inspired by The African Queen and Indiana Jones, expect family style action, a jungle full of dangerous animals, supernatural CGI beasts, an arse-kicking Blunt and plenty of smouldering intensity from the muscular male lead.