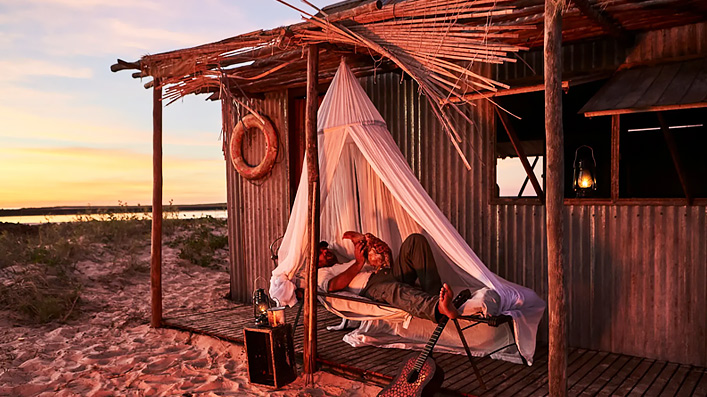 The Beach is a soul-replenishing slice-of-life documentary from Warwick Thornton

---
The sublime slice-of-life doco series The Beach captures filmmaker Warwick Thornton's stay in a secluded shack. Now available to stream on SBS on Demand, it is a soul-replenishing experience, writes critic Sarah Ward.

For more than a decade, Warwick Thornton has shown his vision of Australia to the world. For nearly three hours in The Beach, he lets the world stare back as he detoxes from normality. A six-part docuseries initially screening on SBS in one block, The Beach follows the Samson and Delilah and Sweet Country filmmaker as he retreats from his usual life to rest, relax and recharge in a powerless one-room shed in Jilirr, on Western Australia's Dampier Peninsula.
See also
* All new streaming movies & series
* Every Nicole Kidman movie you can watch for free on SBS On Demand
It's an observational piece that continually places Thornton against a scenic patch of the sandy landscape he's spent his career lensing, viewing his bedraggled state in tandem with the natural elements. It's also highly personal, featuring little more than Thornton fishing, cooking and talking to chickens, but telling viewers more about him than anything he's ever crafted.
In public—whether briefly appearing on-screen or promoting the likes of The Darkside, We Don't Need a Map and Mystery Road's second season—Thornton is never short on words or personality. In The Beach, he's more content with silence. Only once or twice per episode he sits outside nattering to the three chooks he calls "ladies" (while suspecting one may be male), regaling them with stories. He talks of being complimented by Rowland S. Howard for his cowboy jacket, for instance, opens up about visits from the "black puppy" (aka depression) and notes that seagulls are dickheads. But, happily eschewing dialogue for long stretches, he's also aware that words can't say everything.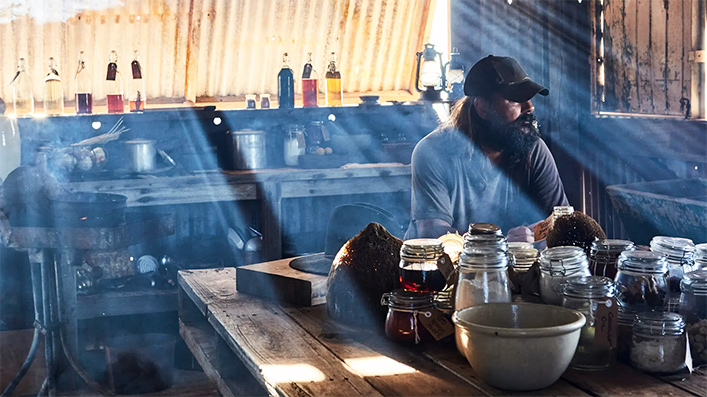 Just by watching, and without any narration—in the peaceful, serene slow-TV tradition—The Beach tells us much about Thornton during his remote jaunt. He's a great cook, a topic of his pithy poultry pow-wows. He's willing to make hard decisions, as witnessed with his chooks. He's persistent, particularly when spearfishing. He's adaptable, trying yoga even though it hardly comes naturally. He's resilient, resourceful and meticulous, but seldom patient. And he's aware of his emotions, regretful about mistakes and touched by the memories of lost loved ones.
He's also far from completely comfortable with relinquishing his familiar comforts or the company of others, with his unease plainly apparent. That said, while The Beach always shows him alone, it was shot by Thornton's son Dylan River, a filmmaker (Buckskin, Finke: There and Back, TV series Robbie Hood) who routinely works on his father's projects. Sound recordist Nicole Lazaroff is also listed among the series' crew.
Sign up for Flicks updates
Observing Thornton cycling through daily activities in his temporary home couldn't be more relatable at this moment in time, occurring in the era of coronavirus and social isolation. His regular routine follows a recognisable pattern, including various exercise regimes, different hobbies, obsessing over everyday minutiae and cooking often. The Beach is acutely aware of these and other cycles, with the circle of life, the rhythms of nature and the ebbs and flows of Thornton's moods all prominent. In one shot towards the end of the series, he just drives in circles in his beloved 4WD. Viewers also see day turn to night via stunning time-lapse cinematography, with sunsets glowing and the starry evening sky sparkling.
Whether looking up or peering elsewhere, The Beach's imagery always catches the eye. This series isn't just concerned with watching Thornton and his redemptive quest; it remains cognisant of how it's watching him. Australia has rarely seen a better-lensed slice-of-life doco, complete with wide and lengthy coastal shots, roaming aerial views, probing mid shots and exacting close-ups—of his kitchen prowess and well-appointed supply of ingredients, his fishing along the shore, and his clucking companions. Along the way, The Beach conveys ample metaphors for Thornton's experience through its striking visuals; however they're all so gorgeous and thoughtful that, while obvious, they never feel like overkill.
The symbolism starts when, fresh to Jilirr, Thornton opens up the darkened shed, letting light stream in as he lifts each tin window covering. That's what he's aiming to do to his mind, body and soul in his self-imposed seclusion, and by opening up his reflective sojourn to the cameras, too. In reality that kind of transformation isn't as simple as raising a flap and welcoming the sun's beaming rays. It's gradual, tough and hard-earned, and The Beach never pretends otherwise.
Indeed, by the time viewers see Thornton swap the black hat and coat he arrived in for a crisp white shirt—more visual symbolism—we've been through that process with him. We understand him better, and we know he understands himself better as well. We've also enjoyed his hair-washing Elvis impersonation, because someone can be introspective and funny at the same time. Most of all, we've seen him show himself to the world in intimate, intricate detail, a gesture that's as soul-replenishing for The Beach's audience as it appears to be for Thornton.