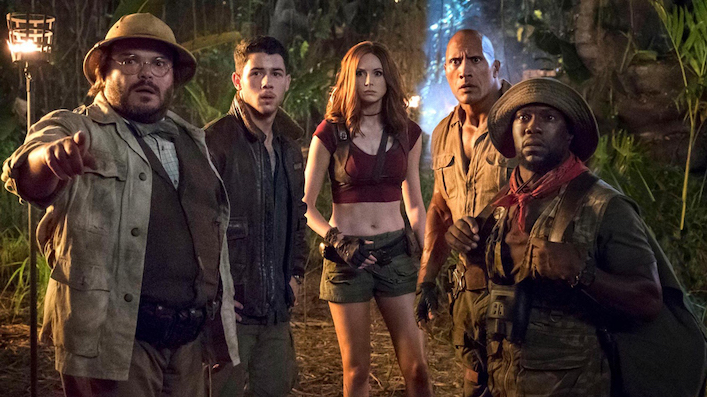 Here's the top titles Australians rented and bought during the pandemic

---
As if we weren't already in the enthralling midst of 'peak TV' culture, the COVID-19 pandemic forced us all to rely on our home entertainment even more than usual.
A recent study from the Australian Home Entertainment Distributors Association (AHEDA for short) has provided more evidence that  consumption of home entertainment across Australia reached an all-time high during the peak of the pandemic, with digital purchase ballooning +55% in April and a further +29% that May.
AHEDA's chairman Jim Batchelor is "certain that this trend will continue in the future".
Sign up for Flicks updates
The top three best-selling movies of 2020 across Australia were all family-friendly adventure titles: Jumanji: The Next Level coming in as a surprising #1, followed by Sonic The Hedgehog and Frozen 2. In rentals, however, the more gritty Joker and The Gentlemen came in first and third respectively, with Sonic maintaining second place.
Australian-produced titles had their moments too, with the very female-oriented top 3 of Ride Like A Girl, The Invisible Man and Miss Fisher & The Crypt of Tears.
But later in the year, a lack of theatrical releases due to closed cinemas meant that there were few big titles flowing onto digital rent/buy services. Much-loved classics such as Harry Potter and Lord of the Rings became available on popular streaming services, and binge-able TV took over, especially newly accessible content like HBO's The Undoing. The top 3 shows Australians watched in 2020 were Outlander, Brooklyn Nine-Nine, and The 100.
See below the full ranked lists of Australia's best-selling titles throughout 2020. How many of your faves was everybody else watching, too?
Top 10 Best Selling Movies:
Jumanji: The Next Level (Sony)
Sonic The Hedgehog (Paramount)
Frozen 2 (Disney)
Joker (2019) (Roadshow)
Star Wars: Episode IX- The Rise Of Skywalker (Disney)
Bad Boys For Life (Sony)
The Gentlemen (Roadshow)
Bloodshot (Sony)
Scoob! (Warner Bros)
Ford V Ferrari (Disney)
Top 10 Rented Movies:
Joker (2019) (Roadshow)
Sonic The Hedgehog (Paramount)
The Gentlemen (Roadshow)
Jumanji: The Next Level (Sony)
Gemini Man (2019) (Paramount)
1917 (Entertainment One)
Knives Out (Sony)
Ford V Ferrari (Disney)
Once Upon A Time…In Hollywood (Sony)
Hustlers (Roadshow)
Top 10 TV Series:
Outlander – The Complete 5th Series (Sony)
Brooklyn Nine-Nine – The Complete 7th Series (Universal)
The 100 – The Complete 7th Series (Warner Bros)
Vikings – The Complete 6th Series (MGM)
The Undoing – The Complete 1st Series (HBO)
Supernatural – The Complete 15th Series (Warner Bros)
Big Little Lies – The Complete 2nd Series (HBO)
Game Of Thrones – The Complete 8th Series (HBO)
Chernobyl – The Complete 1st Series (HBO)
Succession – The Complete 1st Series (HBO)
Top 10 Australian Produced Movies:
Ride Like A Girl (Sony)
The Invisible Man (2020) (Universal)
Miss Fisher & The Crypt Of Tears (Roadshow)
Danger Close: The Battle Of Long Tan (Sony)
100% Wolf (Universal)
Go! (Roadshow)
Peter Rabbit (Sony)
Black Water: Abyss (Universal)
Carl Barron – Drinking With A Fork (Universal)
The Nightingale (Sony)