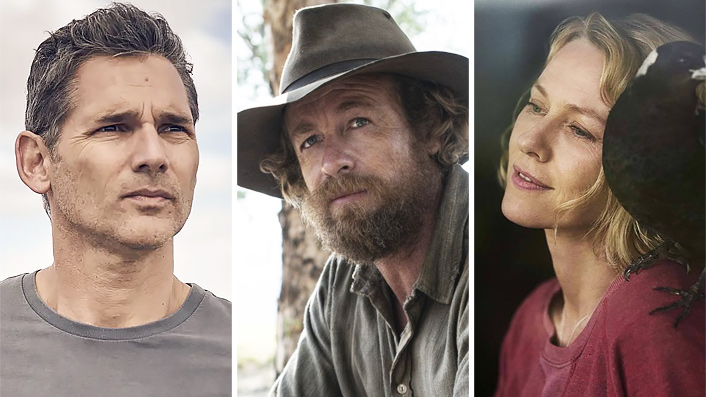 For the first time ever, Australian movies take the top three spots at the national box office!

---
Us Aussies have a lot to be smug about at the moment. After all the isolation and frustration of fighting the coronavirus in 2020, we're about one of the only countries in the world returning to some semblance of normalcy.
And that includes safely opening up the Australian box office, where a trio of homegrown films are currently taking up all three top spots.
See also
* All new movies in cinemas
* All new streaming movies & series
If that's not exciting enough in itself, consider this: in the history of Australian film, this is the first time all three top box office spots are being held by Australian films. You beaut!
According to records going back more than 50 years, analyzed by our pals at Numero, mid-February's box office results represent the first instance of this patriotic lil occurrence, with Penguin Bloom and The Dry opening the year strongly and High Ground catching up with around $1.5 million in ticket sales so far.
Australian weekly box office report: for the first time in history, all top three films are Australian!! Take a bow The Dry, Penguin Bloom & High Ground pic.twitter.com/ZvCEKzRYr2

— Flicks.com.au (@FlicksAustralia) February 11, 2021
The only other comparable year for Australian movies was way back in 1994, when The Adventures of Priscilla, Queen of the Desert and Muriel's Wedding dominated September's box office. Even then, those pesky Hollywood blockbusters (in '94's case, The Lion King) normally creep in and break up the party.
But not this week! With the US screen industry still carefully monitored amidst the country's ballooning coronavirus numbers, Australian releases have taken the lead, receiving a little extra space and attention from national audiences.
While the domestic box office was hammered over the holidays, over in Australia, it's been quite alive https://t.co/SL7ns99aWq

— Deadline Hollywood (@DEADLINE) January 5, 2021
Flicks critic Travis Johnson described The Dry as "an assured, confident, mature crime drama" and High Ground as "shockingly violent and stunningly beautiful". Craig Mathieson was less impressed with Penguin Bloom, calling it "an avian-influenced tale of loss, recovery and renewal that has a textbook narrative".
Flicks critic Sarah Ward has also written a guide to Australian films currently in cinemas, which also includes the sci-fi film Occupation: Rainfall and the eco-activist documentary Wild Things.
If you're not part of the audiences that have already seen The Dry, Penguin Bloom, or High Ground, check the links below to find session times for a cinema near you.
Nice to know that in such a globalised, ever-changing media landscape, many Australians still call our national cinema home.
LRT: all it took was the complete decimation of America as a film-producing country, and just as a country

— Agnes Forrester (@cartridgepink) February 11, 2021