The Dry is a tightly woven outback noir led by an excellent Eric Bana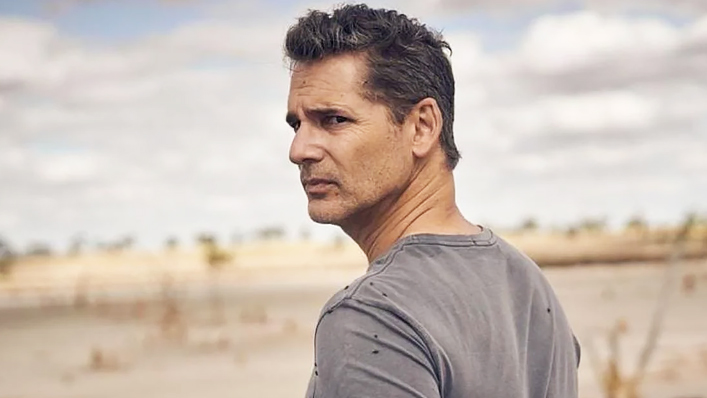 Eric Bana delivers an arresting and highly focused performance in the gripping Australian film The Dry, which lands in cinemas on January 1. Here's critic Travis Johnson's review. 
When a childhood friend dies in a nasty murder-suicide, taking his wife and son with him, Australian Federal Police Agent Aaron Falk (Eric Bana) returns to his drought-struck country hometown for the funeral. Asked by the grieving parents to dig into the case, Falk decides to stick around for a while, which doesn't sit too well with several of the locals. As a teen, Falk was implicated in the mysterious drowning death of his close friend Ellie (Bebe Bettencourt) and was forced to leave town in the hurry. And so, we are presented with two mysteries: one decades old, the other a fresh and bleeding wound.
See also
* All new movies in cinemas
* All new streaming movies & series
Directed by Robert Connolly (Balibo, The Bank) and adapted from the wildly successful debut novel by Jane Harper, The Dry is a film noir, but not of the kind we're used to. Gone are the hard black shadows and menacing midnight streets of Marlowe's Los Angeles or Spade's San Francisco; The Dry's twisty mystery is set against the dusty yellows and barren reds of the parched Victorian wheat country. You can draw parallels to Ivan Sen's Mystery Road outback crime franchise, or even (at a pinch) Ted Kotcheff's Wake in Fright, but the clearest forebear is John Sturgess's Bad Day at Black Rock, wherein a one-armed Spencer Tracy unearthed dark doings in another water-starved country town.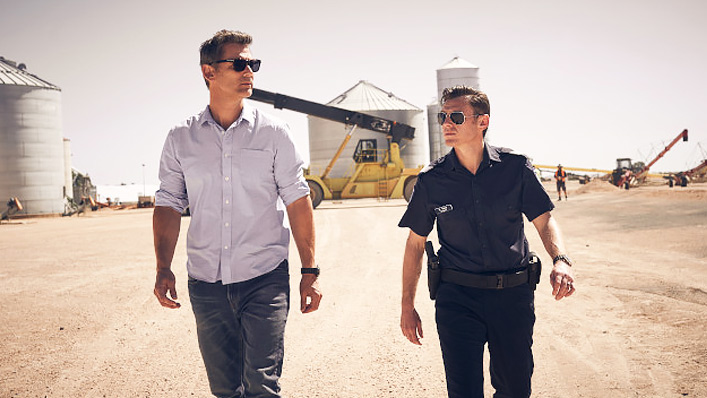 Of course, there are differences. The wound that Falk carries is psychological, and he's no stranger to town. Indeed, his notoriety as a possible murderer drives a lot of the conflict here, particularly when it comes to pugnacious Grant (Matt Nable), brother to Falk's supposed victim, who simmers with barely-suppressed rage in every scene.
An impressive roster of Australian acting talent fills out the rest of the cast, with Genevieve O'Reilly as an old childhood friend, Jon Polson as the helpful but uneasy local school principal, Keir O'Donnell as the local cop struggling to deal with a crime well above his pay grade, Miranda Tapsell as his pregnant wife, James Frecheville as a local farmer with his own secrets, Eddie Baroo as a seen-it-all hotel bartender, and Bruce Spence as a bereaved patriarch.
It's Bana's show, though, the former Full Fontal mainstay ably demonstrating why he's one of the most interesting leading men currently working—delivering an arresting, focused performance marrying keen intelligence with a palpable sense of resigned sadness. Falk never gets a big speech or a breakdown scene in which he explicates his trauma; instead Bana lets us see this guy's pain in every utterance—in the way he keeps himself in check; his measured interactions with every other character. This is a man holding so much grief that he needs to keep a tight rein on himself lest it all come out.
The plot is tightly woven, although the repeated assertion that Falk left town 20 years ago doesn't match the math (maybe it's a Gen-X thing—we don't want to admit our teen years were that long ago). Director Connolly, who co-wrote the script with Harry Cripps, leaves enough breadcrumbs for canny viewers to piece together what's what along with Falk, so the film's final revelations come with an "I knew it!" vibe rather than being total sucker punches. And while we won't trespass into spoiler territory here, on first taste the solutions to both mysteries don't have a lot in common thematically, and it feels like there's a missed opportunity there to tie up the film in a way that resonates more strongly than what we actually get. Still, that might change on repeated viewings.
Which The Dry deserves. This is an assured, confident, mature crime drama that marries the requisite genre thrills with a literary meditation on loss and guilt. It's well worth your time.