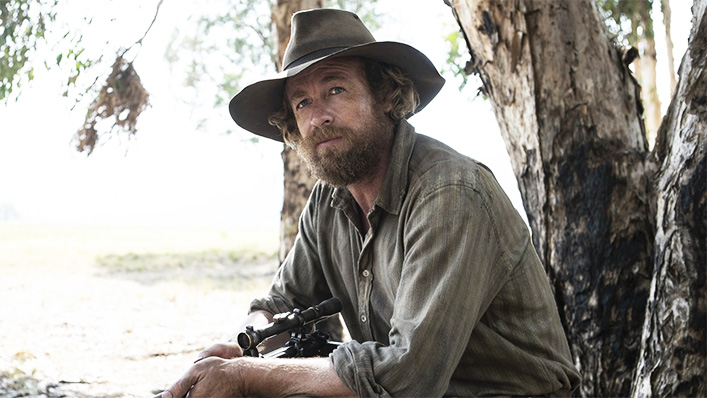 Early look review: High Ground is a stunningly beautiful and meditative Australian western

---
Shockingly violent and stunningly beautiful, the Australian film High Ground (which screened at this week's Adelaide Film Festival and will arrive in cinemas in 2021) is a must-watch western, writes critic Travis Johnson.

The Norther Territory, 1931: 12 years after participating in a brutal massacre that all but wiped out a Yolngu family group, ex-soldier Travis (Simon Baker) is given an ultimatum by his former commanding officer, Moran (Jack Thompson): hunt down Baywara (Sean Mununggurr), a survivor of the crime who has since become the leader of a "wild mob" of embittered Indigenous resistance fighters, or else be held accountable for the white men who were killed in the raid.
See also:
* All movies now playing in cinemas
* All new streaming movies & series
To do so, Travis enlists another survivor, Gutjuk (Jacob Junior Nayinggul), who has been raised on a mission since the murder of his parents, and just happens to be the nephew of the vengeful Baywara. And so, the stage is set for a bloody reckoning.
By turns shockingly violent and stunningly beautiful, High Ground has been a long time coming. Originally conceived by executive producer and co-star Witiyana Marika some two decades ago when he was a member of Yothu Yindi, the film attempts with no small amount of success to use the classical trappings of the western genre to recontextualise the Indigenous battle against colonization.
Sign up for Flicks updates
Screenwriter Chris Anastassiades largely takes his cues from the likes of Unforgiven, Ulzana's Raid, and even fellow Aussie oater The Proposition, but he and director Stephen Maxwell Johnson, who previously worked together on 2001's Yolngu Boy, take pains to tell the story from both the white and the Yolngu perspective. Simon Baker's Travis is present as a kind of narrative decoy, his weathered and haunted marksman our obvious point of audience identification.
However, it quickly becomes apparent that this is Gutjuk's story more than it is his, with the young man, christened "Tommy" by well-meaning missionary Braddock (Ryan Corr) and his sister Claire (Caren Pistorius), forced to choose between his current standing as a "civilised" native, his uncle's path of furious violence, or perhaps a third, as yet unknown way.
It all plays out against the stunning backdrop of the Northern Territory's Arnhem Land and other environs, with cinematographer Andrew Commis (Babyteeth) evoking the rugged, primal beauty of the ancient landscape. Director Johnson frequently cuts between the human action of the narrative to scenes of birds in flight, ants swarming, the odd crocodile gliding through the water, contrasting the harmony of the natural world with the violent chaos of the human conflict set against it.
Indeed, one of High Ground's chief virtues is its sense of place and authenticity, and this extends to the way Indigenous culture is depicted. Not only is the (fictionalised, to be fair) story derived from accounts Witiyana Marika heard from his grandmother, but extensive negotiation with and participation by the peoples of the area mean that we get an incredibly accurate, nuanced and thoughtful portrayal of their life, customs, and character.
Stripped down to its basic plot functions, High Ground is a fairly rote western (or "Northern" as Johnson prefers) revenge drama, but plot is not story; story is the combination of all elements of film. High Ground mesmerizes and impresses with the way it mixes conflict and culture, time and place, character and action, to present a work that is both a propulsive thriller and a kind of tone poem meditation on the often fraught relationship between Settler and Indigenous culture both then and now.
Call it Indigenous Art House Action if you like, but make time for it: High Ground is an absolute banger.