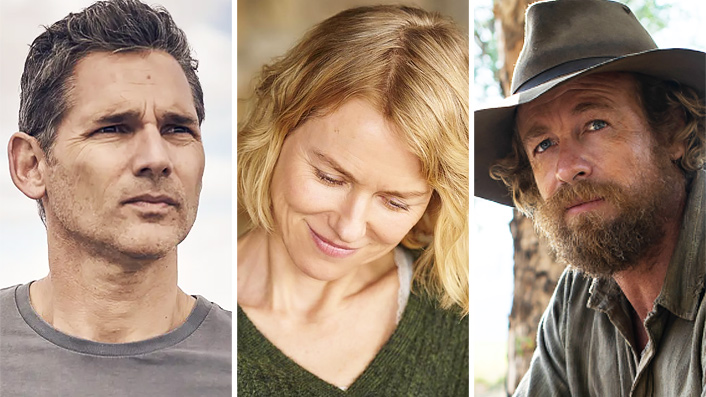 From murderers to magpies: a guide to Australian films currently in cinemas

---
Australian films are currently going gangbusters at the box office, with four locally made features landing in the top 10. Here's critic Sarah Ward's guide to homegrown releases currently playing in cinemas.

Big Hollywood blockbusters haven't been hitting Australian cinemas with their usual frequency of late, but homegrown releases have been filling the gap. And Aussie audiences have been flocking to them, as 2021's box office figures so far show.
See also
* All new movies in cinemas
* All new streaming movies & series
There are currently (as of February 4) four Australian movies that made it into the top 10. Aussie features took out the first and second spots, too.
If you're wondering which homegrown hits you should see—and which other locally made movies should be vying for your eyeballs—we've rounded up and reviewed everything that's currently screening.
Where to watch
The last time that Eric Bana made an Australian film, John Howard was still the Prime Minister. That was back in 2007, with Romulus, My Father—and it has taken 13 years for the ex-Full Frontal star to act in another homegrown feature. The Dry is a welcome addition to Bana's resume for multiple reasons, boasting one of his best performances since Chopper. Wearing a haunted yet piercing stare, Bana turns in a quietly powerful portrayal, becoming the movie's clear standout in the process.
Directed by Balibo's Robert Connolly, The Dry follows Melbourne-based federal police officer Aaron Falk (Bana), who returns to the drought-stricken rural town of his youth after a suspected murder-suicide. Falk hardly receives a warm welcome, with the film jumping back and forth between his current investigation and the incident that saw him leave for the city two decades ago.
Adapted from Jane Harper's novel, The Dry delivers few surprises, but it's as solid an addition to the crime genre as Australian cinema has served up. Bana helps immensely, as does the wide-ranging supporting cast (including Genevieve O'Reilly, Matt Nable and John Polson) and the film's evocative cinematography of sun-bleached fields.
Where to watch
It took a year for High Ground to segue from festival premieres to a general Australian theatrical release, but it was worth the wait. Directed by Yolngu Boy's Stephen Maxwell Johnson, the potent frontier western dives into the country's colonial past, telling a fictional story that's drawn from very real conflicts.
The focus: the treatment of Australia's Indigenous population by the nation's white settlers. While that's become a frequent topic in Aussie features (and rightly so), High Ground spins its own story. Charting the aftermath of a brutal massacre, it tells a confronting tale that isn't easily forgotten.
Sign up for Flicks updates
Playing ex-World War I sniper-turned-police officer Travis, Simon Baker leads High Ground's well-known talent, alongside Jack Thompson, Aaron Pedersen and Ryan Corr. But this isn't a star vehicle for the big-name Aussie actor. He leaves a firm impression; however, it's Jacob Junior Nayinggul who continually commands attention.
The first-timer plays Gutjuk, who survives the attack that sees Travis hand in his badge, and then is enlisted to help him over a decade later. Nayinggul is arresting at every turn, as is Andrew Commis' stunning glimpses of Australia's sprawling landscape, Chris Anastassiades' thoughtful script and High Ground overall.
Where to watch
Sam Bloom's remarkable true tale was always likely to get the biopic treatment. The Sydney nurse was holidaying in Thailand with her husband and three sons when, while standing on a rooftop, a handrail gave way beneath her. Her injuries saw her paralysed from the waist down, which she struggled to face upon returning home.
Then, a magpie chick flew into the Bloom family's lives. Begrudgingly at first, a bond formed between Sam and the bird, which her boys called Penguin due to its black-and-white colouring.
Naomi Watts plays Sam in this warm-hearted feature, which director Glendyn Ivin (Last Ride) keeps firmly in family-friendly territory. That's great news for Australian cinema's fondness for making all-ages-appropriate movies about humanity's bond with animals (see also: the Red Dog movies, Oddball, Storm Boy); however, it also diverts focus away from other worthy aspects of Bloom's tale.
Indeed, some parts of her post-accident life are sadly relegated to just a scene or two, and to the movie's postscript. Nonetheless, Watts impresses, as do the extremely well-trained magpies she shares plenty of scenes with.
Where to watch
When sci-fi action film Occupation reached Australian screens in 2018, it did so with ample ambition. A clear labour of love for writer/director Luke Sparke, it explored an alien invasion on Aussie soil and didn't shy away from its dreams of sparking a big franchise.
So, the fact that Occupation: Rainfall exists isn't at all surprising. Nor is this sequel's thoroughly generic nature. Where the first Occupation film took its cues from Red Dawn and fellow local effort Tomorrow, When the War Began, Rainfall opts for a mix of Star Wars and Independence Day. It isn't subtle about its inspiration, either—as anyone that's even remotely aware of Star Wars will quickly spot.
Adding Ken Jeong and Jason Isaacs to the franchise's cast, Rainfall picks up two years after its predecessor, as a group of survivors argue about the best way to fend off the still-attacking extraterrestrials. Some advocate for working with alien defectors, while others think violence and torture are the only options. Mostly, the slim story exists to string together special effects-heavy action scenes. As a result, Rainfall's ambition still proves its best element—although it also spends too much time paving the way for its next sequel.
Where to watch
For anyone who cares about the future of the planet, Wild Things is filled with must-see moments. In many, high schoolers take to the streets en masse, protesting the Australian government's inaction on climate change. Similar images have been splashed across TV news reports, of course, but this impassioned and engaging documentary by filmmaker Sally Ingleton puts them in context.
It spends time with teens like Harriet O'Shea Carre, who openly notes that she's fighting this fight because the generations before her haven't. It listens to Milou Albrecht's mother, too, as she explains the impact that becoming an activist and taking inspiration from Greta Thunberg has had on her daughter.
Wild Things' memorable inclusions don't stop there. The sight of a semi-trailer threatening to drive into protestors outside Adani's Queensland coal mine lingers, unsurprisingly. Ingleton also spends time with other activists, such as those trying to stop logging in Tasmania—and interweaves their efforts with archival footage tracing the history of Australia's environmental protest movement.
The result is a thorough, insightful and engaging documentary on a vital topic. The film also possesses a keen eye for the natural landscapes its subjects are battling to preserve.