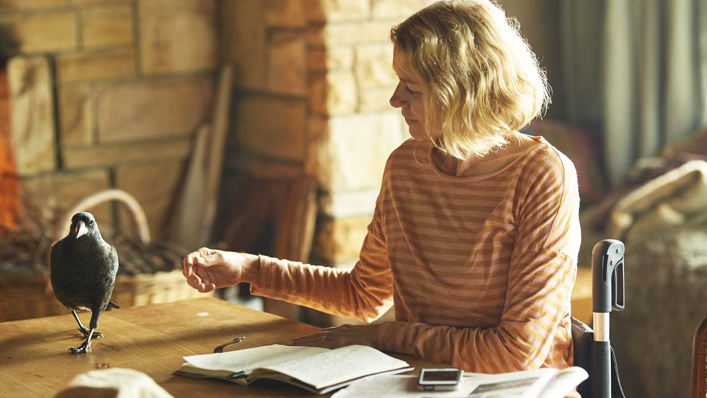 Penguin Bloom earns its wings as a solid drama about endurance and rejuvenation

---
A simple inspirational story is capably told in this Naomi Watts-led Australian drama about a paraplegic woman and an injured magpie. Here's critic Craig Mathieson's review.

Despite the laudatory notices and awards season hype, talent's purpose is not to simply bestow greatness on a film. Sometimes it's a matter of making a decent film better, or allowing capable elements to resonate. That's the case with the new Australian drama Penguin Bloom, an avian-influenced tale of loss, recovery and renewal that has a textbook narrative. The movie is notable for the dedicated performance of star Naomi Watts, playing a woman giving up on her life after an accident leaves her a paraplegic, and the clarity of director Glendyn Ivin, who refuses to allow a simple tale to be simplistic.
Adapted by Harry Grant and Shaun Cripps, the source materials is Penguin the Magpie: The Odd Little Bird Who Saved a Family, a 2016 memoir of domestic salvation by Cameron Bloom and Bradley Trevor Greive. When a moment's misfortune on holiday renders Sam Bloom (Watts) paralysed from the mid-back down, the new reality leaves the former nurse and surfer in the growing grip of depression, much to the worry of her dedicated photographer Cameron (The Walking Dead's Andrew Lincoln) and their trio of rambunctious primary school-age sons, Noah (Griffin Murray-Johnston), Reuben (Felix Cameron), and Oli (Abe Clifford-Barr). With her world reduced from outdoors adventure to her bed and wheelchair, Sam recedes from beachside life in Sydney's north as her anger ferments.
"Do you miss your mum?" Noah asks an injured, orphaned baby magpie he rescues one day. The bird, which he names Penguin, is a parallel for Sam—the stoic eldest child says to it what he can't say to his mother, and in turn Penguin (a mix of real maggies, animatronics and CGI) becomes an impish emotional support animal for Sam. Both of them, clearly, need to learn how to fly.
The shot after Penguin settles in to the Bloom household is of a flashing lighthouse offering guidance in the night, and while Penguin Bloom is not always subtle there's care and amplification in how Ivin shoots it. He illustrates Sam's mental state with striking inserts, while the frayed family dynamic that comes with Sam's worried mother, Jan (Jacki Weaver), is economically laid out so that the sometimes straightforward screenplay has visual accompaniment.
Ivin's key work in recent years has been on television, with Gallipoli in 2015 and the scalding domestic thriller The Cry in 2018. Penguin Bloom touches on key moments from his career, including the wary child watching their struggling parent, which recalls his 2009 feature debut Last Ride.
The story makes clear the physical demands and deprivation for Sam, but it doesn't overly stress her marriage to Cameron before the corner is turned. Nonetheless Watts makes each step count. Right back to The Ring and 21 Grams the actor has been an exceptional emotional conduit, and here she captures each necessary step—regret and sadness, hopefulness and confrontation—so that a schematic gives way to a life. The result isn't a great film, but a good one that achieves much of what it aims for. Penguin Bloom earns its wings.