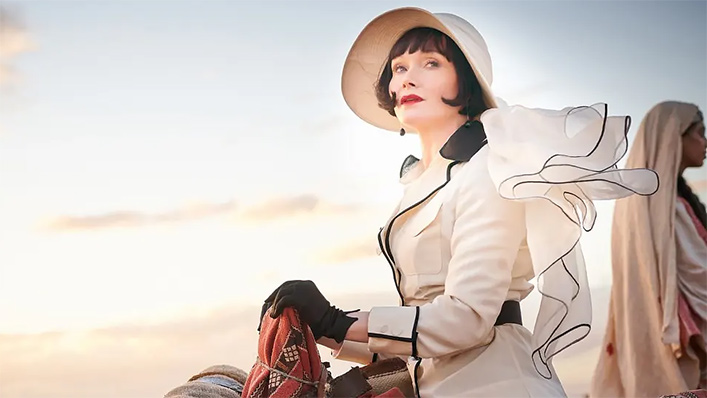 Miss Fisher's bland leap to the big screen is purely for fans

---
The beloved TV detective Miss Fisher makes her big screen premiere in a globetrotting adventure. However the greatest mystery isn't who the killer is, but how this stretched out and cheesy movie turned out to be so flat, writes critic Sarah Ward.

Solving an endless array of murders dressed in impeccable 1920s period fashions, Phryne Fisher (Essie Davis) has never met a mystery she couldn't crack. Even the savvy, stylish and supremely confident socialite-turned-sleuth might be stumped if she was asked to puzzle out this particular conundrum, however: the case of the popular Australian television series making the leap from the small screen to the big, but thoroughly losing its spark in the process.
The question isn't how Miss Fisher and the Crypt of Tears fell so flat. From the exposition-heavy dialogue and stretched attempts at humour and banter, to the cheesy, kaftan-thin, Indiana Jones-style plot and utter lack of cinematic flair, the answer to that is plain to see. But just why Miss Fisher's Murder Mysteries has continued its evolution from best-selling book series to beloved TV show to this unconvincing attempt at a globe-trotting adventure is much harder to fathom – other than giving Miss Fisher devotees what they supposedly want (the feature was partly crowdfunded) and taking their money while doing so.
In the fan-service stakes, The Crypt of Tears does what many a tried-and-tested follow-up has before: emphasises its adored protagonist's recognisable traits and trademarks by pairing them with a larger-scale scenario. Fisher remains as eye-catchingly styled and irrepressibly self-assured as ever,  benefiting from a vast worldwide playground. She hops through the streets of Jerusalem circa 1929 in a teal burqa, parties at lavish balls in London and makes a shock flying entrance at her own funeral, while also frequently defying societal conventions and exclaiming that she won't be beholden to any man. And she does so while saving a young Bedouin girl, Shirin Abbas (Izabella Yena), from imprisonment, then helping her get to the bejewelled bottom of her war-torn, curse-afflicted past.
Sign up for Flicks updates
Throw in Fisher's usual romantic back-and-forth with policeman Jack Robinson (Nathan Page), plus an obligatory appearance by her aunt Prudence Elizabeth Stanley (Miriam Margolyes), and Miss Fisher devotees' expectations should be met – but that's a low bar. That's not a criticism of the show's fans, but of a grating tendency that's become all-too-entrenched in popular culture.
In this never-say-die era with its constant cycle of remakes, reboots, TV versions of films, movie spinoffs of television shows, decades-later sequels and continuations, and just never letting any character, show or franchise rest, pandering to diehard aficionados is the norm. Miss Fisher enthusiasts will feel sufficiently indulged and gratified, but they'll never be challenged or surprised by The Crypt of Tears, or feel like they're watching anything other than a bloated episode of the series blown up for the big screen.
For anyone who hasn't thumbed through Kerry Greenwood's historical mystery novels again and again or committed the TV show's three seasons to memory, a different fate awaits. Those without an existing wellspring of Miss Fisher affection will see The Crypt of Tears for the box-ticking exercise that it is, and find little else to pique their attention. It hardly helps that seasoned TV director Tony Tilse (a veteran of Miss Fisher's Murder Mysteries) struggles to juggle the movie's upbeat matinee adventures and exaggerated melodrama. And it definitely doesn't help that, plot-wise, Deb Cox's original script is so routine it could feature any other on-screen sleuth with very little tinkering needed.
Amidst the pandering and the genericism, The Crypt of Tears boasts two undeniable highlights – and it's a pity that the film around it doesn't rise to their standard. Worlds away from The Babadook and True History of the Kelly Gang, the breezy, charming Davis is a delight as the eponymous character, while the sartorial choices she's decked out in never fail to impress, thanks to Margot Wilson's canny costuming instincts.
But, as women have contended for as long as humanity has existed, there's much more to life than simply popping a capable gal in a stunning outfit. At its core, beneath its flimsy narrative, unsuccessful attempts at wry humour and bland overall appearance (clothes aside) that's all that The Crypt of Tears amounts to. You don't need to be a Miss Fisher-level sleuth to work out that she wouldn't approve of it.