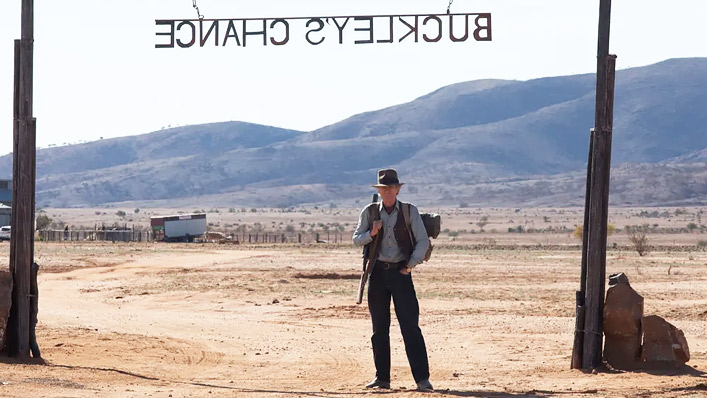 Buckley's Chance is a placid but pleasant throwback to a less frenetic era of family filmmaking

---
It's hard to imagine generations of kids raised on sugar rush spectacles appreciating the sedate pace of this inoffensive outback drama—but it's not without its merits, writes critic Travis Johnson.

Since the fabled days of the 10BA production investment initiative, several reliable models have emerged for making marketable Australian content for both the local and international markets. One is the outback kids' adventure film: throw a tyke or two into peril, make sure to get plenty of picturesque shots of the scenery, throw in some "exotic" wildlife, and Bob's your uncle. See: every single episode of Skippy.
See also:
* Movies now playing in cinemas
* All new streaming movies & series
Another is the practice of casting some recognisable import in a key role, to bump up the international profile of a film. Remember Jamie Lee Curtis and Stacy Keach in Richard Franklin's Road Games (1981)? Kirk Douglas in The Man From Snowy River (1981)? Or more recently, Eddie Izzard in the (dreadful, believe me) The Flip Side (2018)?
Occasionally you get a twofer, such as Brian Trenchard-Smith's Frog Dreaming (1986), aka The Quest, in which American actor Henry Thomas, still riding relatively high off the success of E.T. the Extra-Terrestrial, headed down under to play an American kid relocated to Australia who gets caught up in some bush-based adventures. And now we have Buckley's Chance, in which Milan Burch plays Ridley, an American kid relocated to Australia who gets caught up in some bush-based adventures.
Burch, making his feature film debut here, isn't the international drawcard, though. That'd be British Bill Nighy, who plays Ridley's taciturn bushman grandfather Spencer. Following the death of his fireman father, Ridley and his mother, Gloria (Victoria Hill), decamp to paternal grandad Spencer's vast outback sheep station to put their lives back together.
It's a shock to the system for the city kid, who bucks at the lack of modern conveniences and his granddad's laconic, no-nonsense approach to childcare, but soon comes to appreciate fanging around on a quad bike and the dingo pup he untangles from a fence. The question hanging over the proceedings is why Spencer and his late son were estranged, but more conventional drama is supplied by local tough guy Cooper (Martin Sacks), who is pressuring Spencer to sell up part of his land. When, in the course of "persuading" Spencer, his henchmen (Ben Wood and Anthony Gooley) accidentally kidnap Ridley, the stage is set for a lost-in-the-outback third act, and that's exactly what we get.
Buckley's Chance (which is the name of Spencer's station) offers precisely zero surprises and is steeped in a very clichéd vision of Australia, but it's largely inoffensive and offers the occasional moment of charm. The always welcome Kelton Pell brings some weight to the role of Julie, Spencer's wise second-in-command, who offers some comfort and advice to young Ridley. And the photography is suitably picturesque (the film was shot around Broken Hill).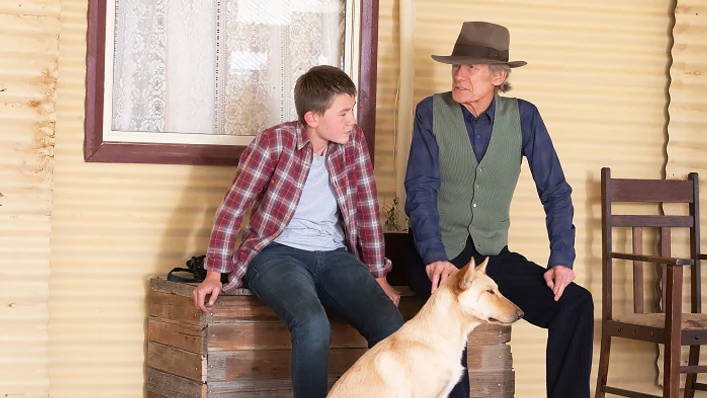 Despite his public statements to the contrary, to my ears Night never even attempts even attempts an Australian accent. It takes a while to grow accustomed to that Very English voice coming out of a character who is positioned as a weathered outback veteran (it's never addressed, but one must wonder what Spencer's backstory is). The whole thing wraps up in 95 minutes with lessons learned, fences mended, and fish-out-f-water Ridley finding solace in his new home. What more could you want?
Well, anything remotely innovative. There's playing to type and then there's going through the motions, and Buckley's Chance is very much doing the latter. There's nothing that stands out as wrong or flawed in any specific way; you just get the sense that director Tim Brown, who co-wrote with Willem Wennekers, simply took the most obvious and familiar path at every decision fork in the production process. The result is a film that feels like you've seen it before even on first viewing; it's weekend afternoon children's programming—like any dozen such films that came before it.
The problem is that Buckley's Chance harkens back to an earlier, less frenetic style of family programming. It's hard to imagine generations of kids raised on the sugar rush spectacle of Teen Titans Go!, The LEGO Movie, the Marvel canon, and what-have-you responding to the more sedate pace of this film. Adults on the other hand might at first find the familiar outback tropes comforting, but will soon grow weary of the lack of invention.
So who is Buckley's Chance for? Sales agents and distributors, I suspect, who know that this sort of thing is familiar enough to sell in numerous overseas territories. But audiences would have to be in a pretty indulgent mood to feel like they've gotten their money's worth out of this one.