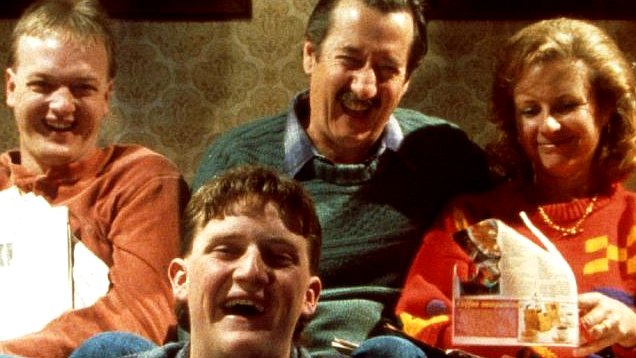 Watching The Castle on the big screen again proves it's better than ever

---
In a recent poll conducted by the Adelaide Film Festival, The Castle was ranked as Australia's #1 film. On the ground at the festival, critic Blake Howard watches this beloved film on the big screen more than two decades after its initial release. Spoiler alert: it's still a comedy masterpiece. 
When I told people I was heading to a screening of The Castle on the big screen, I had offers to be sent a copy of their felt-covered "pool room" edition. I had friends asking if people would be yelling out quotes.
It was hard to know exactly what this screening of a bona fide Aussie classic was going to be like. Would this be a quote-a-long comedy like The Room? Would there be live drinking games to down your drink every time Darryl says "tell him he's dreaming" or "how's the serenity?"
Sign up for Flicks updates
I decided to watch the audience attending The Castle as much as the film, trying to gauge why audiences continue to have such an enduring relationship with Working Dog's first cinematic outing 21 years after its initial release. According to the movie subscription service Lovefilm, the funniest movie of all time is Airplane, which scored 2.4 laughs per minute. I decided that my viewing should measure how Australia's favourite comedy stacked up, counting how many truly laugh-out-loud moments this classic could conjure.
The results are in, ladies and gentlemen. The audience lost it a total of 49 times. Compared to Airplane, The Castle scores 0.57 huge laughs a minute plus countless smatterings of titters and snickers throughout.
It wasn't just those aforementioned lines that became part of the zeitgeist. Darryl letting everyone know that "Dale dug a hole" killed. Dennis Denuto passing Bud Tingwell's Q.C Lawrence Hammill a note with "Glass of water?" caused an eruption. Tracey saying something was "complimentary" on their trip and Con clarifying "Yeah, they were for free!" had people in stitches. And the walk from the airport terminal to the house swelled into a thunderous cackle.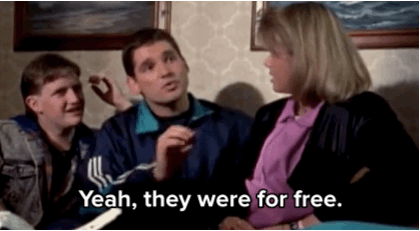 Michael Caton's Darryl Kerrigan – a character based on co-writer and director Rob Sitch's father – may be one of the great comedic characters and performances in Australian cinema. He's undeniably lovable as he brims with sincerity and appreciation ("What do you call this, love?" "Chicken").
Anne Tenney's beaming and supportive Sal's is all the more hilarious when you see the kitsch fruits of her creative labour throughout. Stephen Curry's Dale, perhaps the most lovably lousy narrator of all time, generously sets up screen his screen dad again and again. Tiriel Mora's hapless solicitor Dennis Denuto, inspired by Santo Cilauro's own father, continues to be a scream as he bumbles through constitutional law ("it's the vibe") or fights in a death match with a printer ("I fucking cleared tray three!").
Baby-faced Eric Bana as Con and the Olivia Newton-John doppelganger Sophie Lee as Tracey are absolutely adorable newlyweds. Con providing the definitions of things after Tracey uses a "big word" never gets old. Anthony Simcoe's Steve is just funny to look at, the Trading Post permanently attached to his hands.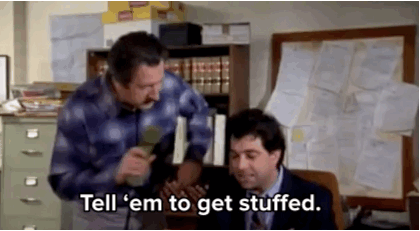 The biggest laugh of the film came when the big business heavy arrives at the Kerrigan's door in an attempt to convince him to drop it, then Steve Kerrigan (Anthony Simcoe) intervenes with a rifle. The jolt of that escalation and the subsequent discussions about the cost of that investment had the audience in hysterics that drowned out the dialogue.
Perhaps the reason for The Castle's re-watchable quality is that there's a natural infusion with repetition. Like the Coen Brothers' cult classic comedic noir The Big Lebowski there's music to the dialogue that feels like it's spoken and translated through many characters. Dale's narration pre-empts Darryl's words, and The Dude barely articulates a thought that hasn't already been expressed by another role in the film. The scripts play like lyrics that are drummed into the audience. The quotability and predictability, rather than becoming tiresome, go all the way around, becoming utterly hilarious.
I find the moments of the film that grabbed me for this viewing were those so easily missed on early viewings, or moments where the 'rose-coloured' Kerrigan world put a spin on the drab. Like Con and Tracey's wedding topper (it's a groom fly-kicking his bride) and Darryl saying "Dogs, don't they love it?" as one of them cowers from the sound of Bana whacking the punching bag.
Finally, as I write this, Greek-Australian actor Costas Kilias, who plays the wonderful Farouk, has very recently become a decorated Barrister in real-life. This week Killias has been appointed a Victorian magistrate by attorney-general Martin Pakula.
I like to think that if there are any "director's cut" editions of The Castle coming for the 25th anniversary, that we could get a shot of Farouk disrobing a judge's robe to reveal those classic khaki overalls. To paraphrase Stephen Curry's Dale narrating, the only thing better than watching The Castle is watching The Castle for the millionth time, with a bunch of people who've done the same.