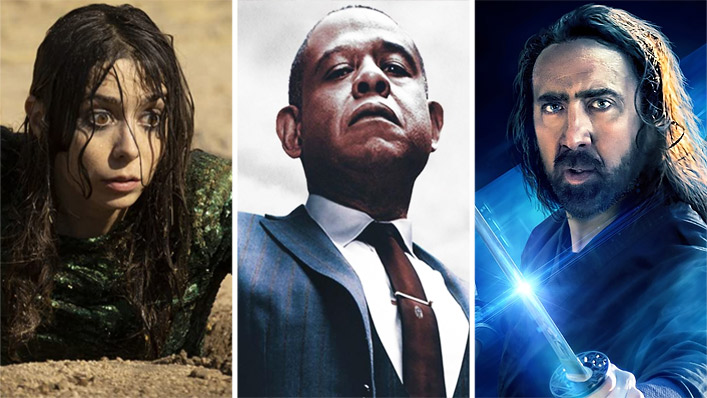 Best new movies and TV series on Stan: April 2021

---
Each month, lots of new films and TV shows are added to Stan's library. Critic Craig Mathieson surveys each month's selections and picks for titles most worth watching. For the full list of everything arriving on the platform, scroll down.
Top Picks: TV
Adjacent to dystopic black comedies such as Netflix's Maniac and Prime Video's Upload, this new HBO streaming series stars Cristin Milioti (Palm Springs) as Hazel, the wife of a controlling tech mogul, Byron (Billy Magnussen), who flees her marriage but carries with her the chip he implanted to merge their thoughts.
Byron and his envoys track Hazel to her desert hometown, where she takes up residence with her widowed father Herbert (Ray Romano) and his synthetic partner. Adapted from Alissa Nutting's eponymous book, this should be a dissection of control and allegiance that hits some disconcerting and satiric notes.
Nearly every prominent Hollywood actor has their own streaming series, and this period crime drama belongs to Forest Whitaker. The Academy Award winner effortlessly plays real life crime boss Ellsworth 'Bumpy' Johnson, who in season one returned to 1963 Harlem and control of his narcotics syndicate after a brutal jail sentence.
Sign up for Flicks updates
His rivals include a Mafia crime family—run by Vincent D'Onofrio's boss—intent on annexing his turf, and the ascendant Nation of Islam and its charismatic leader, Malcolm X (Nigel Thatch). Gangster riffs and historic black figures mingle freely, but for all the blood spilt the first season was most intriguing as an unexpected study of vulnerability.
This small town sitcom digs into America's cultural and historic rifts with an upstate New York setting, where the puffed-up descendant of the titular town's founder, Nathan Rutherford (Ed Helms), finds himself in farcical conflict with the local authorities and the neighbouring Native Indian reservation, which wields the power of a profitable casino.
Helms, The Office architect Michael Schur and Sierra Teller Omelas are the co-creators (with a majority indigenous writing room), pursuing the goal of getting some "we're different but all in this together" laughs out of these half hour episodes.
This comic drama about a 30-something Irishwoman in London trying to get her life back on track after a "teeny little nervous breakdown" is the creation of comedian and actor Aisling Bea (Living with Yourself). She plays the tentative Aine, whose main contact is with the international students she's teaching English, while Catastrophe linchpin Sharon Horgan features as her sister Shona.
Frank exchanges, everyday mishaps and the struggle to advance a balanced life all inform these six episodes, which debuted in Britain in 2019 and now has a second season—also secured by Stan—commissioned. And yes: that's The Crown's Tobias Menzies in a promising supporting role.
Top Picks: Movies + Specials
Just quietly, Gillian Jacobs may be one of the finest American actors of her generation. Best known for playing the comically exasperating Britta Perry on the now consecrated sitcom Community, she's been delivering deeply held portrayals of women at a crossroads in recent years.
Alongside three seasons of Love, she was compelling in Mike Birbiglia's Don't Think Twice, and now Jacobs headlines this fork-in-the-road independent comedy from writer-director Kris Rey about an author who returns to her college campus as her path forward crumbles. Young students and her former professor (Jemaine Clement) provide contrasting paths over an eventful weekend, but this is clearly Jacobs' movie.
The cult of Nicolas Cage gets another shrine with this bonkers mix of martial arts and science fiction, which has the actor playing a screw loose sensei (sample line: "he's crazy… like me!") assembling fated fighters to face an alien hunter about to emerge from a portal.
It should be noted that jiu-jitsu is a martial art based on grappling, but the film's action choreography is sword-based, which is the kind of direct to DVD update worthy of director Dimitri Logothetis (Kickboxer: Retaliation). Still, the cast also includes Frank Grillo and Tony Jaa; it has enjoyably bad action flick credentials.

New Zealand comic Rose Matafeo delivers a breakthrough—and sometimes breaking down—performance in this Kiwi comedy, which astutely manages to acknowledge fears of parenthood, commitment and self-honesty through the antics of an arborist, Zoe (Matafeo), whose pregnancy sends her spinning out of control.
With Matthew Lewis (Harry Potter's Neville Longbottom) as Rose's supportive husband Tim, Curtis Vowell's movie alternates between the over the top and the empathetic. As madcap as it can be, it never loses track of the woman flailing away at her looming future.
---
All titles arriving on Stan in April
April 1

Recoil: Season 1 – Premiere
Made for Love: Season 1, Episodes 1 – 3 – Premiere
Tyson
Tracks
Cheat: Season 1
Snitch
Dinner With Friends (AKA Friendsgiving)
I Used To Go Here
Jiu Jitsu
Brides of Christ (Miniseries)
April 2

Clarice: Season 1, Episode 6
The Moodys (US): Season 2: Episode 1 & 2 – Premiere
The Capture: Season 1
Divergent
The Divergent Series: Insurgent
The Divergent Series: Allegiant
April 3
RuPaul's Drag Race: Season 13, Episode 13
RuPaul's Drag Race Untucked: Season 13, Episode 13
Wynonna Earp: Season 4, Episode 11
Mr. Magorium's Wonder Emporium
April 4
City on a Hill: Season 2, Episode 2
Around The World In 80 Days (2004)
April 5

Zoey's Extraordinary Playlist: Season 2, Episode 8
Desus & Mero: Season 3, Episode 16
The Princess Bride
April 6
Daybreakers
April 7
Pitch Perfect
Pitch Perfect 2
April 8
Grow: Season 1 – Premiere
Home Economics: Season 1, Episode 1 – Premiere
No Activity (U.S.): Season 4, Episode 1 – Premiere
Made for Love: Season 1, Episodes 4 – 6
Escape Plan
April 9

Clarice: Season 1, Episode 7
The Moodys (US): Season 2: Episode 3
Walker: Season 1, Episode 8
Everything's Gonna Be OK, Season 2, Episodes 1 & 2 – Premiere
Desus & Mero: Season 3, Episode 17
April 10
RuPaul's Drag Race: Season 13, Episode 14
RuPaul's Drag Race Untucked: Season 13, Episode 14 – Final
Wynonna Earp: Season 4, Episode 12 – Final
Reservoir Dogs
Maiden
April 11
City on a Hill: Season 2, Episode 3
Apollo 13
Take the Ball, Pass the Ball
April 12
Zoey's Extraordinary Playlist: Season 2, Episode 9
Desus & Mero: Season 3, Episode 18
April 13

All American: Season 3, Episode 9
Stir Of Echoes
April 14
The Forrest: Season 1 – Premiere
April 15

Astro Kid
Home Economics: Season 1, Episode 2
No Activity (U.S.): Season 4, Episode 2
Made for Love: Season 1, Episodes 7 – 8 – Final
Blue Steel
April 16
Everything's Gonna Be OK, Season 2, Episode 3
The Moodys (US): Season 2: Episode 4
Desus & Mero: Season 3, Episode 19
Younger: Season 7, Episodes 1 – 4 – Premiere
Van der Valk: Season 1
Bridge To Terabithia
Next Goal Wins
April 17

RuPaul's Drag Race: Season 13, Episode 15
Waiting
April 18

City on a Hill: Season 2, Episode 4
Confronting a Serial Killer: Season 1, Episode 1 – Premiere
Secretary (2002)
April 19
Zoey's Extraordinary Playlist: Season 2, Episode 10
Desus & Mero: Season 3, Episode 20
Drugstore Cowboy
April 20

Baby Done
All American: Season 3, Episode 10
Godfather of Harlem: Season 2, Episode 1 – Premiere
April 21

Locked In Boy – Premiere
3:10 to Yuma
April 22

Gold Diggers: Season 1 – Premiere
Home Economics: Season 1, Episode 3
No Activity (U.S.): Season 4, Episode 3
Traffic
April 23
Everything's Gonna Be OK, Season 2, Episode 4
The Moodys (US): Season 2: Episode 5
Desus & Mero: Season 3, Episode 21
Archibald's Next Big Thing Is Here!: Season 1, Episodes 7 – 12
Rutherford Falls: Season 1 – Premiere
Younger: Season 7, Episode 5
Anzacs (1985): Miniseries
The Rules of Attraction
April 24
RuPaul's Drag Race: Season 13, Episode 16 – Final
Red 2
Jimmy Barnes: Working Class Boy
'89 (2017)
April 25
City on a Hill: Season 2, Episode 5
Confronting a Serial Killer: Season 1, Episode 2
The Dressmaker
April 26
Desus & Mero: Season 3, Episode 22
Pi (1998)
April 27
All American: Season 3, Episode 11
Godfather of Harlem: Season 2, Episode 2
Boarding Gate
April 28

You, Me and Fertility: Season 1 – Premiere
You, Me and Surrogacy: Season 1 – Premiere
Bound
April 29

Home Economics: Season 1, Episode 4
No Activity (U.S.): Season 4, Episode 4
Bug
April 30

Everything's Gonna Be OK, Season 2, Episode 5
The Moodys (US): Season 2: Episode 6
Desus & Mero: Season 3, Episode 23
This Way Up: Season 1 – Premiere
Younger: Season 7, Episode 6
Lock, Stock & Two Smoking Barrels
I Am Ali
---
See also
* Best new movies and TV series on Netflix Austalia
* Best new movies and TV series on Amazon Prime
* Best new movies and TV series on Disney+
* All new streaming movies & series