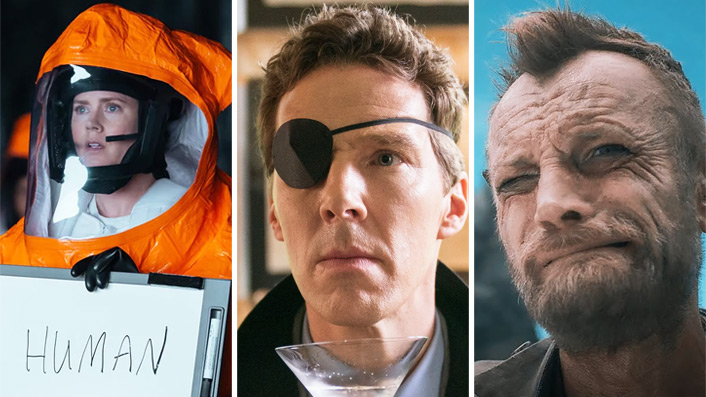 Best new movies and TV series on Stan: January 2021

---
Each month, lots of new films and TV shows are added to Stan's library. Critic Craig Mathieson surveys each month's selections and picks for titles most worth watching. For the full list of everything arriving on the platform, scroll down.
Top Picks: TV

The collaborations between actor Claudia Karvan and producer John Edwards have resulted in some of the best Australian television series, notably the landmark drama Love My Way. The pair have reunited for this 10-part series about an over-achieving Sydney high school student, Oly (Nathalie Morris), whose plans are sidetracked by an unexpected pregnancy.
Her family, with Karvan playing her mother, and the family of the baby's father, a classmate with a very different outlook, find themselves thrown together in creator Kelsey Munro's contemporary story of class, heritage and expectations. Topping the supporting cast? The great character actor Angus Sampson.
Television has barely begun to delve into the vast body of work written by the late English fantasy novelist and satirist Terry Pratchett. His Neil Gaiman collaboration, Good Omens, delivered a wickedly funny view of the Antichrist's coming on Prime Video in 2019 with David Tennant and Michael Sheen starring. Now Stan has secured this BBC America adaptation of characters from Pratchett's near-boundless Discworld series.
The protagonists are the eclectic and sometimes erratic law enforcers of a fantastical city, played by the likes of Richard Dormer (Game of Thrones) and Ralph Ineson (The Witch), while Matt Berry (What We Do in the Shadows) voices a magical sword. Pratchett purists have questioned how faithful the series is to the source material, just to raise the stakes.
For years Benedict Cumberbatch told anyone who would ask that he had two must-play roles on his bucket list: the title characters in Shakespeare's Hamlet and Edward St Aubyn's Patrick Melrose novels. He won acclaim for the former on the London stage in 2015, then matched it with a masterful 2018 mini-series, which now comes to subscription streaming for the first time.
Spread across two traumatic decades, with heartbreaking childhood flashbacks, the limited series charts the struggles of Cumberbatch's upper-class scion with the horror of childhood abuse. It's a show of psychological grief, mordant wit and telling social detail—and it's quite likely that Cumberbatch was the perfect actor to embody it.
How do you remake a show like Walker, Texas Ranger? Between 1993 and 2001 Chuck Norris played the Vietnam War veteran turned lawman who flew the flag and round-house kicked the bad guys. The best home for the original episodes these days would be Fox News. Creator Anna Fricke (Wayward Pines, Valor) keeps the familiar framework, with Jared Padalecki—fresh from 15 years of Supernatural—starring as Cordell Walker, a newly widowed father with a strict moral code who comes home to the Texas Rangers, and a new female partner (The 100's Lindsey Morgan). It will be a question of tone, but if Hollywood can successfully relaunch MacGyver anything is possible.
Top Picks: Movies + Specials

Bad films are sadly prevalent, but there's something particularly tragic about a film so bad that it necessitates a poor performance by a great actor. That's the fate of Amy Adams in Netflix's poverty paean Hillbilly Elegy, in which one of the finest American actors of the last decade can only answer the story's clichéd portrait of a working-class mother laid low by addiction with shallow gestures and inexpressive overacting.
It's better to remember Adams in Denis Villeneuve's hard sci-fi classic, a riveting 2016 drama about first contact with aliens that has a tactile otherworldliness, ticking clock tension and, finally, a wrenching understanding of grief's endurance. Adams is remarkable, as is the film.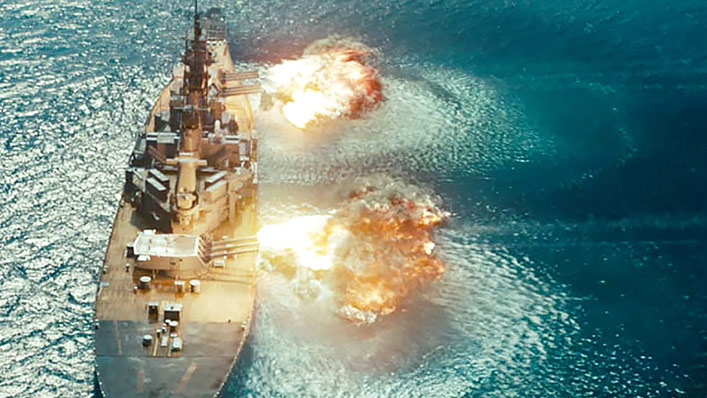 It would be glib—but true—to say that any popcorn blockbuster in which Rihanna delivers a deadpan "boom" as she terminates an alien with a giant naval gun has something going for it. Nonetheless, there's a perception that Peter Berg's 2012 alien invasion film is a bust, whether because it didn't recoup at the box-office or certain sequences had to clumsily reference the board game it was inspired by.
But I like Battleship, which has a ludicrously brash but knowing air to it. Taylor Kitsch plays the young U.S. Navy officer based at Pearl Harbour caught up in an attack from outer space, delivered with advanced tech and malevolent superiority. Also noticeable now is that despite eight years passing the numerous digital effects are impeccable.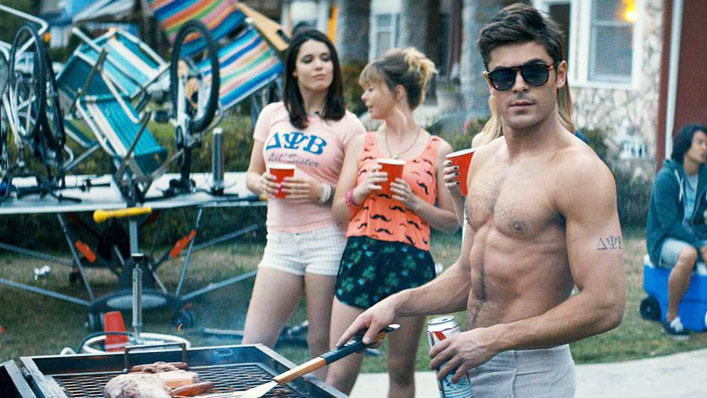 The English-born American filmmaker Nicholas Stoller has a knack for quietly subverting Hollywood convention. Both Forgetting Sarah Marshall and The Five-year Engagement twisted the romantic comedy in welcome ways, before this raucous 2014 comedy undercut the men behaving badly model. Seth Rogen and Rose Byrne—working in her native accent—are a young couple with a newly arrived baby and mortgage, whose optimism is upended by a college fraternity moving in next door, complete with Zac Efron and Dave Franco as head party boys.
Pranks and sabotage take hold, but instead of Rogen playing the out of control adult, it's Byrne who keeps losing it, riffing with her screen husband and hilariously spinning out of control. And her Anne Hathaway impersonation slays.
---
All titles arriving on Stan in December
January 1
Bump: Season 1 – Premiere
The Watch: Season 1, Episode 1 – Premiere
The Railway Man
Strangerland
Jurassic World
Arrival
Shark Tale
Gossip Girl: Seasons 1 – 6
January 2
RuPaul's Drag Race: Season 13, Episode 1 – Premiere
RuPaul's Drag Race Untucked: Season 13, Episode 1 – Premiere
McQueen: The Lost Film – Premiere
8 Mile
Euphoria
January 3
Power Book II: Ghost – Season 1, Episode 10 – Season Finale
Your Honor: Season 1, Episode 5
Babe
Babe: Pig In The City
Sex On The Beach
January 4
The Watch: Season 1, Episode 2
Jaws
Submission
January 5
Patrick Melrose: Season 1
January 6
Zoey's Extraordinary Playlist: Season 2, Episode 1 – Premiere
The Purge
The Purge: Anarchy
The Hateful Eight
January 7
King Lear
Graves: Seasons 1-2
January 8
Walker Texas Ranger: Seasons 1 – 8
The 40 Year-Old Virgin
Lou Andreas-Salomé, The Audacity to be Free
January 9
RuPaul's Drag Race: Season 13, Episode 2
RuPaul's Drag Race Untucked: Season 13, Episode 2
Inglourious Basterds
January 10
Your Honor: Season 1, Episode 6
Our Baby: A Modern Miracle
A Happening Of Monumental Proportions
January 11
The Watch: Season 1, Episode 3
The Circus: Season 6, Episode 1 – Premiere
The American President
The Game
January 12
Game Face: Season 2
City of Lies
Winter
January 13
Zoey's Extraordinary Playlist: Season 2, Episode 2
Goon: The Last of the Enforcers
A Real Young Girl
January 14
Search Party: Season 4, Episodes 1 – 3 – Premiere
Jamestown: Seasons 1-3
Trainwreck
Lazy Susan
Wendy
Yomeddine
January 15
RuPaul's Drag Race UK: Season 2, Episode 1 – Premiere
Survivor's Remorse: Seasons 1 – 4
Untouchable
Red Joan
Homeward
January 16
RuPaul's Drag Race: Season 13, Episode 3
RuPaul's Drag Race Untucked: Season 13, Episode
Battleship
The Green Ray
January 17
Your Honor: Season 1, Episode 7
Shopping For A New Penis
The School
The Truth
January 18
The Watch: Season 1, Episode 4
The Circus: Season 6, Episode 2
The Last Prosecco
January 19
All American: Season 3, Episode 1 – Premiere
Ali G Indahouse
Euphoria
January 20
Zoey's Extraordinary Playlist: Season 2, Episode 3
Crash: Seasons 1-2
Daughter of Mine
January 21
Search Party: Season 4, Episodes 4 – 6
Grand Party Hotel: Season 1
Reflections in the Dust
Verdict
January 22
Walker: Season 1, Episode 1
RuPaul's Drag Race UK: Season 2, Episode 2
Bad Neighbours
January 23
RuPaul's Drag Race: Season 13, Episode 4
RuPaul's Drag Race Untucked: Season 13, Episode
Britannia: Season 1
Snow White And The Huntsman
January 24
Your Honor: Season 1, Episode 8
Truth and Justice
January 25
The Watch: Season 1, Episode 5
The Circus: Season 6, Episode 3
Houdini (Miniseries)
January 26
All American: Season 3, Episode 2
Savage
Life, Itself (2018)
Paper Man (Miniseries)
True Believers (Miniseries)
January 27
Zoey's Extraordinary Playlist: Season 2, Episode 4
Fig Tree
January 28
Search Party: Season 4, Episodes 7 – 10 – Final
Twelve Monkeys
January 29
Walker: Season 1, Episode 2
RuPaul's Drag Race UK: Season 2, Episode 3
Boss: Seasons 1 – 2
Chaos Walking
January 30
RuPaul's Drag Race: Season 13, Episode 5
RuPaul's Drag Race Untucked: Season 13, Episode 5
Just Like Heaven
January 31, 2021
Your Honor: Season 1, Episode 9
The Ring Finger
---
See also
* Best new movies and TV series on Netflix Austalia
* Best new movies and TV series on Amazon Prime
* Best new movies and TV series on Disney+
* All new streaming movies & series