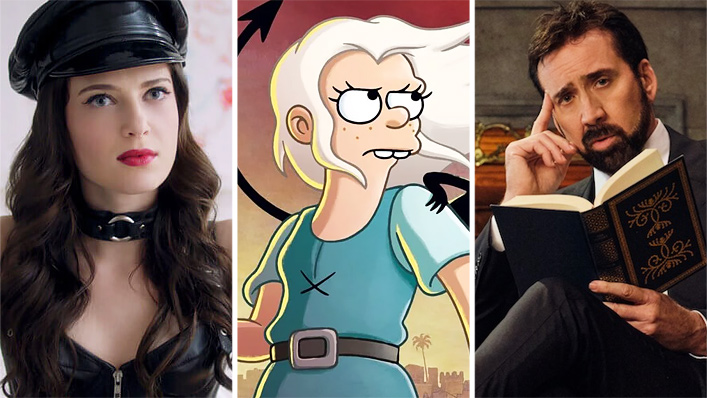 Best new movies and TV series on Netflix Australia: January 2020

---
Each month, loads of new films and TV shows are added to Netflix Australia's library. Critic Craig Mathieson presents his picks for titles worth watching. For the full list of everything arriving on the platform, scroll down. Also check out our top 50 movies on Netflix list.
Top picks: TV
This could actually be a f—ing good show. The key profanities of the English language have their historic origins, place in society and cultural impact charted in this freewheeling six part documentary series. The six episodes are hosted by Nicolas Cage, who hopefully will make use of his wildest line readings when not interviewing linguists, historians and celebrities with a connection to that episode's expletives. "Damn" is the mildest word covered, but even that should have its moment once the likes of Jim Jefferies, Sarah Silverman and Nick Offerman chime in.
Matt Groening is one of the landmark figures of American television, having created The Simpsons and Futurama. Disenchantment, his third go around running an animated comedy, doesn't have the profile of his previous efforts yet, but this new batch of 10 episodes should bring further focus after the patchiness of the initial season left a cloud over the show. Finding plenty of targets in a mediaeval fantasy setting, the story follows the misadventures of a rebellious teenage princess from Dreamland (Broad City's Abbi Jacobson), her personal demon (Eric Andre) and a naïve elf (Nat Faxon). File under second chance surprise.
Call My Agent is far more than a French take on Entourage. While this Parisian tale of movie star reps features frantic double dealing and famous actors playing themselves, it rarely takes pleasure in the venal and it's short on strutting, self-important men. The series has a jaunty pulse that results in slapstick moments and comic obfuscation, but there are also splashes of dramatic regret and tender contemplation: the focus of the very first episode was Cecile De France pondering plastic surgery in order to get cast in a Quentin Tarantino film. Juliette Binoche, Jean Dujardin and Isabelle Huppert have previously featured, and the new season boasts Charlotte Gainsbourg, Jean Reno and Sigourney Weaver.
When the first season of this black comedy was released in April 2019 it was literally one of Netflix's smallest shows: low budget, no stars and succinct episodes that clocked in under 20 minutes each for a combined run time of just two hours. Bonding was built to be binged, and writer/director Rightor Doyle will likely continue that with the further barbed adventures of Tiff (Zoe Levin) and Pete (Brendan Scannell), high school friends who reconnect as New York 20somethings where she works as a dominatrix and he's broke enough to take the gig as her leather-clad assistant. The tone is tart, the subject matter frank, and the narrative is kink-positive. It's sharper than any precis would suggest.
Top Picks: Movies + Specials
Already a major prize winner at September's Venice Film Festival, this demanding drama is shaping up as the impressive next step in the career of Vanessa Kirby. Having announced herself as the conflicted Prince Margaret in the first two seasons of The Crown, before polishing her action credentials in Mission: Impossible – Fallout and Hobbs & Shaw, the English actor plays a Boston wife whose home birth goes tragically awry, forcing her to re-examine her life as the midwife faces court. Hungarian filmmaker Cornel Mundruczo directs an adaptation of a Polish play, with a supporting cast that includes Ellen Burstyn, Shia LaBeouf, Sarah Snook and Benny Safdie.
The mismatched partners genre gets a dystopian spin in this near future action-adventure, in which a young U.S. Army drone pilot (Damson Idris) finds himself in a war zone where he's assigned to an android officer (Antony Mackie) in the quest to retrieve a weapon of mass destruction. Veteran Swedish director Mikael Hafstrom oversees a story that looks heavy on robots soldiers, discrimination and close quarters combat. It's also a chance to admire Mackie, the Juilliard graduate who is best known for his supporting role as Falcon in the extended Marvel Cinematic Universe, but has also been doing fine work in smaller projects such as the Striking Vipers episode of Netflix's Black Mirror.
Acclaimed Australian theatre director Simon Stone, who made his feature film debut with The Daughter in 2015, returns with this British period drama about the priceless discovery in 1939 of a vast and untouched mediaeval Anglo-Saxon cemetery dating to the 6th century in rural Suffolk. The Sutton Hoo find proved to be contentious due to its unprecedented archaeological value, and Stone has an impeccable cast to illustrate the story: Carey Mulligan as the landowner, Ralph Fiennes as self-taught archaeologist entrusted to excavate, and Lily James and Johnny Flynn as his junior colleagues. The trailer reaches for the grandiose, but the movie will need something more.
All titles arriving on Netflix Australia in January
January 1
The Circle USA (Season 1)
Dance With Me (1998)
Dream Home Makeover (Season 2)
The Experiment (2010)
Fright Night (1985)
Full Out 2: You Got This! (2020)
Green Book (2018)
Headspace Guide to Meditation (Season 1)
The Minimalists: Less Is Now (2021)
Monarca (Season 2)
On Deadly Ground (1994)
Race Time (2018)
Running Man (2020)
Sudden Impact (1983)
What Happened to Mr. Cha? (2021)
January 2
Asphalt Burning (2020)
Measure for Measure (2019)
January 3
Wonder Park (2019)
January 4
Korean Pork Belly Rhapsody
January 5
Gabby's Dollhouse (Season 1)
History of Swear Words (Season 1)
Nailed It! Mexico (Season 3)
January 6
Tony Parker: The Final Shot (2021)
Surviving Death (Season 1)
January 7
Pieces of a Woman (2021)
January 8
Azizler (2021)
The Idhun Chronicles (Part 2)
Inside the World's Toughest Prisons (Season 5)
Lupin (Season 1)
Stuck Apart (2021)
January 10
Beneath Clouds (2002)
Pet Sematary (2019)
January 11
Crack: Cocaine, Corruption & Conspiracy (2021)
January 13
Night Stalker: The Hunt for a Serial Killer (Limited Series)
January 14
The Heartbreak Club (2021)
January 15
Bling Empire (Season 1)
Carmen Sandiego (Season 4)
Disenchantment (Part 3)
Double Dad (2021)
Kuroko's Basketball (Season 1)
Outside the Wire (2021)
Pinkfong & Baby Shark's Space Adventure (2019)
Sesame Street (Season 49)
January 21
Riverdale (Season 5)
January 22
Blown Away (Season 2)
Jurassic World: Camp Cretaceous (Season 2)
The White Tiger (2021)
January 26
Snowpiercer (Season 2)
January 27
50M2 (Season 1)
January 29
The Dig (2021)