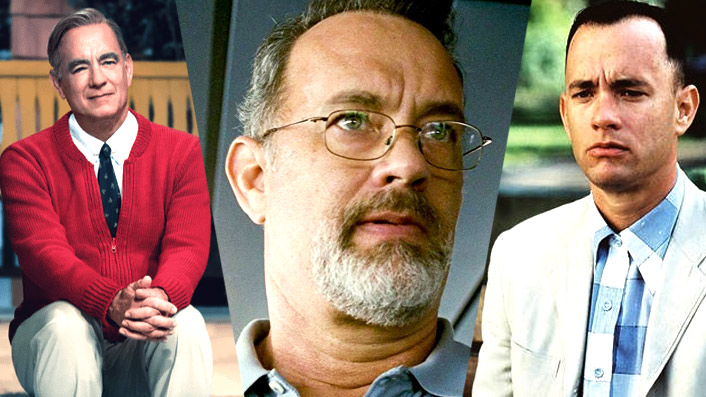 Tom Hanks' most memorable roles, ranked in order of Niceness

---
No actor is more qualified to play nice guys than Tom Hanks. Eliza Janssen recaps his most memorable roles, ranking them in order of niceness.

Marielle Heller's A Beautiful Day In The Neighbourhood is practically all about niceness: what it means to be relentlessly optimistic about the human condition, when everything around you is telling you to think otherwise. Who else could be cast in the role of Fred Rogers other than American niceness icon, Tom Hanks?
Sign up for Flicks updates
The 63-year-old actor is clearly a decent guy in his personal life, adopting quaint hobbies like short fiction and typewriter-collecting, and even giving some unhappy audience members a refund from his own pocket when they weren't keen on Larry Crowne. He's also a big proponent of marriage equality and environmentalism (as evidenced by his EPA spokesperson cameo in The Simpsons Movie).
But which iconic Hanks roles appropriately convey that sweet quality? Here, from Not Very Nice At All to Radioactive Levels of Niceness, is a ranked list of some of Tom Hank's most iconic film roles.
Niceness rating: straight to the naughty list
That's not Tom Hanks and you can't tell me otherwise. The Polar Express is immediately disqualified for making such a loveable actor look so corpse-like and unrecognizable.

Niceness rating: disqualified for anti-semitism
Hanks as childrens' animation magnate Walt Disney does sound like an impossibly cutesy combination, but don't forget the real Uncle Walt's history as a Nazi sympathiser; sorry Tom! You got played.

Niceness rating: not bad for a mob enforcer
Sam Mendes cleverly cast Hanks as a depression-era gangster with a soul, and made us all look twice at the actor's fatherly charms; what if he used those powers for evil instead of good?
Niceness rating: delightfully crabby
Hanks plays against type here as an alcoholic ex-baseball player turned salty coach of the Rockford Peaches. He gets the distinctly not-nice best line of the film, too: "there's no crying in baseball!"

Niceness rating: sweet but something's fishy
Cute and romantic, but points deducted for discovering a mermaid and immediately being kind of creepy and paternalistic towards her.

Niceness rating: nice, if kind of a buzzkill
Playing a sweary FBI agent, Hanks still manages to be sympathetic, one of the only characters who seems to truly understand Leo DiCaprio's flighty protagonist.

Niceness rating: you've (sometimes) got a friend in me
Sure, Woody the cowboy doll is the admirable protagonist of four Toy Story films, but in this first instalment Woody can be downright nasty – jealous of the new toy in town and willing to practically commit murder because of it.
Niceness rating: impossible to calculate
By default this movie belongs somewhere in the middle, since Hanks plays a variety of wacky characters across the space-time continuum, including some nice lads in the future and 1800s and a not-so-nice gangster in 2012 London.

Niceness rating: niceness levels at cruising altitude
This is approximately the Hanks Niceness Median; he's playing a real life character, Captain Chesley "Sully" Sullenberger, and so his innate gentle charisma has to be toned down for the sake of authenticity. But it's pretty charitable to save a planeful of people at the expense of your reputation!

Niceness rating: bad hair, good guy
Hanks' natural likeability almost gets smothered under Professor Robert Langdon's tiresome braininess and some shocking wigs, but he still gets the job done – the job being racing around Paris and meeting Jesus Christ's last living descendant.
Niceness rating: look at me…I'm the nice guy now
Seeing America's dad go into catatonic shock after being rescued from pirates? Feels real bad, man. Sometimes it takes an intense performance like this to remind us of an actor's capacity for vulnerability, something we perhaps hadn't seen since Big.

Niceness rating: cries over betraying a volleyball
Chuck Noland is such a good guy that he benevolently accepts his wife moving on and remarrying after he's presumed dead. He was trapped on an island, woman! He dreamt of being with you again every night!

Niceness rating: could end a world war
Honestly, I wouldn't go to this much effort to save Matt Damon's life. The marriage of American nostalgia, patriotism, and Hanks is a potent one, and Steven Spielberg put together a truly old-school Hollywood hero performance for the actor here in the self-sacrificing Captain John T Miller.
Niceness rating: possibly the perfect man?
Widower Sam Baldwin is the very definition of an eligible bachelor; sensitive, a great dad, and he owns a fricking houseboat. Writer and director Nora Ephron really brings out the best in Hanks in terms of romantic appeal, even as a crabby book store CEO in later hit You've Got Mail.

Niceness rating: too nice for the uncaring adult world
In this Penny Marshall family hit, Hanks is totally believable as a supernaturally aged tween who gets the opportunity to experience a cosmopolitan, adult life. Josh's tearful first night alone in a big, scary city would make even the most steely audience member feel desperate to wrap him up in a hug and tell him everything's going to be okay.
Niceness rating: reaching nuclear levels of kindness
Accidentally encountering every significant social movement and event of the mid-century, Forrest Gump is the epitome of innocence, capable of witnessing great social change and personal tragedy without letting it get to him. Imagine losing your legs in 'Nam and waking up to Hanks brandishing an ice-cream cone in your face, bellowing your name; could you stay mad at him?

Niceness rating: atomically generous. BIG NICE ENERGY.
So what if it's only just come out? This film dares to combine two icons of American niceness in Mister Rogers and Tom Hanks, and somehow does so without feeling overly saccharine. Hanks brings a legendarily giving and compassionate character off the small screen and into fuzzy, cardigan-bedecked life, whether Matthew Rhys' protagonist is ready for it or not.