The significance of Stan's first original film The Second and the need for more female-driven Australian films

---

So far in 2018, more Australian cinema releases have featured Shane Jacobson as the lead character than a female protagonist. Stan's first original film The Second marks the first arrival this year of a local film led by a complex female figure. Critic Sarah Ward explains why this is important.
"She likes an audience, that one."
Saying that a woman likes attention isn't seen as a compliment. The comment comes up twice in new Stan-funded Australian feature The Second, with each of the film's unnamed female protagonists referring to one another in far-from-flattering terms. And yet the observation rings true about Rachael Blake's character, known only as 'The Writer', as well as Susie Porter's life-long best friend figure, dubbed 'The Muse'.
The idea of playing to an audience – telling stories and performing parts for them, particularly – is engrained in director Mairi Cameron's first feature, which sees Blake's best-selling author struggling to follow up her hit erotic memoir, escaping to her childhood home in the country with her publisher and lover (Vince Colosimo), and reliving her eventful past when Porter arrives. The two women soon find themselves relaying tales and playing roles for each other.
Are they still the inseparable pair that ran amok each summer in their younger years? The co-conspirators whose lives were forever changed by a scandalous event decades earlier?
Working with a script by Stephen Lance, Cameron spins their story into a steamy psychological puzzle of multiple parts. As the pieces come together, The Second immerses its characters in an elaborate world where fact and fiction intertwine, and where striving to be seen isn't just about being noticed. In doing so, the film toys with its viewers just as much as its protagonists toy with each other.
Still, when the phrase "she likes an audience" is uttered during the feature, it strikes a chord for multiple reasons. It's not just a way of describing each woman's thorny feelings about the other, but also a reminder that actually giving women unfettered attention isn't considered the norm. Here, watching The Writer and The Muse circle around each other – hugging, fighting, conspiring and sorting through their twisted history – is to watch two women given the room to express their best and worst tendencies in a story that places them, their relationship and their difficulties firmly at its centre.
female-driven local efforts populated by complex figures are still more rare than they should be
If that seems unusual, particularly in an Australian film, that's because female-driven local efforts populated by complex figures are still more rare than they should be. Such characters might be accused of soliciting an audience, but they don't always get the chance to be seen by one.
Across the first six months of 2018, Australian features have explored the exploits of men trying to win barbecuing contests (The BBQ), teenage boys learning to surf (Breath), a father attempting to save his infant daughter from a zombie pandemic (Cargo) and two brothers plotting to kill their stepfather to secure their inheritance (Brothers' Nest). A group of comedians, mostly men, have palled around at a party telling each other their funniest jokes (in That's Not My Dog!). Three families have navigated the swinging '70s, each led by madcap patriarchs (Swinging Safari) and Australia's colonial past, as well as the country's historical treatment of its Indigenous population, came to the fore when an Aboriginal stockman tried to protect his wife from an abusive station owner (Sweet Country).
Sign up for Flicks updates
Spanning downright terrible films, astounding masterpieces and everything in between, Australia's cinema output this year has served up a variety of stories, but that diversity hasn't extended to the representation of gender. Women haven't been absent as wives, mothers, girlfriends, daughters, colleagues, mentors and other supporting players in male-dominated narratives; however, until The Second, they haven't driven any of this year's big-screen stories. In fact, more Australian cinema releases in 2018 have featured Shane Jacobson as the lead character than a female protagonist.
This isn't a new development. Of the 30 Australian productions that Screen Australia notes were released on home soil throughout 2017, only 12 (Bad Girl, Berlin Syndrome, The Colour of Darkness, Dance Academy, Don't Tell, Hounds of Love, Killing Ground, Raising the Bar, Rip Tide, The Space Between, That's Not Me and Zelos) could be characterised as led or co-led by female protagonists – although, in some cases, that's a generous assessment. In 2016, only The Daughter, Early Winter, Girl Asleep, Joe Cinque's Consolation and Looking for Grace earn that description. And while 2015's biggest Australian films of the year were Mad Max: Fury Road and The Dressmaker, they only had Alex & Eve, Now Add Honey and Strangerland for female-led company.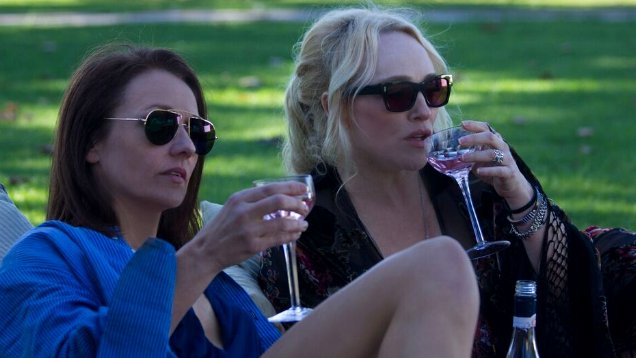 Historically among the country's biggest box-office earners, the trend also continues: of Australia's top 50 locally-made all-time box-office hits, only 14 could be classified as either led or co-led by female characters. Of course, the on-screen situation only tells part of the story. Only four of the same 50 titles – The Dressmaker, The Piano, Looking for Alibrandi and Bran Nue Dae – were directed by women. Of 2018's big-screen releases thus far, only one prior to The Second – the Yolanda Ramke and Ben Howling-co-helmed Cargo – was directed by a female filmmaker.
To address the lack of female representation both on- and off-screen, in 2015 Screen Australia announced Gender Matters, a program designed to champion gender parity. Setting the agency a target of providing 50 percent of its funding to female-led productions, it's an initiative grounded in research that confirms the above picture, as well as the long-standing lack of equality within the industry.
In the period between 1970 and 2014, only 16 percent of Australian features were directed by women, the report notes. Also in 2015, a special edition of AFTRS publication Lumina explored the subject, with Lisa French's 'Does Gender Matter?' analysis highlighting the intertwined relationship between the gender of directors and the gender of their protagonists. Films by male directors feature a female character or subject only 24 percent of the time, while films by women do the same in 74 percent of cases.
The slate of in-production features offers more hope, and indicates a more concerted move towards better female representation.
Since Gender Matters' implementation, Screen Australia's support of female-led films has increased – by 77 per cent to mid-2017, an increase from 22 percent in 2014-15 to 39 percent in 2016-17. Given the lengthy nature of the film development and production process, it's an initiative designed to make over time rather than immediately.
On screens, while The Second proves the flag-bearer for 2018 so far – as the year's lone film to-date that's both helmed by a woman and female protagonists – there's more in the pipeline. The only relevant local effort with a set release date is Ladies in Black, which might be directed by veteran Bruce Beresford, but it's a female-led story on screen, as well as being co-written and co-produced by Sue Milliken, and based on a novel by Madeleine St John. Elsewhere, Jennifer Kent's The Nightingale, featuring Game of Thrones actress Aisling Franciosi as a young woman in Tasmania in the early 19th century, is expected to surface either late in 2018 or early in 2019. Actress-turned-filmmaker Miranda Nation will premiere her first feature Undertow at the Melbourne International Film Festival in August.
The slate of in-production features offers more hope, and indicates a more concerted move towards better female representation. Strangerland's Kim Farrant is set to return with Angel of Mine, a psychological thriller starring Yvonne Strahovski and Noomi Rapace, while 52 Tuesdays' Sophie Hyde is behind comedy-drama Animals with Holliday Grainger and Alia Shawkat. Actress-turned-filmmaker Mirrah Foulkes will helm Judy and Punch, featuring Mia Wasikowska; Rachel Ward is in production on Palm Beach, as co-written with Joanna Murray-Smith and co-starring Toni Collette; and Rachel Griffiths' feature directorial debut Ride Like a Girl stars Teresa Palmer as real-life female jockey Michelle Payne.
This list of upcoming films is, as always, outweighed by the corresponding list of male-driven films — and while the situation regarding gender representation is improving, it remains far from equal. That reality is impossible to forget when The Second's female protagonists accuse each other of actively courting attention amidst the feature's many twists and turns. So far in 2018, they're the only Australian women on the country's big screens that are even getting the opportunity in a substantial way.