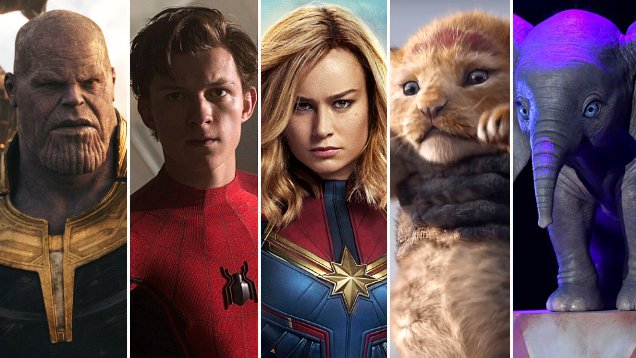 The 10 biggest blockbusters arriving in 2019

---
2019 is shaping up to be a huge year for blockbuster movies. Critic Blake Howard picks 10 of the most hotly anticipated titles. 
Now before we go and get all hot and bothered anticipating any of the vast number of incredible movies to be released this year, let's take a moment to talk about the "blockbuster." The term first emerged in the American press advertising war films in the 1940s and eventually became embedded into the lexicon during the global dominance of the original Jaws (1975) and Star Wars (1977).
So to be clear, this list is reserved for those movies this year that by all leading indicators (i.e. brand recognition, prior series entry/original film box office performance, Rotten Tomatoes etc) descend upon your local cinema like the alien craft in Independence Day and become the dominant force in movie conversation.
This list does not vote with one's heart. While there are some terrific looking films on their way to our screens this year like John Wick 3: Parabellum, Godzilla: King of Monsters and Men in the Black: International, I think you'll find that despite being sequels of recognisable brands, they are merely contenders against an all-star line-up of money makers.
This is now the moment you've all been waiting for; here are the hottest and most feverishly anticipated BLOCKBUSTERS of the year. And the only thing that gets me as hot as the Magic Mike XXL, Ginuwine "Pony" scene are some hard STATS. So here it is, the forecast for 2019 cash-cows.
From the genius stroke of transitioning HER to HERO in the trailer (which had 109 million views on Youtube in 24 hours), and of course, her symbol appearing on a pager at the end of Avengers: Infinity War, Marvel Studios first female lead feature is high on the list of anticipated movies this year.
As I write this, it's the 10th most popular movie on IMDB, and on Rotten Tomatoes it has a 92% "want to see" rating from 3k users. Even outside of Avengers: Infinity War, Marvel movies have grossed $3.7 billion in the last two years (Black Panther, Thor: Ragnarok, Guardians of the Galaxy Vol. 2 and Spider-Man: Homecoming).
With what is essentially part one of the 19th episode of Marvel's industry-changing series ending on the cliffhanger (spoilers ahead) of the mad titan Thanos succeeding in assembling the Infinity Gauntlet and snapping his fingers, resulting in half of all living beings in the universe fluttering into ash. In the post-credits sequence, a mysterious symbol of a yet to be introduced superhero flashing appears on Nick Fury's pager. Fans of this decade long institution are salivating to see this purple population control-freak get his comeuppance.
Avengers: Infinity War grossed $2 Billion (no I didn't mix up the Bs and Ms), the highest all-time worldwide weekend gross of $640 million. Endgame from 8.2k users on Rotten Tomatoes is rating 99% for "Want to see" and had 289 million trailer views in the first 24 hours of release.
3. Star Wars: Episode IX
After the $1.2 billion haul for Star Wars: The Last Jedi (arguably the best Star Wars film since The Empire Strikes Back) and the tragic departure of the iconic Carrie Fisher; J.J Abrams return to the Star Wars franchise comes with huge expectations and emotionally entangled challenges. One hopes that Abrams doesn't merely say "Nah" to writer/director Rian Johnson's impressive and brave leaps with the story.
Sign up for Flicks updates
And in case anybody was wondering, Star Wars movies were the highest grossing movies in the USA in 2015, 2016 & 2017. Abrams' last outing with the franchise holds (at the time of publishing) 32 records on Box Office Mojo, including the fastest film to hit a $500 million gross (10 days). The very era dubbed" blockbuster" didn't exist before this franchise, so yeah.
Disney's 'true to life' digital animation remakes of their own classic films bring old stories to new audiences, giving fans enough incentive to pay to see something they own at the movies again. It's no surprise that they'd target The Lion King as their next top tier property to receive this treatment. It was the second highest grossing film in 1994, received the highest per theatre average of all time (adjusted) and remains the #1 grossing G rated film all time.
With 224 million trailer views in 24 hours, Jon Favreau (director of the recent live-action/CGI The Jungle Book), an all-star cast featuring Beyonce, Donald Glover and the inimitable James Earl Jones as Mufasa, prepare Disney to have no worries at all about this film making BANK.
Oh God, it's happening. Enough said. Cover your eyes.
Despite DC Comics and Batman having a better publicist, Spider-Man is by far the world's most popular superhero. All seven Spidey films have grossed an average $300 million (an over $2 billion franchise) in the U.S alone, and its predecessor Spider-Man: Homecoming (thanks for that wink Marvel Studios) grossed $880 million worldwide.
The best animated feature of 2018 (in a year when there was an Incredibles movie – was the game-changing Spider-man: into the Spider-Verse. It seems that despite the introduction of Miles Morales, the shine has barely diminished for Tom Holland's Peter Parker. With $130 million trailer views in 24 hours, it's clear that this globe-trotting Spidey sequel and Jake Gyllenhaal's bangs as Mysterio to boot have people excited for any films in the growing web of Spidey stories.
At the end of Toy Story 3, Andy is driving off to college and Woody gets his quintessential cowboy send-off. At the time, through the downpour on the audience's face, it seemed that there was absolutely nothing that this trail-blazing series had left to say. After two very entertaining short films, and two perfectly pitched teasers (that tell us virtually nothing) OUR TEAR DUCTS ARE READY.
Toy Story 3 was the highest grossing film of 2010, with a worldwide gross of $1 billion. Fifteen years earlier Toy Story was the highest grossing film of 1995, raking in $373 million. Four point nine thousand Rotten Tomatoes users have pushed Toy Story 4 to a 98% "want to see" rating. Disney knows that they don't have to play nice with their box office competitors with this one.
8. It: Chapter Two
When Director Andy Muschetti took over from Cary Fukunaga in the re-telling of Stephen King's seminal horror film IT, it looked as if another remake had entered a cycle of developmental hell. Cut to the trailer drop, 197 million views in 24 hours making it the #4 all time (in 24 hours) and a $700 million international box office haul. IT became a surprising juggernaut. As foretold by the Pennywise mythology, every 27 years he will return to wreak havoc on the town of Derry and 'The Losers Club.' A star-studded adult cast (including James McAvoy, Jessica Chastain and Bill Hader) will have us chomping at the bit to see if we'll float too.
Yes, Frozen 2: the sequel to the Oscar-winning juggernaut that "surprised" exhibitors and distributors when they learned that girls also went to movies (*insert facepalm here*). We have seen and know NOTHING about the sequel being released this year. We know the regular cast is back, and although there's nothing out there about the story, HOT DAMN. Anything Frozen-related is best discussed in BILLIONS. In 2013 the original film made $1.3 billion at the box office and to date, the sing-a-long version of "Let it go" has 1.6 billion views on YouTube.
While The Lion King is currently capturing all of the water-cooler talks, it's the tale of the elephant who could fly from Tim "I launched this live-action fad with Alice in Wonderland, in case you forgot" Burton that has the more significant potential to surprise. Burton regulars Michael Keaton, Danny De Vito and score master Danny Elfman have all joined this circus.
I for one wish to formally congratulate our box office overlords for at least five films in the billion-dollar club this year.