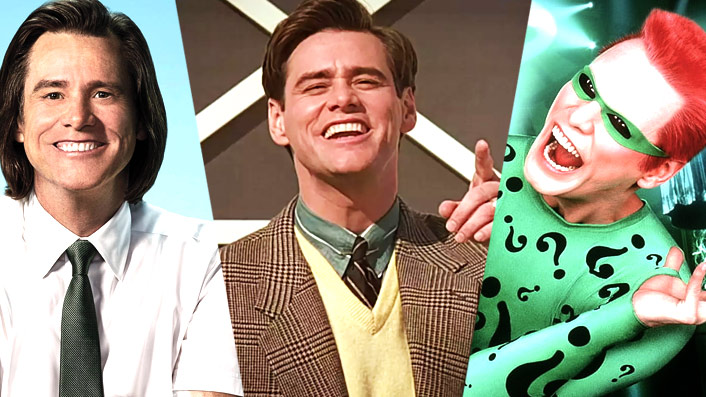 Ranking Jim Carrey's best and worst roles

---
With Jim Carrey returning to the small screen in the second season of Kidding, and to the big screen in the Sonic the Hedgehog movie, critic Travis Johnson asks: what are his best and worst roles?

This month marks a double hit of Jim Carrey goodness. Season two of Kidding has just arrived on Stan, continuing the tragicomic exploits of Carrey's character Jeff: a children's show host and profoundly broken human being. Meanwhile Sonic the Hedgehog has opened in cinemas, starring Carrey as the villainous Dr. Robotnik.
Kidding is the highlight. It's a knock-out role for the veteran actor, who has shown over the course of his career an incredible dramatic ability – even though his best known roles have largely been comedic.
Still, when you look over his body of work, both the highlights and the 'WTF was he thinking' roles come from all over the genre spectrum. Here are the five best Carrey performances and the five worst.
Sign up for Flicks updates
The Best
Sometimes a small role can make a big difference, and in Ana Lily Amirpour's sophomore film – following the well-received A Girl Walks Home Alone at Night – our man Jim spins a lot of gold out of very little straw. When a young woman (Suki Waterhouse) finds herself stranded in a quasi-apocalyptic wasteland populated by cannibals and freaks, Jim rolls up as an eccentric, taciturn hermit who gives her aid and elliptical advice.
It's a tiny part, but Carrey's turn is imbued with his recent public philosophical musings. This gives what could have been a nothing character extra pathos and weird depth.
Conman Steven Jay Russell (Carrey) recounts his love affair with the titular Phillip Morris (Ewan McGregor), whom he met while they were both in prison. Utterly infatuated, Steven spends pretty much the rest of his life breaking out of prison and running various long cons – including faking a fatal case of AIDS – in order to be with his one true love.
It's delightfully light, romantic, frequently hilarious stuff – shot through with an arch sense of the absurd and, incredibly, based on a true story. Carrey is in great form as the incurably romantic and incorrigible grifter and the chemistry between him and McGregor is palpable. The real Steven Jay Russell is due for parole later this year – let's hope love conquers all.
Writer Charlie Kaufman and director Michel Gondry are responsible for this quirkily devastating sci-fi anti-romance that sees Carrey's jilted lover, Joel, have his memories of his ex, Clementine (Kate Winslet, who picked up an Oscar nomination for her efforts) removed. The rest of the film largely takes place in Joel's mind as he decides to fight for his happy memories of her, dragging his conception of Clementine through a representative hallucination of his psyche.
Sound weird? Well, you have to expect that from this team, but what really impresses amongst all the visual creativeness is the chemistry between Winslet's free-wheeling Clem and Carrey's dour, soulful Joel. This was a real change of pace for the usually manic Carrey, and he absolutely nails the deep regret and desperate hope of lost love.
Carrey is the eponymous Truman Burbank, a cheerful suburbanite who has no idea that he is the subject of the world's most popular TV show – and thus his whole life is a lie. Written by Andrew Niccol (Gattaca) and directed by Peter Weir (Gallipoli), this kinda-gnostic sci-fi parable is anchored by Jim's arresting performance as a man raised by forces invisible to him to be a TV character, eventually seizing his own destiny against all odds.
A critical darling and commercial hit on release, The Truman Show is now vaguely horrifying in the way it predicted today's performative, always-online culture.
Acclaimed Polish director Milos Foreman wrings a career-best performance out of Carrey as legendary oddball comedian Andy Kaufman in this trenchant but mystifying biopic. Kaufman was a man who buried himself under layers of alternate personas. Carrey burrows in beneath all that, disappearing inside the unpredictable, avant-garde comic.
It's not performance, nor even impersonation, but something else. Carrey taps into The Beyond on this one to such a degree that it's not so much an acting gig as a séance.
The Worst
Tim Burton and Michael Keaton are out, Joel Schumacher and Val Kilmer are in, and a height-of-his-fame Jim Carrey is cast as the villainous Riddler in this ill-conceived Batflick. Gone are Burton's German Expressionist stylings, and in is a level of garish excess that must be seen to be believed. It's less "dark knight" and more "Starlight Express."
Carrey's camp, OTT Riddler – clad in a variety of eye-popping green leotards – is the maypole around which this mess rotates. Nominal hero Batman is relegated to the shadows, with co-villain Two-Face (Tommy Lee Jones) desperately mugging for the character in a desperate attempt to keep up. For fans of Burton's films it was a slap in the face with a sequined glove.
Look, Dumb and Dumber is not without its charms but nobody in their right mind honestly believes the world needed to revisit perennial idiots Lloyd (Jim Carrey) and Harry (Jeff Daniels) two decades on. What was passable fun back in the day is cringeworthy here, as the now-aged pair gurn and pratfall their way through a cross-country odyssey on the trail of Lloyd's hitherto-unknown daughter.
It's just so goddamn tired. Everyone looks vaguely embarrassed to be here, especially Daniels, who had moved on much meatier fare in the intervening years, while Carrey's flailing simply drops the first "l".
Carrey reteams with Batman Forever director Joel Schumacher for this hoary post-X-Files supernatural thriller. Jim is dog catcher (sure, why not?) Walter Sparrow, who becomes increasingly unhinged as his obsession with the number 23 grows after he reads a mysterious book. This leads him down a fairly boring rabbit hole of memory, identity and murder.
The Number 23 comes late in the trend that gave us Se7en, Fight Club, and even Schumacher's own 8mm, but manages to be more turgid and lackluster than any of its forebears, its aesthetics coming across as woefully trite. In the middle stands Carrey, an actor in search of a character and having to settle for moody lighting instead.
Oops, he did it again! Jim signed on board for another darker-than-dark crime story, this one a) true, more or less, and b) based on an article by acclaimed journalist David Grann, author of The Lost City of Z and Killers of the Flower Moon. Carrey is Polish cop Tadek, whose investigation of a murdered businessman leads him to a supposedly fictional novel whose plot mirrors the circumstances of the killing perfectly.
Unlike The Number 23, which is bollocks, this actually happened. But that doesn't help when Carrey's dour turn elicits laughs rather than pathos, and the whole thing feels like a Saturday Night Live piss-take of Silence of the Lambs. Dark Crimes earned a rare 0% on Rotten Tomatoes – do you really want to see it to find out why?
It may be cruel to pick on someone for an early before-they-were-famous part but screw it, he took the money. And so did Liam Neeson, who also crops in in Clint Eastwood's final, horribly creaky outing as super cop Harry Callahan. Jim is rocker Johnny Squares, who is appearing in a movie by Neeson's hack director, who is at the centre of a string of mysterious deaths.
One of those deaths is Jim's, who succumbs to a heroin OD. Before that, though, we get to see him in fright rig unconvincingly lip-syncing to Guns 'n' Roses' Welcome to the Jungle. It's… Christ, it's just awful. When the real life Gunners show up to his funeral, they look glad to be there.