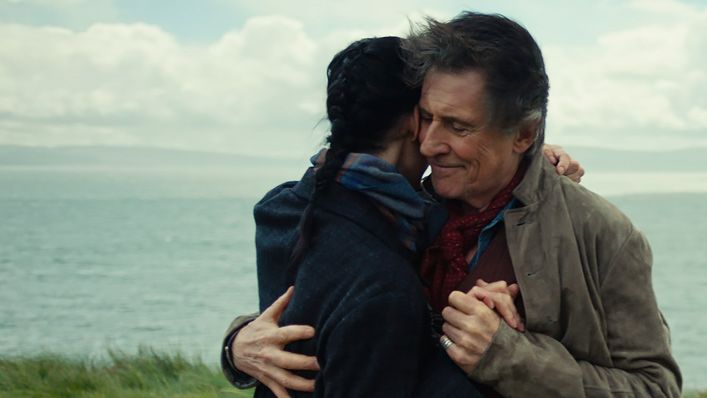 The Leonard Cohen-inspired Death of a Ladies' Man makes brain tumours seem almost pleasurable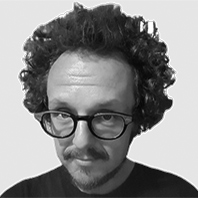 ---
Gabriel Byrne is unusually charming as a poetry professor whose days are numbered in the funny, sad, bittersweet and playful comedy-drama Death of a Ladies' Man. Here's Luke Buckmaster's review.
Death of a Ladies' Man is a very enjoyable easy-watching experience, despite—maybe even because of—the protagonist being not long for this world. The large inoperable tumour on the brain of poetry professor Samuel O'Shea (Gabriel Byrne) means his days are numbered. But it also loosened his consciousness and pried open through hallucinations previously inaccessible aspects of his psyche—returning for instance his long-dead chain-smoking father (Brian Gleeson) and introducing a new albeit not entirely real love interest (Jessica Pare).
See also:
* Movies now playing in cinemas
* All new streaming movies & series
Early on, at an ice hockey game, a woman takes to the rink to sing the national anthem, but instead of that "o say can you see stuff" Samuel is dumbstruck to hear her intone Leonard Cohen's infinitely better Like a Bird on a Wire. Just as Will Ferrell and Joh Heder literally flew off the ice together and soared into the heavens at the end of Blades of Glory (maybe it's the same rink?), this moment sort of does and sort of doesn't exist in the reality of the story, which is peppered throughout by various Cohen songs, with the story tuned vaguely but pleasurably to the great poet's work.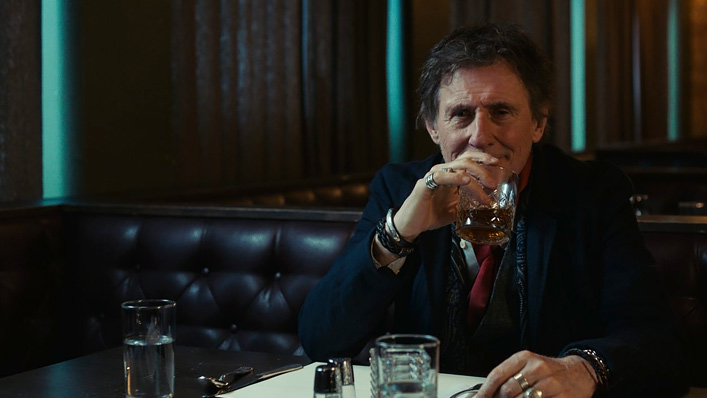 We know—or at least deeply suspect—that we're sharing a hallucination with Samuel: the film's content has fused with his mind's, making him an unreliable but affable anchor. It's a lovely scene but it goes up a notch in Cohenism when it gets seedier. Director Matthew Bissonnette cuts to a laneway outside the venue, showing (or powerfully implying, given the framing is subtle) the woman with the lovely voice giving the protagonist a handjob.
This is Cohen through and through: the sweet and the sleazy, the profound and profane, the damn cheek of it all. By telling the story of a womanizing man's slow trek off the mortal coil, Bissonnette's film literalizes the title of Cohen's famous 1977 album (also called Death of a Ladies' Man). This makes a kind of double joke, or a joke of a joke, given the singer's own words about being a Casanova type figure, which is absolutely vintage Leonard Cohen: "My reputation as a ladies' man was a joke. It caused me to laugh bitterly through the 10,000 nights I spent alone."
The film's tone reminded me of that line: it's sad, funny (not in a ha-ha way), bittersweet and playful, with a frankness that cuts right through. Bissonnette makes a habit of taking the sting out of potentially dramatic moments. When Samuel goes to the doctor to discuss his hallucinations for instance, he confesses that he's been consuming "five, seven, 13 drinks" a day for the last, oh, 40 years, and in recent times has upgraded to "23, 39…" per evening. I laughed out loud at the end of the interaction, culminating with Samuel rejecting the suggestion that he's an alcoholic—then asking the doctor to join him for a drink.
Gabriel Byrne's performance is unusually charming: he's a bit droopy and defeated, but also slick and confident—an alluring combination. We're not directed to pity Samuel for his wife's adultery (he's slept around too) nor his alcoholism (he has a great time on the booze) and one can also easily forget he's dying; in fact Byrne et al make inoperable tumours seem almost…enjoyable.
The plot swims around his life, as he for instance hangs out with his kids and goes on a writing expedition to Ireland. The editing and cinematography have a good groove, a good flow, even if the film's aesthetic never excels.
The narrative also never really takes off—it's got a circular quality, never fully settling on anything—but it's always enjoyable in a lowkey way. Death of a Ladies' Man is  a kooky kind of crowd-pleaser. Maybe this is the point: that we can know we're dying but not think about it; that we can journey off the mortal coil while enjoying the coil, the journey, even our mortality. How very Leonard Cohen.