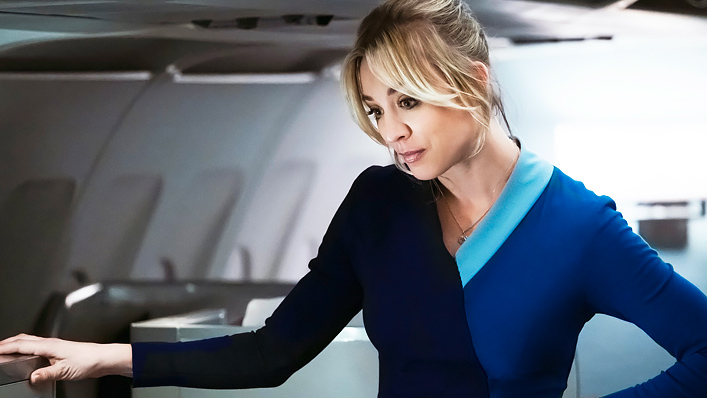 Why The Flight Attendant is the high flying mystery you need

---

The rip-snorting new series The Flight Attendant is currently available for Australian viewers to stream on BINGE. Featuring an outstanding performance by Kaley Cuoco as a flight attendant who becomes entangled in a murderous twisted plot involving international subterfuge, the show is fast-paced and addictive.
BINGE's new series The Flight Attendant is an absolute banger. Based on the 2018 novel by Chris Bohjalian, the eight part comedy thriller stars The Big Bang Theory's Kaley Cuoco as Cassie Bowden, the titular character, whose hard-partying, globetrotting life comes apart when she wakes up next to one night stand Alex (Michiel Huisman) in an Bangkok hotel.
Read more
* Twisty whodunit The Undoing makes the most of a top-notch cast
* Best new movies & series on BINGE
This is par for the course for the devil-may-care Cassie, but there's a new wrinkle: Alex is dead, with his goddamn throat slit, and she's covered in his blood. Cassie needs to clear her name (she's pretty sure she didn't kill the guy) but quickly finds herself entangled in a twisted skein of international subterfuge. And we are off to the races.
It's a pastel pop thriller
Tonally the show is brisk, poppy melodrama. There have been comparisons to Gone Girl and while they are deserved, this isn't the sort of grim psychodrama you'd expect from David Fincher. Yes, there's death and drama, but it's mounted in a bright, engaging way: lots of rapid cuts, warm lights and some well-deployed split screen sequences that are redolent of the '60s/'70s stewardess heyday. As is Cuoco's smart flight attendant uniform (when Austin Powers screeched "Bring on the sexy stews, man!" this is more or less what he was talking about).
So yes, it's a thriller and a mystery, but also a comedy. Cuoco's Cassie is an intoxicating—and often intoxicated—train wreck, frequently making the worst possible decisions at the worst possible times and powering her way through the consequences. Cuoco is simply great in the role, and that's because…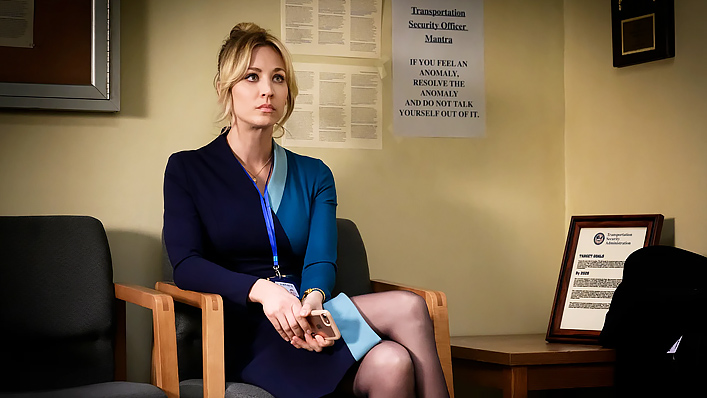 The Kaley Cuoco Renaissance is flying high
Look, yes, The Big Bang Theory was one of the most popular sitcoms in history and it ran for over a decade, but it wasn't exactly cool, was it? Not in that 30 Rock/The Good Place kind of way. The nerdosphere in particular were not fans, so it's been interesting to see how the series' stars have done following the show's end.
Cuoco, who played Penny, has come out swinging in Big Bang's wake, first with the anarchic animated series Harley Quinn, where she both voiced the lead character and took on executive producer duties, and now with The Flight Attendant, a project she put together through her production shingle, Yes, Norman.
Here her comedic chops are on full display, but she also gets to dig deeper. Cassie isn't a cliché or a caricature, she's harboring some deep trauma. As we learn from her long-suffering brother, Davey (T.R. Knight) she stared drinking with her alco father when she was 12, and her career is basically a support system for her partying. As she delves deeper into the Alex's death, she must draw on heretofore unexplored reserves of strength—but not so much that she can't blunder into yet another crisis.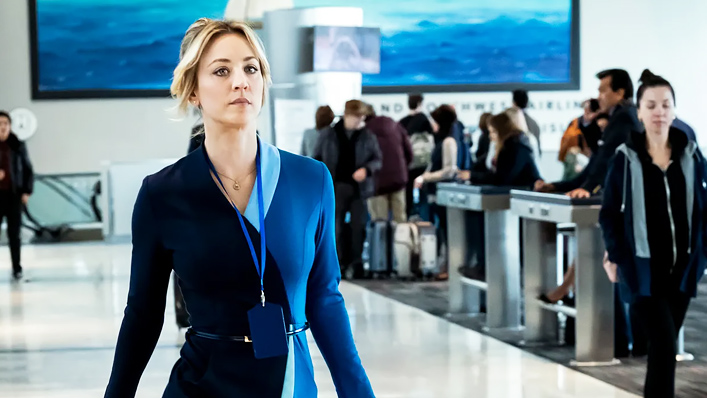 The cast is absolutely stacked
Which causes no small amount of pain for her friends. Zosia Mamet of Girls pulls BFF duty as lawyer Annie Mouradian, whose advice to Cassie goes largely unheeded, her deadpan quips a perfect counterbalance to Cuoco's manic energy. The great Rosie Perez crops up as fellow flight attendant Megan, a surrogate mother figure dealing with her own drama. Michelle Gomez, so good in Doctor Who and Chilling Adventures of Sabrina, plays a mystery woman Cassie encounters who will doubtless play into the central mystery as the season unfolds because hey, why cast Michelle Gomez if she doesn't?
Similarly, Michiel Huisman isn't just playing a briefly seen corpse ala Kevin Costner in The Big Chill. Cassie frequently has visions of the deceased Alex, in which he advises her on how to proceed further down the rabbit hole? Magical realism or PTSD hallucination? It's hard to say.
All up, The Flight Attendant is a fast, funny and frequently bloody round-the-world trip that is a perfect showcase for Kaley Cuoco 2.0. Book your tickets now.