Twisty whodunit The Undoing makes the most of a top-notch cast

---

Now streaming on BINGE, new prestige thriller The Undoing comes from the creator of Big Little Lies and stars Nicole Kidman and Hugh Grant as a wealthy married couple whose lives dramatically unravel.

Murder, wealthy mothers, a prestigious school and an enigmatic young woman thrown into the centre of a twisty, whodunnit-style mystery. From its earliest moments—even, in fact, just from its concept—BINGE's new prestige drama The Undoing brings to mind another recent series: the critically acclaimed Big Little Lies. Both were created by showrunner David E. Kelley and explore comfortable upper-class lives rocked by scandal. And both of course star Nicole Kidman.
Read more
* Why BINGE has become Destination DC
* Best new movies & series on BINGE
With her auburn curls bouncing around the series' autumn-hued frames, Kidman plays the calm, kind and usually collected Grace Fraser, whose face rarely crinkles to betray the pain festering away inside. Her eyes however are alive with sorrow and hurt. In other words, it's a classic Kidman performance: the latest example of the Australian actor excelling at playing women masking their torment—as seen, again, in Big Little Lies.
With a title such as The Undoing—changed from its source material, Jean Hanff Korelitz's novel You Should Have Known—it's hardly surprising that the series examines the collapse of Grace's marriage and family, after a principal character is accused of murder. Early moments set up everything that makes the show instantly watchable: the unravelling of an already splintering life of privilege, the weighty work of its cast and the luxe way it brings its thrills to the screen.
The story explores murder and interwoven secrets
One of The Undoing's first scenes shows therapist Grace (Nicole Kidman), her paediatric oncologist husband Jonathan (Hugh Grant) and their private school-attending son Henry (Noah Jupe) go about their morning in their Upper East Side brownstone. Grace has a meeting scheduled for the day, with fellow mothers from Henry's school to help plan their latest fundraiser. It's there that she crosses paths with Elena (Matilda De Angelis), whose son is a scholarship student from Spanish Harlem.
A newcomer to the committee, Elena would stand out even if she didn't breastfeed her infant daughter over cups of tea—much to the snobbish horror of the women around her. Just two days later, after two more encounters between Grace and Elena, all their lives have changed drastically and Jonathan has been accused of murder. The Undoing doles out the details in teasing pieces, with each of the series' episodes revolving around big revelations. From its opening moments, this is a drama balanced upon layered and interwoven secrets.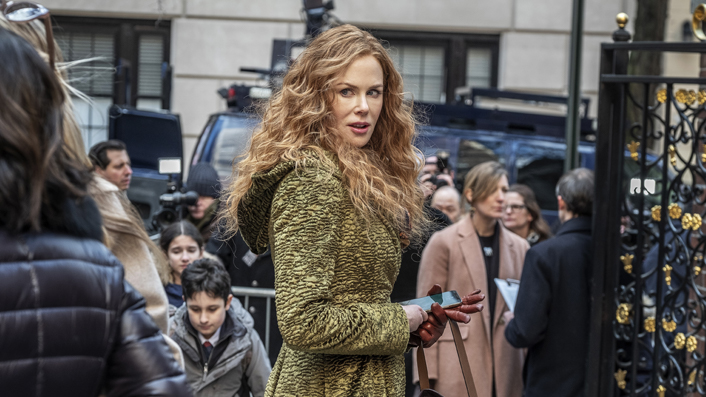 Nicole Kidman and Hugh Grant, together at last!
In this era of prestige TV, a star-studded cast has become as pivotal on the small screen as it is on cinema marquees, and The Undoing's combination of Kidman and Grant—fellow Paddington franchise alum, although in different films—couldn't be more enticing. Kidman plays the calm, kind and usually collected Grace in a restrained yet flinty manner; as previously mentioned, it is a quintessential Kidman performance.
Audiences know what to expect from Grant, too, but the British actor capitalises on that awareness in a different way. Where Kidman might be accused of playing to type if she didn't still make every character feel like a fresh creation, Grant leans heavily on all the rom-com goodwill he's amassed over the years, then slowly subverts it. Grant is charismatic, but that twinkle in his gaze and the alluring smoothness in his voice have a dark edge.
Kidman and Grant are The Undoing's undoubted stars; however, this series is an ensemble piece. As Henry, Noah Jupe (who also starred in A Quiet Place and Honey Boy) serves up a performance that deepens as each episode passes by, while Donald Sutherland's work as Franklin Reinhardt, Grace's ultra-rich father, makes the most of his menacing glare and the eyebrows that top it. As the cop assigned to investigate the case, Edgar Ramirez is another standout; he is coolly assured and perhaps even deserving of his own detective series.
Top-notch behind-the-scenes talent
Kidman and Kelley not only have a history together, but have already extended that collaboration once. Big Little Lies was only supposed to run for one season, but was brought back for a second series. With its mix of interpersonal drama and legal thrills, The Undoing is a quintessential David E. Kelley show through and through. In a career spanning back to the mid '80s, he also has LA Law, Ally McBeal, The Practice and Boston Legal on his resume.
Perhaps even more pivotal, however, is The Undoing's director. Helming each of its six episodes, Danish filmmaker Susanne Bier is in her element. That's true thematically, after the she also unpacked the troubles of the well-to-do in mini-series The Night Manager—and, before that, thanks to a slate of Danish films predicated upon moral and emotional quandaries, such as Brothers, After the Wedding and In a Better World.
Bier also brings a discerning eye to The Undoing; an astuteness and a sense of probing in tandem. She sees all the trappings of the Frasers' lives, and she doesn't simply accept them. It's telling how the camera lingers on the gilded details, yet also peers deep at The Undoing's characters to reveal their lingering pain. Visually, Bier spends her time undoing all that surface sheen—which is fitting, of course, given the show's premise.