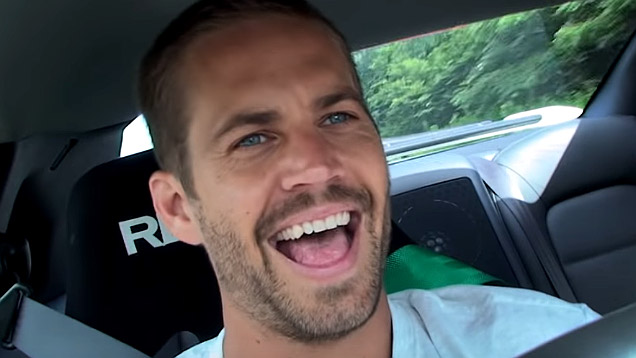 From The Fast and the Furious to Pleasantville: remembering Paul Walker's best roles

---
Five years after his death, Paul Walker is back in the spotlight thanks to new documentary I Am Paul Walker. Filled with teary chats with Walker's loved ones, as well as candid home video footage shot throughout his life, the film paints a portrait not only of a well-known actor, but of the person he was when the cameras weren't rolling.
Walker's parents, siblings, pals and manager share their recollections, describing him as a reluctant star – someone who would've rather been surfing, diving into the ocean or driving fast in real life instead of on a film set. His Fast and Furious co-star Tyrese, plus two-time directors Rob Cohen and Wayne Kramer also offer their thoughts and memories, both as co-workers and friends.
Sign up for Flicks updates
It's an affectionate ode to an actor lost to tragedy, as well as a reminder of his career highlights. Walker will forever be known for the franchise that made him a household name, but Fast and Furious' Brian O'Conner remains just one of his memorable performances. From the high-octane franchise to dallying with a dinosaur, we take a look at his best roles.
The Fast and Furious franchise
In 2001's The Fast and the Furious, Paul Walker drew upon his laid-back Californian personality and channelled his inner Keanu Reeves. He was starring in the street-racing version of Point Break, after all. But as the series progressed, he proved the calm centre of a franchise that threw fast cars, crazy stunts, outlandish storylines and messages about family together in film after film after film – and sweaty bald men, too. If Vin Diesel, Dwayne Johnson and Jason Statham are the brawn of the series, and Tyrese and Ludacris the laughs, then Walker is its easy-going core.
Running Scared (2006)
The grittiest entry on Walker's resume by far, Running Scared saw the actor step into the crime genre – the grim, violent, chaotic yet energetic side of the crime genre, rather than Fast and Furious' shiny heists. He plays a low-level mob associate who gets in over his head when a drug deal goes wrong, then has to grapple with corrupt cops, Russian gangsters and more. Writer/director Wayne Kramer throws everything he can at the film, in both its messy story and its distinctive style. Walker does too; in a once-in-a-career role, as it turned out, he feels like he's running on absolutely everything he has.
Pleasantville (1998)
It's the film that first brought Walker to broader attention, and only his fifth big-screen role. Opposite Reese Witherspoon and Tobey Maguire, he's the dreamy high schooler that catches the former's eye. In a movie that transports two '90s teens into a '50s sitcom called Pleasantville, Walker's Skip Martin has always lived on the wholesome black-and-white show, and he doesn't quite realise how much the new arrivals will change his life. As a result, there's an earnest charm to the actor's portrayal, and he more than holds his own against his more experienced co-stars.
Flags of Our Fathers (2006)
A role he was determined to take to honour his father and grandfather's military service, Walker slots into Clint Eastwood's ensemble war drama like he'd walked off of Mount Suribachi and into the film. Flags of Our Fathers always makes sure the audience knows how it is supposed to feel, but it's filled with nuanced performances.
Walker's character, Hank Hansen, fought in Iwo Jima, helps raise a U.S. flag at a pivotal moment, and then is mistaken for someone else in an iconic photograph. There's a weight to Walker's work that blends with his natural charm, and makes him an ideal on-screen soldier in this based-on-a-true-story effort.
Joy Ride (2001)
Co-written and co-produced by J.J. Abrams, Joy Ride owes an enormous debt to Duel, and nods to it more than once. Releasing just months after The Fast and the Furious, it also offers a minor sense of deja vu for Walker, marking his second car-oriented movie in swift succession. Still, this thriller works more than it doesn't. Walker stars as a university student driving home for summer break with the girl he's always had a crush on (Leelee Sobieski), and with black sheep brother (Steve Zahn) in tow. Via CB radio, they start pranking a trucker, and the three leads convincingly weather the aftermath.
Varsity Blues (1999)
Like much of Walker's work, on paper, Varsity Blues doesn't seem like much of a stretch for the actor. He played football in high school, and easily appears to fit the star quarterback type. But there's pain in his character's journey through injury and beyond, with Walker successfully conveying the struggle of an athlete suddenly seeing his dreams dissipate. James Van Der Beek might've been the lead in this high school football flick opposite Jon Voight as the team's coach, but Walker made his presence felt.
The Skulls (2000)
Before Walker got fast and furious for director Rob Cohen, he entered a secret society. The Skulls follows a kid from the wrong side of the tracks (Joshua Jackson) who earns a scholarship to a nice college, is asked to join the titular organisation, and finds himself paired up with a more typical Ivy Leaguer (Walker). There's more darkness here than Walker had demonstrated up to this point in his career, and it shows. The film still isn't great, but Walker and Jackson leave an imprint. Unsurprisingly, they both sat out the movie's two direct-to-video sequels.
Tammy and the T-Rex (1994)
First things first: Tammy and the T-Rex doesn't represent the best efforts of anyone involved. A film about a fiendish plan to implant a human brain into a robotic dinosaur, it's a low-budget sci-fi/comedy take on Mary Shelley's Frankenstein. It's also as goofy as it sounds. But, as the owner of said brain – playing a high school footballer in love with the titular Tammy (Denise Richards), beaten into a coma by her ex, then kidnapped by the scheming Dr. Wachenstein — Walker's role certainly is memorable. Tammy and the T-Rex isn't a good movie by any conceivable standard, but once you've watched it, you'll never forget it.