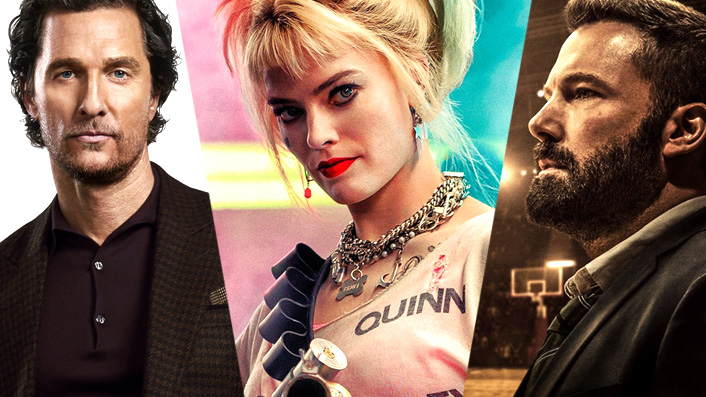 From Birds of Prey to The Way Back: the best movies fast-tracked to digital

---
The temporary closure of cinemas has resulted in many big titles being fast-tracked to digital. Here's critic Travis Johnson's guide to the best of 'em—including Bloodshot, Onward, Birds of Prey and The Way Back.

The cinemas are closed! Boo! Yeah, it sucks that we won't be seeing anything on the big screen for a while, but glass half full: the studios, keen to see some kind of turnover in These Uncertain Times, are quickly releasing big screen blockbusters onto digital streaming platforms.
So, filmic fare you might have shelled out a lot to see theatrically you can now view in the comfort of your own home, pants optional.
Where to watch
Vin Diesel is as fast and furious as ever in this adaptation of the Valiant comics title. After he and his wife are killed in a retaliatory strike, marine Ray Garrison (our man Vin) is resurrected by mad scientist Dr. Emil Harting (Guy Pearce) as the nanotech-powered Bloodshot.
Cure much gunfire, grunting and pushing of the boundaries of science as Bloodshot gets revenge on his killers and unravels the mystery of his own return from the grave. While not in Marvel's league, Bloodshot is a solid sci-fi actioner that's a bit like if The Crow was written by a college fraternity on Spring Break.

Where to watch
One of the first films to get an early VOD release, Birds of Prey—full title: Birds of Pray (and the Fantabulous Emancipation of One Harley Quinn)—sees Margot Robbie's Harley jettison the abusive Joker (Sir Not Appearing In This Movie) and getting herself a girl gang (Mary Elizabeth Winstead, Jurnee Smollett, Rosie Perez, Ella Jay Basco) to take on Gotham gangster Black Mask (a campy Ewan McGregor).
This candy-coloured Batman-adjacent flick is more Schumacher than Burton in tone, with sharp character dynamics, a rapid-fire pace, and a typically captivating performance from Robbie carrying the day.
Where to watch
Currently on VOD with an Australian Disney+ debut penciled in for April 24, Pixar's latest takes place in a modern world where magic is real, but largely forgotten in favour of technology and fairies, elves, centaurs and more inhabit a recognizable suburban milieu. Two brothers (Marvel faves Tom Holland and Chris Pratt) undertake a quest to resurrect their late father for just one day, with plenty of laughs and lessons learned along the way. Onward isn't quite top tier Pixar ala Toy Story or Inside Out, but it's still big-hearted fun for the whole family.
Where to watch
Much delayed due to real world events and now thrust into a world without cinemas, it seems that The Hunt just can't catch a break. Which is a damn shame as this latest riff on The Most Dangerous Game is a good if unsubtle bit of political satire that sees a bunch of right wing "deplorables" kidnapped and hunted down by a coterie of "liberal elites". There's more to it than that, but the big attraction is seeing Betty Gilpin's hard as nails former soldier turn the tables on Hilary Swank's vengeful corporate exec.
Making a strong play for horror movie of the year, Leigh Whannell's smart update of the old Universal franchise recontextualises it as a parable of abuse and gaslighting. Having fled her horrible husband, Elisabeth Moss' PTSD-addled survivor finds herself struggling to convince her support network that he has returned, now invisible, to torment her anew. Deft direction, an incredible performance from Moss and the odd splash of gleeful gore make this one for the ages.
Where to watch
The Witch's Anya Taylor-Joy steps into the regency world of Jane Austen in this latest take on the literary legend's matchmaking comedy of manners. While young Emma (Taylor-Joy) takes great pride in her ability to pair the spares, will her determination to make a good match for her impoverished friend Harriet (Mia Goth) leave her no time to find love with local hunk George (Johnny Flynn)?
Fashion photographer Autumn de Wilde has crafted a sumptuous big screen adaptation of the beloved novel. And Bill Nighy turns up in support, which is always welcome.
Guy Ritchie's latest foray into London's gangland got a theatrical release back in December, but had its digital release moved up for reasons which by now should be clear. Matthew McConaughey is the Anglo-American pot baron dealing with incursions onto his manor from a rival group led by Crazy Rich Asians' Henry Golding.
Snappy patter and gunfire is exchanged in roughly equal measure by the top notch ensemble cast, including Charlie Hunnam, Colin Farrell, Eddie Marsan and MVP Hugh Grant. For fans of Ritchie's early work, this is a real return to form.
Where to watch
Director Destin Daniel Cretton is presumably holed up somewhere in Sydney after first unit production on his new film, Marvel's Shang-Chi and the Legend of the Ten Rings, was suspended for obvious reasons. Still, you can catch his previous film, the excellent real life legal drama Just Mercy, on VOD, where it has found a home after a criminally short theatrical run in January.
Michael B. Jordan is real life anti-capital punishment crusader Bryan Stevenson, who goes to the mat to prove that Walter "Johnny D." McMillian (an excellent Jamie Foxx) is innocent of the murder he is due to be executed for. With Brie Larson in support, this is a great cast wrestling with complex issues and delivering heart-wrenching drama.
Where to watch
Another worthy drama robbed of a theatrical release, The Way Back sees Ben Affleck channeling his own trauma to play a depressed alcoholic who finds a path to redemption by coaching his old high school's basketball team. It's a career-best turn from Aflleck, and director Gavin O'Connor (Warrior) knows a thing or two about sports dramas. Uplifting but never overly sentimental, this is a gritty, fierce tale of loss and reconciliation, and is due on digital on April 14.
Where to watch
This action-packed second sequel sees Will Smith and Martin Lawrence reteam as Miami cops Mike Lowrey and Marcus Burnett, dealing with a threat from the past that threatens to put the kibosh on Marcus's planned retirement—and, you know, straight up kill them. Much gunplay and wisecracking ensue, because that's what we're all here for. BB4L doesn't reinvent the wheel, but it does set it on fire and cannonball it right at the camera, which is all you really need from an action flick of this stripe. On digital from April 15.