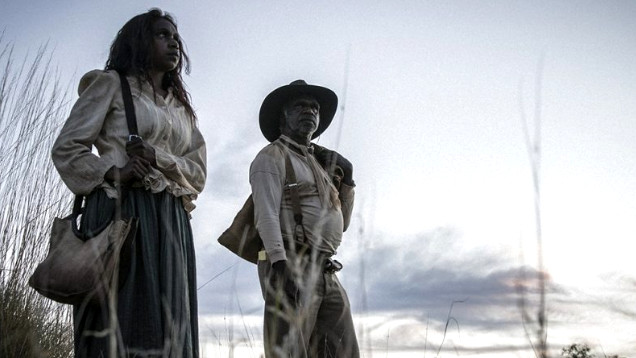 The Vision Splendid Outback Film Festival runs for nine days, from June 29 to July 7. The festival screens films in historic open-air theatres in the iconic outback town of Winton, which is the birthplace of the airline Qantas.
Queenland's Minister for Tourism Industry Development, Kate Jones MP, says the festival "celebrates the best of Queensland and promises an iconic experience for visitors."
The Vision Splendid's program mostly contains Australian films. These range from recent releases to old classics, including some titles that are rarely shown on the big screen.
Here are our five top picks. For the full program, visit the official website.
Upgrade
Leigh Whannell's second film as a director is a hardcore science fiction action movie about a crippled man who, after combining with a highly advanced computer, turns into a superhuman killing machine.
The premise might sound like a trashy late night movie, but Upgrade has received a great response from critics. We recently scoured the net and compiled lots of extremely positive things reviewers are saying about it.
Welcome to Woop Woop
Here's one you don't get to see on the big screen very often. Released in 1997, Welcome to Woop Woop was director Stephan Elliott's highly anticipated follow-up to The Adventures of Priscilla: Queen of the Desert. It was adapted from the novel The Dead Heart, by Douglas Kennedy.
Telling the story of an American traveler who finds himself in the middle of nowhere, trapped in a bizarre small town that exists completely off the map, the film received a harsh response from critics at the time of its release. Since then however it has began to re-emerge, as a kitschy cult classic.
Warwick Thornton's beautifully shot neo-western is one of the most critically acclaimed Australian films since the turn of the century. It is set in the Northern Territory in the 1920s, following an Aboriginal farmhand (Hamilton Morris) who shoots an ex-soldier (Ewen Leslie) then flees town.
Flicks critic Blake Howard described Sweet Country as an "outback morality tale" that "combines exquisite visuals of Australian landscapes with a script that dabbles as much in mythical justice as deeply specific ideas of what this country is made of."
The Sentimental Bloke
Originally released in November 1918, The Sentimental Bloke is one of the oldest Australian feature films. Some believe it is still one of the best, including Mad Max director George Miller, who voted for it in the Adelaide Film Festival's recent #YouMustSee poll.
The film tells the fair dinkum story of a bloke who decides to give up gambling and drinking, and falls in love with a woman who works at a pickle factory. According to critic Paul Byrnes, this bona fide classic "is remarkable for the naturalism of its acting and the humour with which it portrays a working class milieu."
By now, actor Simon Baker's feature film directorial debut almost needs no introduction. Breath is a surfer film adapting Tim Winton's famous novel of the same name, telling the story of two young wannabe surfers who are taken under the wing of an older and wider mentor. It has received generally strong reviews, currently sitting on a 75% Rotten Tomatoes approval rating.