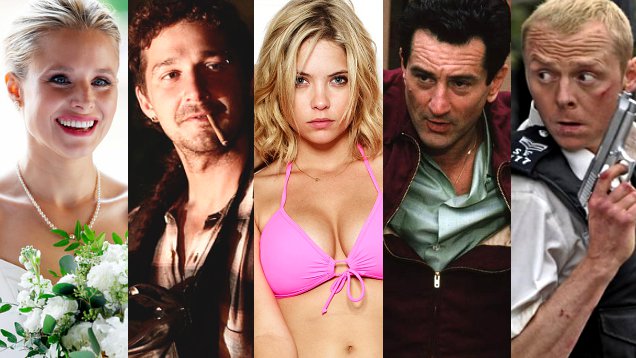 The best films arriving on Netflix, Stan and SBS on Demand in August

---
This month, as always, there are loads of films arriving on our streaming platforms. What are the best titles coming to Netflix, Stan and SBS on Demand in August? Critic Craig Mathieson picks his highlights.
NETFLIX
Kristen Bell, whose career is in a very good place thanks to The Good Place, stars as workaholic left at the aisle who ends up on her honeymoon cruise with her estranged father (Kelsey Grammer). The comedy is the feature debut of Lauren Miller Rogen (wife of Seth, who co-stars), and almost certainly involved bittersweet reconciliation.
Everyone has their favourite in writer-director Edgar Wright and co-writer and star Simon Pegg's three very British collaborations, and mine is the middle one: a small-town send-up of Hollywood buddy action movie tropes, and the people who rely on them, given a grisly and hilarious finale.
Running a loose, wild 162 minutes, British filmmaker Andrea Arnold (Fish Tank) takes to the spirit of America with this coming of age road movie about a traumatised young woman (Sasha Lane) who joins a ragamuffin crew selling magazine subscriptions door to door. Rarely have Shia LaBeouf's erratic instincts been better used.
"As far back as I can remember, I always wanted to be a gangster." Martin Scorsese's 1990 classic remains a mesmerising mix of wiseguy anthropology and increasingly desperate drama, with Ray Liotta as the young Mafia fixer caught between murderous associates memorably played by Robert De Niro and Joe Pesci.
Also: Midnight Express (August 1), The Departed (August 2), Star Trek Beyond (August 2), Get Hard (August 9), Sully (August 14), Dirty Harry (August 23), Gremlins (August 30)
STAN
The independent feature that got Girls greenlighted, Lena Dunham's autobiographical film sees her playing Aura, a college graduate returning to her artistic New York family (played by Dunham's mother and sister). The directorial touch is more studied, but the dialogue dismantles half-truths and strips familial sentiment away.
Ben Stiller's nervous energy is put to terrific, untethered use in this seditious comedy, where he plays a father experiencing a mid-life crisis while taking his son (Austin Abrams) to interview for college. Writer-director Mike White (TV's Enlightened) raises the stakes with excruciating exchanges matched by bittersweet sympathy.
A wealthy clan's wedding anniversary dinner for the patriarch and matriarch literally turns into a bloodbath following a home invasion in Adam Wingard's visceral horror film. Pursued by intruders and life-long enmity, the survivors are marshalled by a resourceful guest, played by Australian scream queen Sharni Vinson.
Flagrant and formidable, Harmony Korine's mantra-like examination of American fantasies follows a quartet of female college students whose boredom leads to crime and an assignation with a drug dealing rapper (James Franco gone full white trash). Come for the excess, stay for the gorgeously overloaded artificial light.
Also: Fireworks Wednesday (August 2), Happy End (August 9), A Most Wanted Man (August 10), 24 Hour Party People (August 25)
SBS ON DEMAND
In his one major film role from the last five years, Tobey Maguire dives into the psychosis and paranoia of Bobby Fischer, the American chess prodigy who in 1972 tore the world championship from Russia's grip. Director Ed Zwick (The Last Samurai) shows the instability of genius amidst Cold War rivalry.
Bryan Cranston inhabits the contradictory impulses of legendary Hollywood screenwriter Dalton Trumbo, a wealthy communist party member blacklisted during the 1950s Red Scare who subsequently won an Academy Award under a fake identity. Jay Roach can't derive a satisfying film from that, but he adds juicy historic supporting roles.