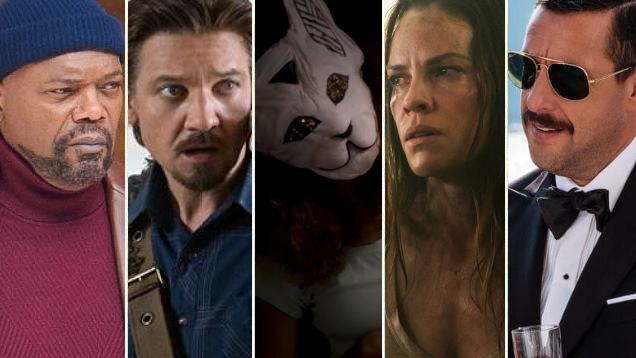 The best films coming to Netflix, Stan and SBS on Demand in June

---
What are the best titles coming to Netflix, Stan and SBS on Demand in June? Streaming guru and film critic Craig Mathieson picks his highlights.
NETFLIX
Shot in Adelaide and purchased by Netflix after debuting at the Sundance Film Festival, Grant Sputore's science-fiction thriller charts the relationship between a teenage girl (Clara Rugaard) and the robot (voiced by Rose Byrne) who raised her in an underground facility, only to have a human intruder (Hilary Swank) challenge her perception of the world outside.
Adam Sandler's latest Netflix original crowd-pleaser is an action-comedy in which he plays an American police detective whose trip to France with his frustrated wife (Jennifer Aniston) turns into a murder on a billionaire's yacht, complete with exotic suspects and a rumpled French detective. Of note: the film was directed by Workaholics co-creator Kyle Newacheck, not one of Sandler's 1990s sidekicks.
In this African-American coming of age drama, Anthony Anderson stars as a high school security guard and hopeful music manager who discovers a teenage beat-making prodigy, August (Khalil Everage), whose talents are matched by his reclusive nature and repressed trauma. Naturally, they have to find a way forward together.
Nineteen years after he first revived the signature private eye of the 1970s Blaxploitation era, Samuel L. Jackson returns as John Shaft, who finds himself investigating a murder with his estranged cybersecurity expert son (Jessie Usher). Tim Story directs, and the feel suggests his recent action-comedy success with the Ride Along franchise, albeit with a heck of a theme song.
Also: Indiana Jones and the Last Crusade (June 1); Indiana Jones and the Kingdom of the Crystal Skull (June 1); The Princess Bride (June 1); Four Christmases (June 2); The Lovely Bones (June 2); Everybody Wants Some (June 5); End of Watch (June 5); American Made (June 6); Crazy Rich Asians (June 12); Rolling Thunder Revue (June 12); The Nun (June 19); The Girl on the Train (June 25).
STAN
Too many independent films flaunt 'challenging' making of stories, but this Australian drama about the need for redemption tops them. Director Benjamin Gilmour shot on location in Afghanistan to tell the story of a former Australian soldier (Sam Smith) desperate to make amends for an earlier killing. The film's verisimilitude is remarkable, making for a true guerilla production.
The Jeremy Renner who was compelling to the point of self-obliteration in his breakthrough role in Kathryn Bigelow's The Hurt Locker hasn't been sighted a lot during the actor's Marvel superhero stint. However Michael Cuesta's 2014 drama – the real-life story of the dedicated American journalist who reported links between the CIA and cocaine's import boom – is a welcome reminder of his more intimate talents.
Also: 20 Feet from Stardom (June 2); Suffragette (June 5); The Queen of Ireland (June 9); Wish I Was Here (June 11); A Little Chaos (June 15); Harmony (June 15); Drunk Stoned Brilliant Dead: The Story of the National Lampoon (June 16); Escobar: Paradise Lost (June 18); Janis: Little Girl Blue (June 22); Queen of the Desert (June 25); Shame (June 30).
SBS ON DEMAND
Set in World War II France on the eve of Nazi occupation, but shot with present day detail so as to add to the sense of rootlessness and contemporary ramifications, the latest film from German master Christian Petzold is set in a spectral world of seedy hotels and casual betrayal. A refugee (Franz Rogowski) steals a writer's identity and then meets the man's estranged wife (Paula Beer).
The performance artist and experimental filmmaker Josephine Decker is one of most exciting new American underground artists. A film festival circuit success, her third feature is a deceptive study of artistic appropriation and adolescent shape-shifting. A theatre director (Molly Parker) decides to build her next show around an inexperienced teenage actor (Helena Howard).
Also: Hannah Arendt (May 1); Knights of Badassdom (June 1); Rock the Casbah (June 1); The Spy Gone North (June 1); The Road to Mandalay (June 8); A Family Submerged (June 15).