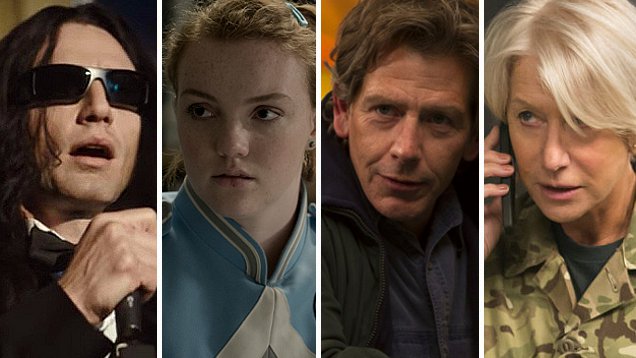 The best films arriving on Netflix, Stan and SBS on Demand in September

---
What are the best titles coming to Netflix, Stan and SBS on Demand in August? Streaming guru and film critic Craig Mathieson picks his highlights.
NETFLIX
Sierra Burgess is a Loser (September 9)
While Netflix has been badly missing the mark with high-profile science-fiction originals Mute and Extinction, it has made converts with teenage romantic comedies such as For All the Boys I've Loved Before. The format puts female characters at the centre, honestly addresses their emotional struggles, and offers genuine affirmation. This Cyrano de Bergerac remake is the next instalment. Bonus baton pass: Ferris Bueller's Cameron – Alan Ruck – plays Sierra's father.
The Land of Steady Habits (September 14)
What a combination: Nicole Holofcener, a writer/director whose intimate comic dramas (Friends with Money, Enough Said) centre on brittle adjustments and unexpected turning points, and Ben Mendelsohn, an actor of roiling depth and the driest self-regard. He'll play a 50-something retiree who changes his life up, only to realise the mistakes he's made.
After two bracing independent features in Blue Ruin and Green Room, where violence is a tragic, unavoidable addendum to human flaws, independent filmmaker Jeremy Saulnier moves to Netflix for this moody thriller about a hunter (Jeffrey Wright) searching for a boy taken by wolves in Alaska. Riley Keough and Alexander Skarsgard play parents who want revenge, and possibly answers.
The making of 2003's The Room, a film acknowledged as being so bad that's it's now a cult classic, is the hilarious backdrop for this tale of possessive male friendship and Hollywood obstinacy. Director James Franco plays oddball auteur Tommy Wiseau, with sibling Dave Franco as his friend and co-star Greg Sestero, and the great trick of this biopic is to insert archetypal triumph into this permanent twilight zone.
Also: Flight (September 1), Star Trek: Into Darkness (September 1), Magic Mike XXL (September 6), Hanna (September 12), Justice League (September 14), Watchmen (September 15), Paddington 2 (September 21), Friday Night Lights (September 26), Scarface (September 26).
STAN
The complications of modern society become excruciatingly unhinged in the films of Swedish filmmaker Ruben Ostlund. In his Cannes Palme d'Or winning follow-up to Force Majeure, a Stockholm art gallery is the canvas for the best intentions and the worst outcomes, with surrealist-tinged set-pieces and a cracking cast that includes Claes Bang and Elisabeth Moss.
Neruda (September 6)
In 2016 Pablo Larrain not only directed Natalie Portman to an Academy Award in Jackie, the Chilean filmmaker made this playful historic drama about the famous Latin American poet Pablo Neruda (Luis Gnecco) enjoying himself while on the run in 1948, from authorities led by a diligent police inspector (Gael Garcia Bernal). The pair's mutual obsession outweighs Larrain's usual fascination with ideology – it's a wry diversion.
Mark Felt (September 7)
If you've been waiting for Liam Neeson to square the ledger for his post-Taken preponderance of action flicks, consider this Washington D.C. drama a start. In the title role he plays the diligent FBI Associate Director whose conflicted qualms at the Nixon administration's Watergate cover-up led him to become the most famous source in journalistic history: Deep Throat.
Hollywood remakes of outstanding European features are usually bad, but this 2010 tale of adolescent struggle told through a horror movie lens is a notable exception. Matt Reeves, who would go on to the Planet of the Apes trilogy, directs Kodi Smit-McPhee and Chloe Grace Moretz in the story of a bullied boy who befriends a young girl who's a vampire. The source material is Tomas Alfedson's Let the Right One In, but this touchingly stands on its own
Also: Olympus Has Fallen (September 7), The Gift (September 8), Cemetery of Splendour (September 13), Filth (September 20), The Devil's Double (September 29).
SBS ON DEMAND
A War on Terror thriller, where a drone strike on a Kenyan house is examined through its moral, ethical, and strategic demands, the storyline moves from agents in the field, through U.S. drone strike operators, into Britain's corridors of power. The tension is uneasy because there's no true solution, and it's evoked by a cast that includes Helen Mirren, Aaron Paul, Barkhad Abdi, and the late Alan Rickman.
This wonderfully inventive 2104 Australian comedy rightly made my list for Flicks' recent poll of the Greatest Australian Films of the 21st Century. Hugh Sullivan's debut is deadpan scientific screwball, as a desperate boffin (Josh McConville) tinkers with time travel to win his girlfriend (Hannah Marshall) back from a former athlete (Alex Dimitriades). Chasing perfection unleashes endless comic futility.
Also: Lost in Paris (September 2), 1945 (September 9), Scaffolding (September 10).