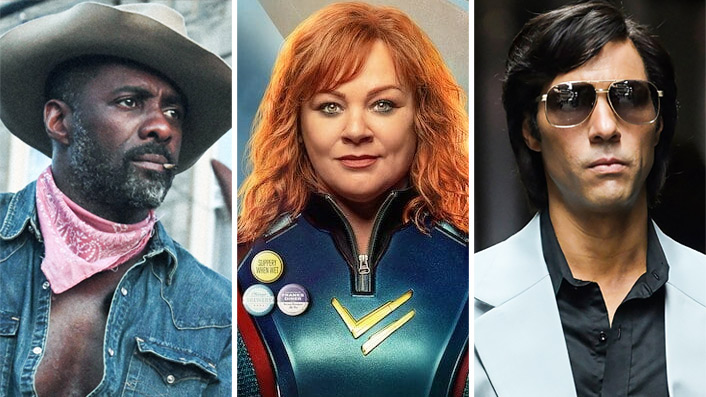 Best new movies and TV series on Netflix Australia: April 2021

---
Each month, loads of new films and TV shows are added to Netflix Australia's library. Critic Craig Mathieson presents his picks for titles worth watching. For the full list of everything arriving on the platform, scroll down. Also check out our top 50 movies on Netflix list.
Top picks: TV
Both a white-knuckle thriller and a study of evil's inexplicable reach, this British series stars the outstanding French actor Tahar Rahim (A Prophet) as Charles Sobhraj, a calculating and charismatic sociopath who robbed and murdered young western counterculture travellers journeying through Asia in the 1970s.
Documented widely at the time, Sobhraj's notoriety is examined through the perspective of both an accomplice, Marie-Andree Leclerc (Jenna Coleman), and Herman Knippenberg (Billy Howle), a junior Dutch embassy official who doggedly pursued a killer who profited from official intransigence. It's an absorbing take on the true crime drama.
Netflix's predilection for true crime docuseries alights on a stunning historical crime: in 1990 two men dressed as police officers coolly entered a Boston museum—on St Patrick's Day, no less—and stole paintings by the likes of Rembrandt and Vermeer worth an estimated $650 million. They've never been recovered.
This four-part series charts the crime and the conspiracy around it, with enough references to the city's crime syndicates to bring to mind The Departed—"everyone who apparently did the robbery is whacked", one official notes, even as an eight figure reward continues to motivate searchers.
Before the likes of Collateral, Ray and Django Unchained confirmed Jamie Foxx as a Hollywood movie star, he me made his name with the black network television sitcom The Jamie Foxx Show. He gets back to that Fresh Prince of Bel Air space with this family sitcom, in which Foxx plays both a single father trying to raise a teenage daughter, as well as wheeling out a variety of oversized guest characters such as the flamboyant preacher Sweet Tee.
With a throwback soundstage set-up, this deliberately promises to a lot of familiar jokes and playing to the camera. It's knowingly turning the clock back 20 years.
The latest fantasy novel series to get a streaming adaptation—it's hard to keep up at this point—is Leigh Bardugo's Grisha trilogy, the story of a young woman who discovers her elemental power in a world, modelled on Tsarist Russia, where evil dwells in a darkened zone many are forced to cross.
The series creator is Eric Heiserer, who previously adapted Arrival. Amidst the monsters, wonder, and duelling factions the lead role rests with the highly toured young British actor Jessie Mei Li, who also stars in Edgar Wright's upcoming feature Last Night in Soho.
Top picks: Movies + Specials
A father-son drama set against a little known black community that Netflix secured after it debuted at the Toronto International Film Festival last year, Ricky Staub's feature debut is inspired by the Fletcher Street Urban Riding Club, an inner-city collective that maintain the hidden history of black cowboys and horse-riding in working-class Philadelphia.
Stranger Things star Caleb McLaughlin plays Cole, a 15-year-old sent to live in Philly with his estranged father, Idris Elba's Harp, who introduces him to horses, riding life and some life lessons. If you've ever wanted to see Idris Elba rock a cowboy hat, this is it.
If you need superhero satire but find Prime Video's The Boys too gory, a comedy starring Melissa McCarthy and Octavia Spencer as newly empowered vigilantes in a world full of supervillains might hit the spot.
Written and directed by McCarthy's husband and frequent collaborator, Ben Falcone (The Boss, Life of the Party), the film's dynamic duo—no sidekicks here—are former best friends who accidentally acquire super powers and promptly have some fun with them. The likes of Bobby Cannavale, Pom Klementieff and Jason Bateman play wrongdoers less than impressed by their new adversaries.
Brazilian musician turned filmmaker Joe Penna, who previously directed Mads Mikkelsen in Arctic, sets his next survival drama in outer space, where a NASA launch engineer is accidentally included on a two year mission to Mars.
Shamier Anderson (Wynonna Earp) plays the accidental astronaut, who must acclimatise to his new surroundings and unexpected confinement with an elite crew—played by Toni Collette, Daniel Dae Kim, and Anna Kendrick—even as his presence begins to threaten the limited resources keeping them alive. Getting the mix of celestial wonder and potentially harsh decisions right will decide the movie's fate.
---
All titles arriving on Netflix Australia in April
April 1
Prank Encounters: Season 2
Tersanjung the Movie
Magical Andes: Season 2
Worn Stories
Dumb and Dumber To
Shrek
The Little Rascals
April 2
The Serpent
I Met A Girl
Run
Just Say Yes
Concrete Cowboy
Madame Claude
Sky High
April 5
Family Reunion: Part 3
April 6
The Last Kids on Earth: Happy Apocalypse to You
April 7
Snabba Cash
The Wedding Coach
The Big Day: Collection 2
Dolly Parton: A MusiCares Tribute
This Is A Robbery: The World's Biggest Art Heist
April 8
The Way of the Househusband
April 9
Have You Ever Seen Fireflies?
Thunder Force
Night in Paradise
April 11
Downton Abbey
April 12
Ghostbusters
April 13
My Love: Six Stories of True Love
Mighty Express: Season 3
April 14
Law School
Dad Stop Embarrassing Me!
The Circle: Season 2
The Soul
Love and Monsters
Why Did You Kill Me?
April 15
Ride or Die
April 16
Ajeeb Daastaans
Into the Beat
Fast & Furious Spy Racers: Season 4: Mexico
Arlo the Alligator Boy
April 18
Luis Miguel – The Series: Season 2
Escape and Evasion
April 20
Izzy's Koala World: Season 2
April 21
Zero
April 22
Stowaway
April 23
Shadow and Bone
Tell Me When
April 27
Fatma
Go! Go! Cory Carson: Season 4
April 28
Sexify
Headspace Guide to Sleep
April 29
Things Heard & Seen
Yasuke
April 30
The Unremarkable Juanquini: Season 2
The Innocent
Pet Stars
And Tomorrow the Entire World
The Mitchells vs. The Machines
Undated
The Disciple
Searching For Sheela
---
See also
* Best new movies and TV series Stan
* Best new movies and TV series on Amazon Prime
* Best new movies and TV series on Disney+
* All new streaming movies & series