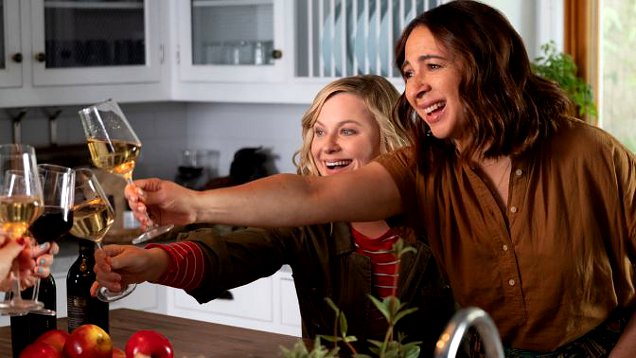 Wine Country has a fantastic boozed-up cast, but they have more fun than the audience

---
Amy Poehler, Maya Rudolph, Tina Fey and others consume excellent alcohol in Netflix's new comedy, centred around a trip to a winery. It looks like the cast are having a ball, says critic Sarah Ward, but the film clunkily tries to corral them into a bland feel-good narrative.
On paper, Wine Country is a comedy dream – especially for fans of fantastic funny ladies. Amy Poehler not only makes her film directorial debut, but jumps in front of the camera too, featuring alongside fellow Saturday Night Live alumni Maya Rudolph, Tina Fey, Ana Gasteyer and Rachel Dratch. The latter – who was meant to star in 30 Rock, only to be replaced after the pilot – is afforded a rare sizeable role, while ex-SNL writers Paula Pell and Emily Spivey round out the cast. Plus, as well as being buoyed by beloved players from Parks and Recreation, Bridesmaids and Sisters, the whole caper is inspired by the real-life friends' own off-screen getaway to the Napa Valley.
In other words, the Netflix movie is a hangout flick that's drawn from reality, overflows with talent and benefits from genuine camaraderie. And, whether Poehler's super-organised Abby is demanding to stick to her jam-packed itinerary, Rudolph's mother-of-four Naomi is trying to forget her worries or Dratch's birthday girl Rebecca is claiming that she's fine about turning 50, Wine Country's stars all look like they're having a ball. But great hangout movies don't just peer at on-screen shenanigans and make everyone watching wish they were there; they ensure that viewers feel like they're in the thick of the fun too. Alas, as much of a blast as Poehler and her besties are having – even when their alter egos are bickering about decades of baggage – they forgot to invite the audience.
Setting the scene in several ways, Wine Country's opening moments encapsulate the film perfectly. Via phone, Abby, Naomi, Rebecca, busy entrepreneur Catherine (Gasteyer), introvert Jenny (Spivey) and the just-out-of-surgery Val (Pell) chat excitedly, earnestly and comfortably, as old pals do, but little about each clip stands out. In a visual sense, the sequence is brightly lit but nondescript otherwise. A handful of amusing lines earn a soft giggle; however the authentic vibe shared by the cast does all of the heavy lifting. Soon, after too many drone shots of sprawling vineyards, the thinly drawn gang comes together in California, gets a tour of their home-away-from home by its no-nonsense owner (Fey), and start drinking and reminiscing about their Chicago pizza café days, but the same feeling remains.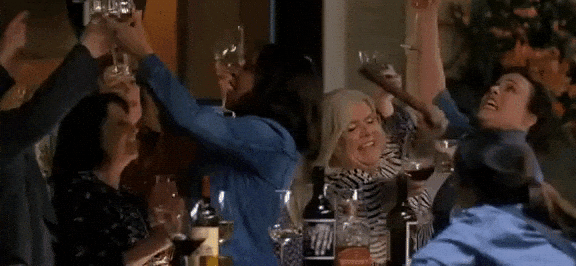 As penned by Spivey and her fellow Up All Night and The Last Man on Earth writer Liz Cackowski, Wine Country's screenplay is the chief culprit. Episodic yet loose as it layers on age-appropriate insights, it can't quite find a balance between letting these ladies do what they do best, exploring the reality of getting older and taking your friendships with you, and inserting the necessary dramas. And those dramas, while attempting to reflect the experiences of a group so often ignored in popular culture (middle-aged women, not the movie's famous players) couldn't be more laboured.
One, involving the fear of potentially traumatic medical results, is as lazy as it is near-insultingly clichéd, using the threat of illness to tug at the heartstrings. Another, which sees the group attend an art show held by a young waitress (Maya Erskine) that Val has a crush on, misses as much as it hits. Theming the exhibition around The Nanny smartly skewers today's nostalgia-dripping entertainment industry, but reducing the central sextet to airing complaints about the next generation is dull and easy.
Sign up for Flicks updates
Indeed, it's telling that the film's best gags are its simplest, satirising the pomp and pageantry that can surround the wine industry. Dratch's delivery when she notes that she can taste grapes, and Poehler's when she explains that one glass is just white wine, are both pitch-perfect; however, for a movie called Wine Country, these moments are few and far between. The people, not the place, are the focus in this laid-back affair, but they're frequently saddled with distracting side characters, including Cherry Jones' gruff tarot reader and Jason Schwartzman's hipster caricature. Only Fey shines among the supports – and, out of everyone seen on-screen, offers up a humorous figure that's worlds away from her persona.
Last year, another comedy took beloved stars on a weekend trip to a winery, drew upon their real-life chemistry, and let both sparks and drama fly. While the Keanu Reeves and Winona Ryder-starring Destination Wedding is as acerbic as Wine Country is warm, it emerges as the more enjoyable endeavour. Both movies are little more than showcases for their stars, but one embraces that fact while the other clunkily tries to corral its cast into a bland feel-good narrative. With Wine Country, the result doesn't just leave viewers wishing they were in on the cast's fun – it leaves everyone dreaming of just watching Poehler, Rudolph and company take the same trip, forget the script, be themselves and turn it into a leisurely documentary.