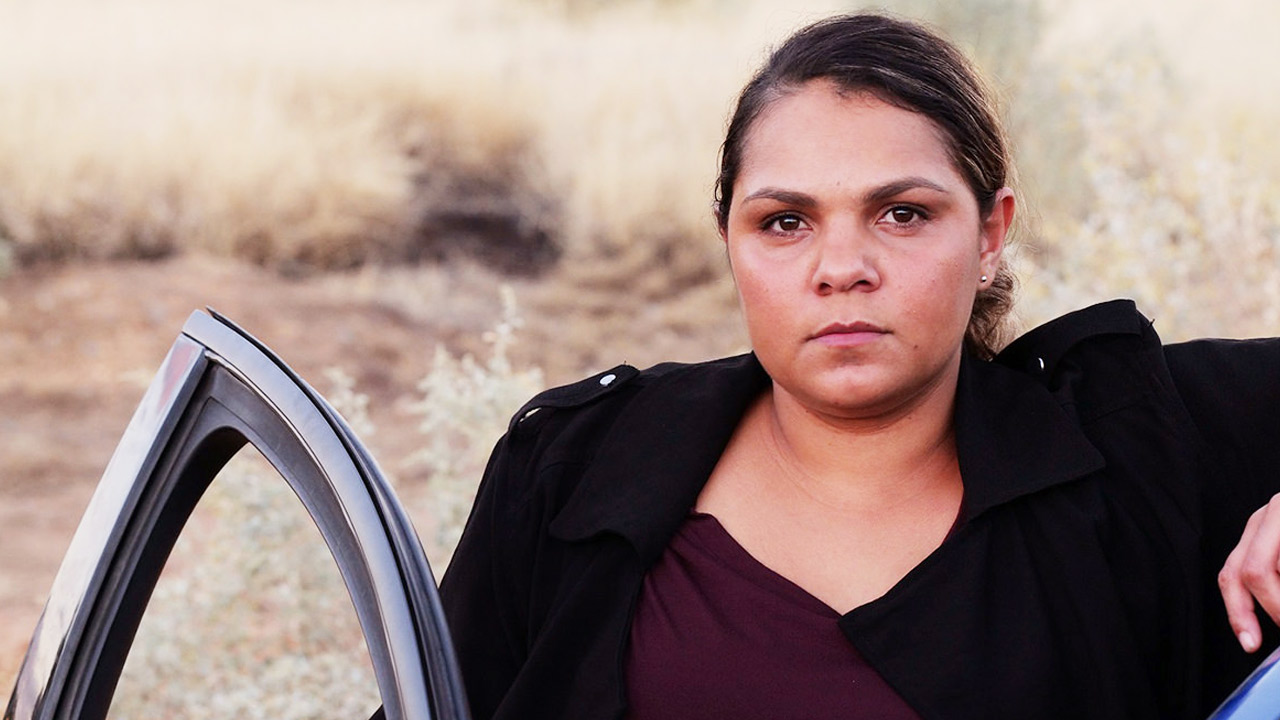 The solid but unexceptional True Colours looks at art fraud through an outback noir lens

---
Presented in English and Arrente, SBS's four-part series True Colours is a culturally significant police drama with an underwhelming central mystery, writes Travis Johnson.

Shot on location in and around Mparntwe (Alice Springs) and Yeperenye (East MacDonnell Ranges), True Colours is based in Central Australia, where Police detective Toni Alma (Rarriwuy Hick) is dispatched to the Arrente community of Perda Theendar to investigate a suspicious car accident that's left a young Indigenous woman in hospital. It's busy work: there's a bit of heat on Toni and sending an Indigenous detective to dig into the situation will signal that the cops are taking it seriously.
However Toni is herself from Perda Theendar, having left the community as a child. When the victim succumbs to her injures it soon becomes clear that what was perceived as an accident is most likely murder. Presented in both English and Arrente, True Colours takes a familiar crime narrative trope—the tough protagonist returns home to confront both new problems and old ghosts—and uses it as a lens through which to examine issues of race and culture in contemporary Central Australia.
Specifically, co-creators Erica Glynn (Redfern Now) and Warren H. Williams (who features in the cast as Toni's uncle, community police officer Samuel) take as their target the international market for Aboriginal art and the way brokers and art dealers insert themselves between traditional practitioners and their audience, a situation not short on controversy. Mapping out how a car wreck on a remote stretch of outback road connects with the lucrative global art scene is, of course, all part of the fun.
True Colours' backdrop is fascinating, and its observations on outback racism pointed—an early scene in which Toni is refused service at a liquor store for not having ID doesn't pull any punches, and it only gets more confronting from there. However as a crime drama it's relatively muted, with pedestrian pacing and little sense of rising tension as Toni unravels the conspiracy.
Sign up for Flicks updates
It's a shame, because there's much to admire here. Hick is fantastic as the dogged, no-nonsense Toni, who is often at odds with both her white superiors in the Police Force and the Arrente community—including Samuel, who sees her as willing to put the demands of settler society ahead of her own people. She's supported by an impressive cast: Williams brings quiet authority to the role of Samuel; Miranda Otto is on point as a local art dealer making money off of elderly Indigenous artists; and Black Sails' Luke Arnold crops up as fellow cop Nick. The series' commitment to showcasing the Arrente people, culture, and language is both admirable and unforced, lending the proceedings a great deal of authenticity.
And yet True Colours doesn't quite come together as a work of drama, and the central mystery is never as compelling as it should be. By the time the credits roll on the fourth and final episode we're left somewhat underwhelmed; all the ingredients are there, but the recipe is off. The result is a series that's pretty good rather than great.