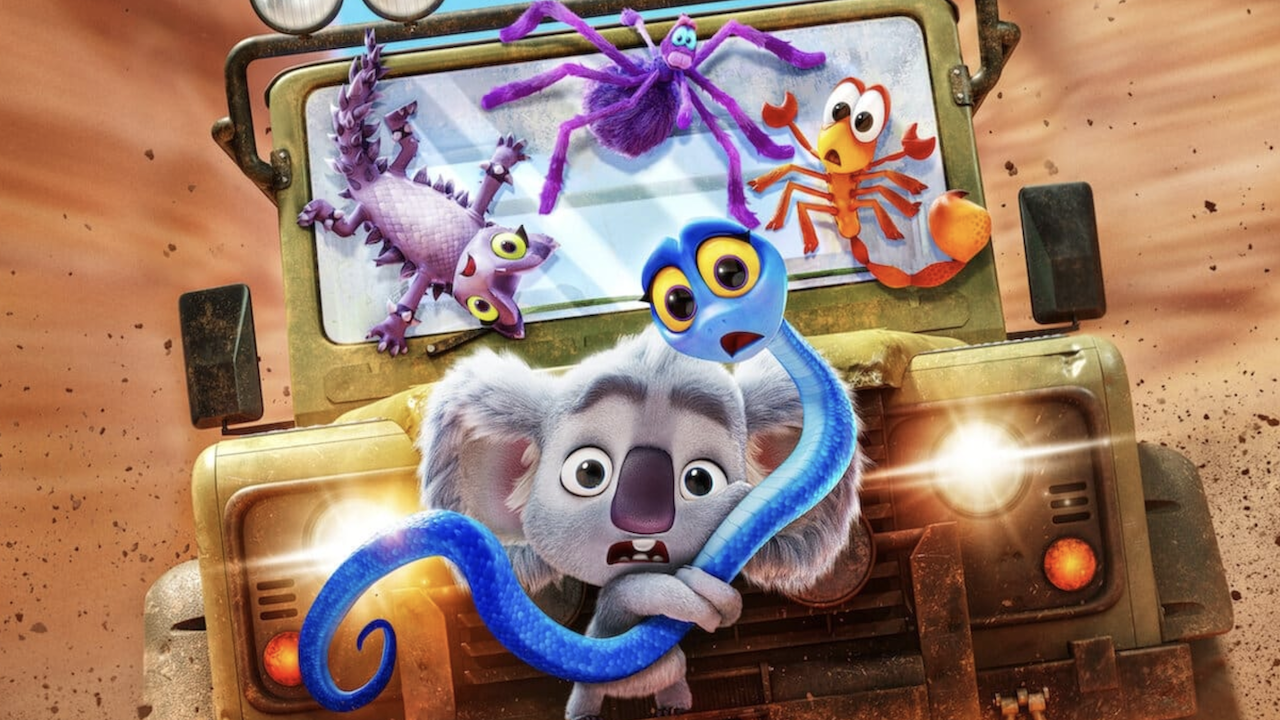 Back to the Outback offers dinky-di charm for young children – but little for their parents

---
Crawly beasts in captivity yearn for a better life in the bush, in Netflix's new animated feature Back to the Outback. Travis Johnson says it's charming enough if not particularly memorable.
It actually feels a little mean to dunk on the new Australian CGI animated film Back to the Outback. It ain't great by any stretch of the imagination—Pixar should not be too worried about their seat at the top of the animation heap—but neither is it terrible.
It has modest ambitions that it fulfils efficiently, ticks along at a decent pace, and features a surprisingly stacked voice cast including Isla Fisher, Eric Bana, Guy Pearce, Miranda Tapsell, Jacki Weaver, and Angus Imrie. Kylie Minogue gets a one line cameo as a wild pig, which I suspect has more to do with the pop princess being bored in lockdown than any real affinity for the material.
The material, mining a similar vein to 2005's Madagascar and 2006's The Wild, is this: sick of being pigeonholed as dangerous critters, a mixed bag of animals escape from the zoo (a place which vibes like the late Steve Irwin's Australia Zoo but occupies the same geographical location as Taronga) for a better life in the bush. There's Maddie the inexplicably blue taipan (lsla Fisher), Frank the sexually frustrated funnel web spider (a scene-stealing Guy Pearce), Zoe the self-assured thorny devil (Miranda Tapsell), and Nigel the effete scorpion (Angus Imrie).
Also along for the ride is Pretty Boy (Tim Minchin), the zoo's prima donna koala, who was accidentally poisoned and abducted in the escape. Pretty Boy is a cute 'n fluffy beast, y'see, while the rest of the gang are creepy, crawly, venomous, or all three—but, as we all know, and as the film repeatedly beats into us, it's what's on the inside that counts.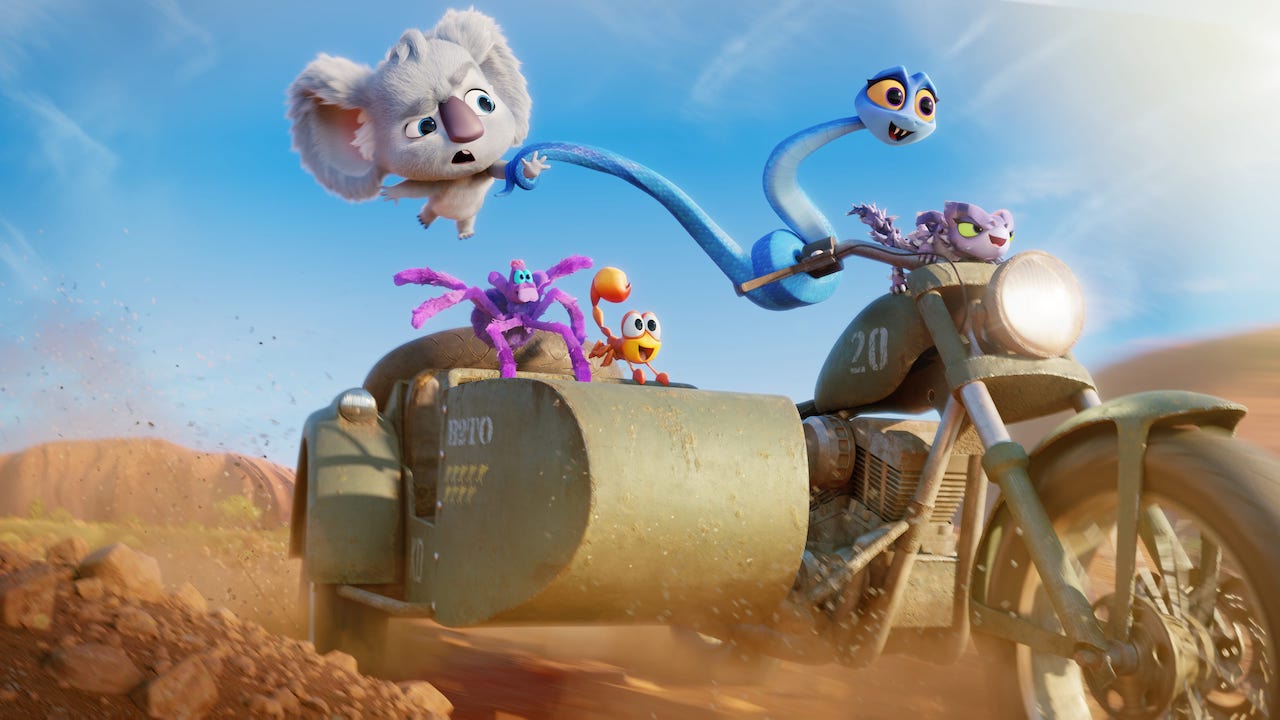 What unfolds is a pretty standard road trip/quest narrative, with the animals encountering a range of characters on their journey (Rachel House's great white shark, Keith Urban's cane toad) while being pursued by bushman/zookeeper Chaz (Erica Bana channelling—you guessed it—Steve Irwin) and his adoring son, Ben (Diesel La Torraca).
Back to the Outback is squarely aimed at the younger set and they should enjoy it well enough, but accompanying adults should not expect to be catered to in any fashion, although fun voice performances and the odd bizarre needle drop (The Angels? KLF?) might raise a chuckle.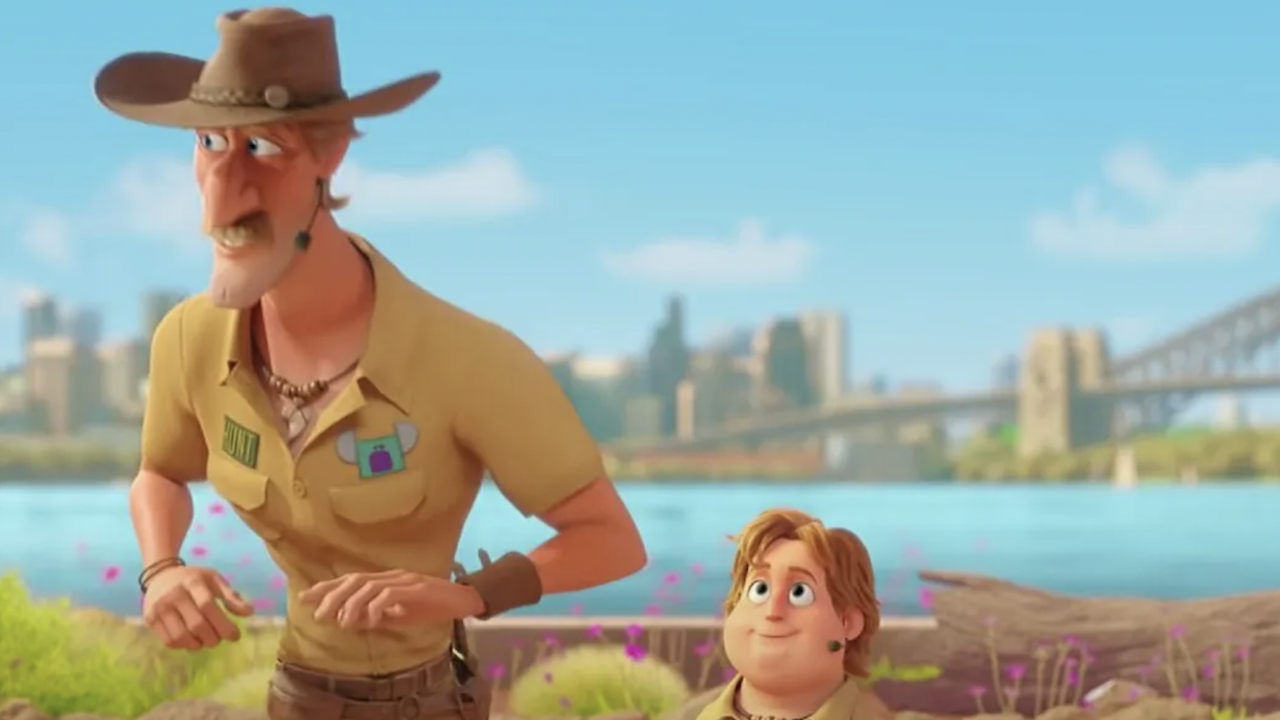 On a technical level it's shaky, with the rendering detail varying wildly from scene to scene and object to object, with some sequences looking notably flatter than others. The character designs are decent without being particularly memorable, which might sum up the entire enterprise.
Ultimately, Back to the Outback is mid-tier, mildly amusing children's programming that does what it's required to do and not much more. It's not the worst film to wander into view in the past 12 months, but neither is it worth tearing strips off.
Young kids will probably dig it, adults won't hate it, and anyone who doesn't have a strong reason to cue this one up (like say, having to entertain the aforementioned kids) should probably look elsewhere for their entertainment.